Art & Culture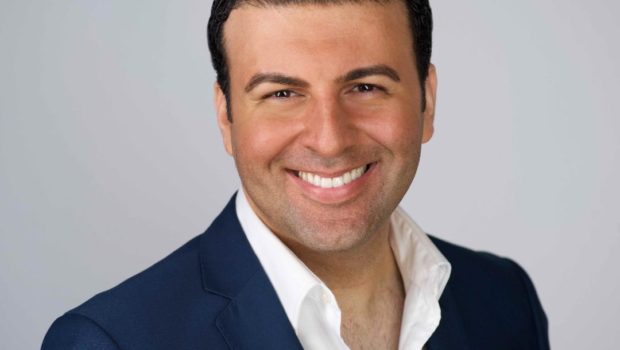 Published on September 13th, 2018 | by Isabelle Karamooz, Founder of FQM
0
Exclusive interview: David Serero, baritone singer and producer…
David Serero is an internationally acclaimed baritone singer with a mix of opera, broadway, international music, and comedy. I had the pleasure of talking to him about his career and his projects. David Serero is very friendly and exudes a tremendous amount of energy and puts everyone in a good mood from the very first minute he steps onto the stage. He has great stage presence with the audience and he gives his all in all his shows. We get a good feeling of the Rat Pack with influences from Dean Martin, Frank Sinatra, etc.
French Quarter Magazine: You were born in France, but you have multiple origins, it must enrich the life of an artist. What are your other sources of inspiration?
David Serero: What makes an artist unique is his origins and his particular approach to art through his own personality. Having multiple origins and traveling has opened doors to other cultures that allow me to enrich my art. What inspires me and has always inspired me are people. I deeply love people and it is through music, theater and cinema that I express this love to them. It was from here that my desire to entertain them was born.
French Quarter Magazine: You have done concerts in Europe, Russia, the Middle East, the United States, Broadway. Can you tell us more about this?
David Serero: Art and entertainment have no boundaries. The sky's the limit and I'll play wherever you want me to. Just one word and I'm on the next plane! I've always been lucky to have a very eclectic audience, which has made my shows even more universal.
French Quarter Magazine: How did you start your career as a baritone singer? How did you discover your passion for opera music? Your style denotes that of traditional opera singers. Why are you trying to give opera a new image?
David Serero: I started singing variety shows and playing piano, then theater came into my life when I moved to New York in 2001. Then I discovered the musicals because I was singing and did theater. When I was doing Musicals, I was told that I had a voice for opera. I never got there because I had a distorted or even caricatured image of this art. One evening I was at the Metropolitan Opera in New York where they played Puccini's Turandot and I said to myself: this is what I want to do. I wanted to learn this art with purists first in New York and then in Russia and finally in Paris. I did nothing but listen to and work on opera registers 24/7. I understood then that I had a talent for singing opera and classics while making them entertaining. I began by breaking the image of the classic recital to make real shows that had never been done in the opera before. My audience quickly became connoisseurs and novices alike. Since then, all that I've undertaken pushes me to please both audiences.
French Quarter Magazine: Tell us about your album "All my love is for you" released in 2016. Is it only dedicated to opera music? Do you prefer other repertoires than opera?
David Serero: This album is an album with my own songs. With the opera and through my shows, I've created a genre in which we are trained to respect the score down to the last comma. I like to go to other musical registers because I feel them and they are as dear to me as Broadway, Jazz, World Music and even comedy! I also like to record plays and great texts but also forgotten pieces of the repertoire some of which had never been translated into English.
French Quarter Magazine: Can you tell us briefly about your meeting with Jermaine Jackson?
David Serero: We had a friend in common in Los Angeles. When I met this friend, I told him that I'd always wanted to do a show that showcased an opera singer and a pop star. He said it was a good idea and asked me which pop star I thought would be good? I didn't quite know yet but I immediately knew that I wanted something similar to the pop music of Michael Jackson. He replied that he knew his brother very well: Jermaine. He told him about the idea and Jermaine immediately loved it. After a working meeting over a few days in Los Angeles, I read his autobiography "You Are Not Alone," in which he told the inside story of the Jacksons. I found out that Jermaine had a crooner voice similar to Nat King Cole's that had never been used in his albums. He showed me videos and exclusive photos of personal archives, etc. I thought, here we go, we have a show! I will write a show around his story with songs that have marked the personal successes of Jermaine but also Michael and Jackson 5, interspersed with photos and personal archives. I directed and produced for Jermaine Jackson an album of Jazz standards, "I Wish You Love," which features our duet on "The Dead Leaves" with a clip that I made, and shot, in front of the Paris Opera and the Trocadero (both closed for the occasion!). A dream come true: to bring a world renowned star onto a new show with a unique mix (Jackson and the opera), all in France and for the French that I love so much.
French Quarter Magazine: You're also an actor. What do you like most, cinema or music?
David Serero: For me, it's similar work. Cinema is one world and film is another. It's important for me to alternate between acting and music in order to constantly keep things exciting.
French Quarter Magazine: You've created your own label, your own production company and you also produce shows. What kind of prerequisites do you have for the artists you produce?
David Serero: I'm always meeting with someone. As for the shows, it's a meeting with the director of a room, an organization, an association or others who are at the base of the operation. Most often, I'm the one who makes the calls and opens up doors because of my love for the audience, my work and my desire to play is stronger than any obstacle!
French Quarter Magazine: Who would you like to work with today?
David Serero: I dream of working with everyone!
French Quarter Magazine: What have you planned for this summer and the rest of 2018?
David Serero: Well, for the summer of 2018, I'll be in New York, playing the main role of Stanley Kubrick's Napoleon in my theatrical adaptation of his film. I have several shows and concerts and recordings. I'm also preparing for my 2018/19 season with new productions and roles including: Stanley's (Streetcar named Desire), Nabucco (Verdi's Nabucco), Figaro (Mozart's Marriage of Figaro), Romeo (Shakespeare's Romeo and Juliet), Shylock (Opera The Venetian Merchant by Reynaldo Hahn), Eugene Onegin (Eugene Onegin Opera by Tchaikovsky), Hermann (The Pushkin Queen of Spades), "I, Napoleon" (Alone on Stage) I wrote about Napoleon as well as did several shootings and concerts.
This article was translated in English by John Wilmot.