Art & Culture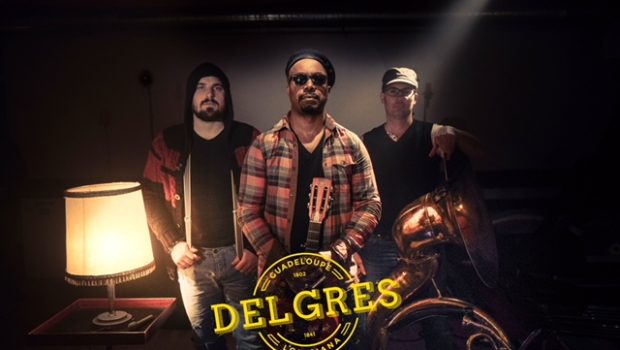 Published on October 6th, 2018 | by N. W.
0
Delgres Trio in Concert
At an institution renowned for cultivating global innovation, an intercontinental vibe lures an audience to Stanford University's intimate Bing Studio.
"A smaller room is better for the kind of music that we make and that we played there," said guitarist and lead vocalist of Delgres, Pascal Danaë.
In the middle of their U.S. tour, he simply recalls the evening with the band's kinetic drummer Baptiste Brondy and sousaphone player Rafgee, as "a good time," but he goes more in depth to explain their album, Mo Jodi, released only a month ago.
"There's a fight for personal freedom," said the French national of Guadaloupian heritage.
Danaë's West Indian roots became the compass guiding this album.
"This time it is really going deep into feelings of family and Guadaloupian people," said Danaë.
From being gifted a guitar as a 15 year old living in a Parisian suburb, to his several years exploring Brit-Rock in the United Kingdom, Danaë admits one of his biggest inspirations for this album came to him much later in life.
"His story arrived at the right moment for me," said Danaë.
He's talking about Louis Delgres, a Creole officer who lost his life to Napoleon's Army, fighting against the reinstitution of slavery in Guadaloupe and who Danaë named his band after.
"For me, it hit deep. It was a significant discovery and I needed to pay tribute to him," said Danaë.
Much like the lead singer himself, in Mo Jodi, you get a collection of different identities, none of which overpowers the other, but blends into a rich sound of contemporary delta blues with French Caribbean influences.
There are songs heavy enough to resonate struggle and perseverance, as well as tracks light enough leaving you looking back on your own life and celebrating how far you've come.
Beyond the historical context of Mo Jodi, like any musician, Danaë wants fans to feel their own personal freedom too.
"Whatever a writer or singer feels is one thing. I don't want to impose history on people," said Danaë.
"I want people to come to the gig, let it go and enjoy the music."
After Delgres' U.S. tour wraps up at the Joshua Tree Music Festival, the trio are headed back to France to hit the festival circuit until December.
This article was translated in French by Anne-Cécile Baer Porter.