Gastronomy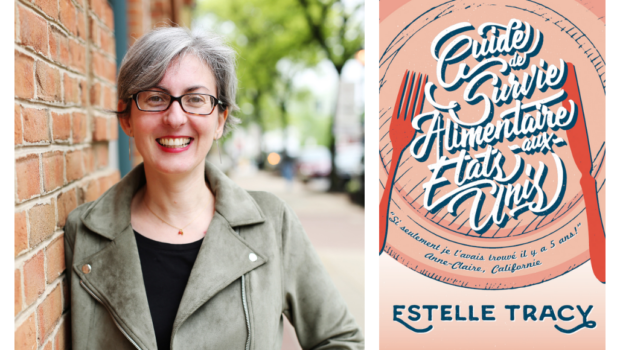 Published on October 18th, 2018 | by Laurence de Valmy
0
Finding Delicious Foods in the US with Food Writer Estelle Tracy
Yes, you can eat well in the US, just ask Estelle Tracy! The French-born writer now shares her passion of all things delicious from her Pennsylvania home. She does that through two blogs, Le Hamburger et le croissant, one of the very first food blogs in French, and 37chocolates.com, a chocolate blog in English, as well as her two book: Guide de survie alimentaire aux États-Unis, a food survival guide for French expats in the US, and Un amour de myrtille, a 10-blueberry recipe collection inspired by local orchards.
The demand for her work was such that she published a print version of her guide just a few months after its release as a digital book. In addition, her Facebook group Bons plans gourmands aux États-Unis gathers over 6,000 French expats across the US. From her corporate life to her current work as a freelance writer, Estelle Tracy shares with us her taste for all things delicious.
How does a French chemist become a food writer in the USA?
After a master's degree in Analytical Chemistry, I relocated from France to the Philadelphia area in 2002. I thought I'd be moving back to France at the end of my 18-month contract, but life got in the way and I married an American along the way! We now live in small town an hour away from Philadelphia. After several years in the corporate world, I am now a freelance writer and chocolate educator. American food gets a bad rap, but my goal is to highlight good food made in the US. In addition to my blogs and my books, I write for several publications, such as Edible Philly and Delmarva.
I discovered food blogs in 2004 through Clotilde Dusoulier's Chocolate & Zucchini. This was before social media and the idea of being able to express myself on the web really appealed to me, so I launched Le hamburger et le croissant in June of that year. My blog was pivotal in helping create a new life for myself in the US. It not only allowed me to make new friends, it also helped me become a better writer. I ultimately published the food survival guide for French expats in 2015 and having my first magazine articles published the following year.
Let's talk about your books: how was born the Survival Guide, which is now in its third edition?
The idea for the guide was born in 2004 from three blog posts where I explained American dairy and baking products to French expats. I turned their content into a PDF file of 12 pages which I offered as a free download. This short guide quickly found an audience who not only thanked me for creating it, but encouraged me to expand its scope. A former colleague pushed me to rework the book and sell it, which I did in April 2015.
The food survival guide for French expats is now a 52-page book packed with information and tips to help readers eat well in the US. In addition to dairy and baking products, the book covers meat, eggs, chocolate, potatoes, the first restaurant outing, and so much more!
I am also the author of Un amour de myrtille, a collection of 10 blueberry recipes inspired by Pennsylvania. Blueberry picking has become a beloved tradition for our family and I felt inspired to write an ode to the small fruit. Both books are available through Gumroad. I process each order myself so I can create beautiful shipments. I use stamps on all envelopes and include a handwritten note and a vintage recipe car with each copy of the guide. Un amour de myrtille ships in a red envelope adorned with a stamp with a similar color palette. I want to create a beautiful experience to the recipients of my work.
Fine chocolate has been gaining popularity in the US with many newcomers to that scene. How do you explain this?
Ten years ago, there were only a dozen makers turning cocoa beans into chocolate in the US; today, there are 200. This bean-to-bar revolution comes from the democratization of small-scale chocolate production equipment, as well as the wealth of information available on the topic on the internet. There's also an increased desire for transparency from the consumer's end. Where do cocoa beans come from? Are producers paid fairly? These are questions that new chocolatiers are eager to answer.
How can you identify a good chocolate?
The first step is to read the label: the list of ingredients should be limited to cocoa beans, cocoa butter, sugar and, possibly, soy or sunflower lecithin and vanilla. That's it. The only acceptable fat must be cocoa butter. If the label says vegetable fats like palm oil, put the bar back on the shelf.
Do you have a story to share?
In January, the guide caught the attention of pastry chef and writer chef David Lebovitz. I gifted him a copy of the guide during a book signing and, a week later, he posted about it on Instagram! Here's what he said: « If you're French and planning a visit to the US, this is an essential read, or if you just want to understand more about American ingredients and food customs, you can get a copy of this very handy guide… Bravo Estelle! » The recognition made my week! Thank you, David.
What are your projects for the coming months?
I just released a tote bag in organic cotton with the definition of the word French word "gourmande" printed on the front (for the record, it's the feminine of the word gourmand, which refers to someone who loves food and eats by pleasure.) I designed it so my readers could slip in their copy of the guide along with a notebook and a chocolate bar. You can order it online at: gumroad.com/estelletracy. I'm currently leading a one-month, self-publishing workshop to answer all the questions on writing and publishing I've been getting. It's a good feeling to be of service.
To contact Estelle:
In French:
Blog : Le Hamburger et le croissant
Instagram @estelletracy
Order her books at: gumroad.com/estelletracy
Join her Facebook group, Bons plans gourmands aux États-Unis :Bons plans gourmands aux États-Unis 
In English :
Blog : 37chocolates.com
Facebook, Instagram, and Twitter @37chocolates