Art & Culture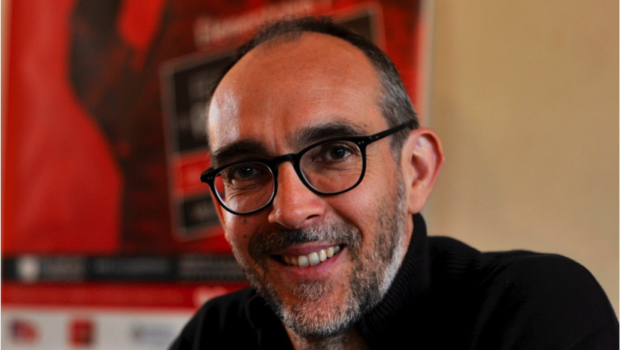 Published on November 1st, 2018 | by Laurence de Valmy
1
Emmanuel Trédez, French writer putting puns to paper
If some people complain that young people do not read anymore, the cliché is to be nuanced because the youth book market in France is doing pretty well: obviously the blockbusters such as Harry Potter pull the market but it is also thanks to the many creations of contemporary French authors who know how to renew the genre and seduce this young audience.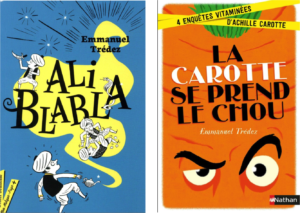 With more than 500,000 books sold, translated into 13 languages, Emmanuel Trédez is one of those authors who have made a name for themselves in the world of youth books with his novels and documentaries. 
His signature is to play with words and his books are full of humor. He has received several literary awards and he travels regularly in France and even abroad to share his passion with his readers and thus transmit the taste of reading. Because the job of an author does not stop at the writing as he did explain it to us.
No doubt that among its many titles, you will find inspiration to offer books to the children of your entourage interested in French!
What led you to dedicate yourself to the world of the youth book?
I started writing for children when, after being hired at Nathan, I re-discovered the children's literature. I, who had only read great classics (Robinson Crusoe, Twenty Thousand Leagues Under the Sea, The Last of the Mohicans …), realized that there was now alongside these heritage works, a living literature written by contemporary authors. It made me want to write texts for young people and submit them to publishing houses. I have been publishing children's books for twenty years now: albums, first readings, novels, and more recently documentaries. Occasionally, I write adult books, also humorous.
Can you describe your writing process, how do you get inspiration for your stories?
When I write a novel, I usually make a plan: I know where I'm going, I know the end. If my books are fairly "built", I always leave a margin of freedom. I can change a lot of things while I write, add or delete scenes, bring in new characters, and even change the ending, if I find a better idea. Besides, I do not always write my books in the order of narration. This is the interest of the plan. I can write more passages according to my inspiration or my desire of the moment!
For inspiration, sometimes I choose a theme and think about a funny story that I could tell. For example, the story of a ghost who falls in love with a girl ghost. To be beautiful, he takes his first bath for ages in a laundromat, alas, he comes out pink: here it is A ghost in beautiful sheets (Un fantôme dans de beaux draps)
Sometimes it's a play on words that inspires me with the general idea of ​​the book. For example, for Ali Blabla, I did not think of writing a book around the Thousand and One Nights, it's this play on words, Ali Blabla, that provided me with the universe, the trait of character of the hero, the humorous tone of the story … Of course, this is only a starting point, everything remains to be done. Indeed, this book has only a distant relationship with Ali Baba. We even meet two literary geniuses, Edmond Rostand and William Shakespeare!
A few books of Emmanuel Trédez and their translated versions
Who are your first readers?
My wife and my daughter: they read most of my texts before I submit them to publishers. They tell me about their enthusiasm (sometimes, their questions), they encourage me, they occasionally report to me inconsistencies, repetitions… Often, they read again the text once published.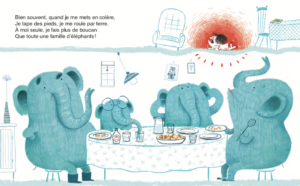 Illustration occupies a very important place in your books. How is the collaboration with your illustrators?
Contrary to popular belief, most of the time, the author and the illustrator do not work together, the publisher is the liaison. When the text is retained, the publisher looks for an illustrator, then he gives his choice to the author – alas, if the latter does not approve, it is often too late to consider in change, the publisher having already engaged with him. Personally, I never had to complain about the choices that were made by my publishers.
Once the text is reworked, it is formatted and sent to the illustrator. The author receives the sketches and shares his remarks with the publisher who transmits them to the illustrator. It is sometimes a little frustrating not to have "a direct line", but it is probably as well: the author would tend to intervene at any time to impose his point of view to the illustrator!
Of course, there are exceptions: for albums, sometimes an author and an illustrator work together on a project before submitting it to the publishing houses. It can work, but it is quite risky: there is a good chance that the publisher appreciates the text, but not the illustration, or vice versa … In general, he likes to constitute the pairs author / illustrator.
Do you have an anecdote to share?
It is often said that books make travel… For me it is also true literally. Some of my books have allowed me to meet my readers in all corners of France, in major cities as well as in rural areas, but also abroad. I think in particular of my stay in Beirut, two years ago because, my novel Qui veut le Coeur d'Artie Show? had won the prize of young Lebanese critics. It's an unforgettable memory that I shared with a handful of other youth writers. That's not why I write books, but sometimes books open doors and gives you privileged experiences. I also think about this very special moment where I found myself, along with other authors, on the stage of the Comédie-Française to listen to passages from our books read to perfection by "little reading champions". It was magical!
What do you like most about your job?
The job of youth author is not limited to writing, far from it. The promotion of my books, trips to schools, book signings in the living room or bookstore, any interviews occupy me a lot … I do not complain: first of all because it is important for an author of to make oneself known and to go to meet his public; secondly, because I could not sit all the time writing my books; lastly, paid school meetings compensate for the often modest rights on the sale of books and allow certain authors to live by their pen.
What I like most, in the profession of author, is to tell stories. Write novels to fall with revelations, twists and turns that lead the reader to completely reconsider the story he just read. I am often disappointed by books or movies that do not end; where the reader / viewer does not have "the end of the story".
I love to laugh too, finally trying to make people laugh, because it does not work every time! I appreciate all forms of comedy, misunderstandings for example, but most of all I love playing with words. That's why we know (a little) and appreciate me (I think). And then, of course, I like to create characters and make them live the time of a story, or sometimes a series.
What are the projects of your dreams?
I have simple, achievable dreams: for example to publish S in purple dress: a novel for "young adults" who was born during a workshop of writing – a very nice experience! – and who occupied me for several years. It is on track, but nothing is done as always in the edition. And then, I would like to do comics again: adult or youth, I do not know yet …
What are your plans for the coming months?
Among the projects that should materialize next year, there is a collection of humorous texts, Le marteau du bricolage, et autres fous that should be released to the Castor Astral. And then a second novel in youth, a choral novel (novel told by several narrators ed.) on the disappearance of a teenager. I finally hope to tackle a project of "humorous polar" for adults that I have in mind for more than three years and to which I have not yet managed to start… My first difficulty will be to give it a shape: novel or comic?
To follow Emmanuel Trédez