Art & Culture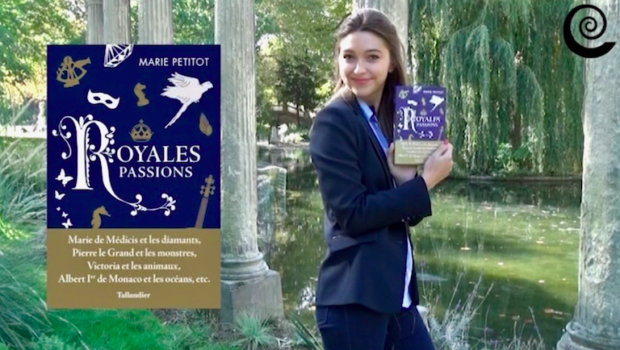 Published on November 7th, 2018 | by Laurence de Valmy
1
Marie Petitot: the passion for the stories inside History
Marie Petitot is in love with History, especially the stories of these extraordinary men and women who made it and of their personalities. Since 2015, she is the author of the blog Plume d'histoire followed by many fans, where she shares fun anecdotes, famous historical facts revisited, biographical reviews. For all lovers, like her, of the small and the great History. She is also a columnist in the magazines Napoléon I, Napoléon III and Château de Versailles and has just published her first book Royal Passions (Editions Taillandier), which presents ten captivating portraits that astonish and renew our perception of the great characters of History by sharing their passions. Did you know that Louis XIII was a talented composer and graphic artist? That Napoleon III was passionate about history and archeology? Follow the blog Plume d'histoire to learn more and for Parisians, a launch party, with petit fours and champagne, will take place on November 14 in the Albin Michel bookstore in Paris 7th.
Your first book Royal Passions has just been released. Can you introduce it to us?
Royal Passions presents 10 crowned heads of France and Europe, with  a different approach than traditional biographies. The book reveals the passions of these characters, their personal tastes, what made them vibrate. A perspective that propels the reader to the heart of their intimacy. Those who discover these kings and queens are invited to do so in a more original way, and those who already knew them will learn new aspects of their personality.
What led you to writing this book?
The detail and the anecdote fascinate me. The story in the history, in short. I have always wanted to know the men and women who hide behind these kings and queens sometimes so remote. And what's more personal, ultimately, than a passion? Telling their story based on what defines them best makes them more humans. If politics and the exercise of power are never far, I wanted to show that by scratching the varnish of what we know or believe to know about them, are simply unveiled human beings, with a soul, desires and whims.
You are also the editor of the blog Plume d'histoire: why did you create it and how did it take off?
I created Plume d'histoire in February 2015, simply to be able to share my historical readings while satisfying my writing appetite. And then quickly, beyond my reading, it's my passion for History in the broader sense that I wanted to express. I continue to write articles on biographies, but it is especially the anecdotes on the great characters who make the success of the blog. The beginnings were not easy, it is necessary to find your place and style, which I think to have achieved: I have today an assiduous community, in particular on Facebook, populated of caring people waiting for new articles . It's a real pleasure to read their comments and receive their messages!
You focus on the personal stories of famous women and men. Do you have some of them that you particularly like and why?
I have a weakness for Louis XV and Napoleon III, two men often misunderstood, by the general public as by historians, although recently serious biographies are rehabilitating the two sovereigns. They each have their chapter in Royal Passions, it's not a coincidence!
What historical books or movies do you recommend?
Many historical books come to mind! In the category of novels, "La Bourbonnaise" by Catherine Hermary-Vieille comes first. The story of the Countess Du Barry is traced with great accuracy and wonderful descriptions. Biographies and historical studies of interest are legion. It was with Jacques Bainville's "Napoleon" that I wanted to know more about the Emperor. The more recent works by Jean Tulard, Thierry Lentz, Patrice Gueniffey, Pierre Branda, Bernard Chavallier, Vincent Haegele and Charles-Eloi Vial on the First Empire are sure values. On the Ancien Régime, I would say that the biographies of Jean-Christian Petitfils and Simone Bertière are essential. Emmanuel de Waresquiel's "Judge the Queen" is one of my favorites: I have great admiration for this historian's pen, and I am very proud to share the same publisher, Tallandier.
For movies, the regency of Philippe d'Orléans, a crucial period in the history of France, is rarely mentioned in the cinema. There are, however, at least two very good movies to watch absolutely. "Let Joy Reign Supreme…" of Tavernier, released in 1975 remains a must with Philippe Noiret in Duke of Orleans and Jean Rochefort as Abbe Dubois are fantastic. More recently "The Royal Exchange", adaptation of the novel by Chantal Thomas, is a fabulous film. It shows the strategy of the Duke of Orleans, and reveals how much royal children were victims of politics. Beyond the bottom, the form! Light, camera, acting, it's a real treat. And the excellent "Mademoiselle de Joncquières" with Cecile de France and Edouard Baer.
Your favorite French historic place and why?
I recently discovered the Château de Fléchères, in the heart of the Dombes. The story of this castle that almost disappeared is incredible. The Renaissance frescoes on the walls are rare and breathtakingly beautiful. It's a place that deserves to be known, and I'm working on an article on the subject.
What is the project of your dreams? Buy a castle, renovate it, and open it to the public, just that!
What are your upcoming projects ?
Continue writing, above all else. I'm already thinking about the possibility of a volume 2 for Royales Passions, because I have a lot of characters in reserve… Why not a real biography in a while? Here too, I have some ideas. I'm also thinking of going independent, it's a project to mature.