History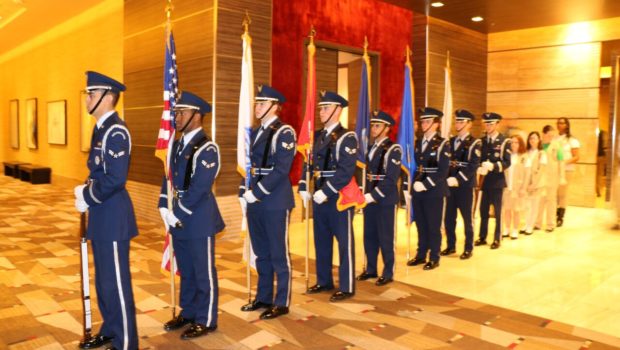 Published on November 20th, 2018 | by Isabelle Karamooz, Founder of FQM
0
Three Veterans of World War II Receive the Legion of Honor of France
On November 17, 2018, a special ceremony was organized at the M Resort awarding the French Legion of Honor to American heroes whose courage, faith and dedication deserve recognition.
The ceremony took place in the Lower Messina Ballroom, precisely on schedule, where a considerable number of American and French visitors, along with the Nellis AFB Honor Guard, the Police and Fire Emerald Society Bag Pipes, the U.S. Naval Sea Cadet Corps, many Federal, State and Local representatives, and Terri Gans, the Assistant to Consul General of France in Los Angeles were in attendance.
All with the Honorary Consul of France in Southern Nevada, Sébastien Thévenin, stood at attention as Dana Daye and Marchand Melcher performed the Star Spangled Banner, and then Morgane Latouche sang the Marseillaise, the French National Anthem, both were very moving.
The ceremony continued with the keynote speaker, Mark Hall-Patton, Curator of Clark County  Museum and contributing historian to the « Pawn Stars » TV show,who recalled the history of Las Vegas Valley and part of its development resulting from World War II. World War II began in Europe in 1939 and the U.S. began ramping up production of materials to support allied forces in 1940. Certain areas within the country, such as Las Vegas, became centers for wartime production creating population booms.
The Honorary Consul of France, Sébastien Thévenin, awarded William J. Kendall, William M. Dunsmore and Corporal Selwyn Dante, the medal of the French Legion of Honor for their service in France during World War II. Established by Napoleon Bonaparte in May 1802, the Legion of Honour is the highest decoration that France gives its citizens and foreign nationals.
In addition to other duties and services, Honorary Consuls and representatives of France to the United States regularly honor American veterans of the two world wars. Honoring these men is a way for France to express gratitude to those who risked their lives and, in many cases, who died defending our country and her core values of freedom, tolerance, and democracy.
« The French people will never forget that you helped restore their freedom. Your courage and dedication are an example to us all, » said Sébastien Thévenin.
One of these three men, Mr. Kendall, now 99 years old. Retired as a business owner and 38 years as a television engineer for the United Nations and CBS Television Hollywood, he was assigned to the 2nd Beach Battalionduring the Second World War. William went ashore at Utah Beach where he was tasked with setting up radio communications back to England.
At the ceremony, he was sitting alongside veteran Mr. Dunsmore. During World War II, Dunsmore, this former Los Angeles City Fireman landed on Omaha Beach in Normandy when his Higgins craft loaded with soldiers was hit by a German shell. The explosion killed many on the craft, throwing William into the water injuring his lung, shoulder and ear.
At 92, Corporal Selwyn Dante was awarded the Legion of Honor. A native of Dermott, Arkansas, he entered the U.S. Army in Fort Sill, Oklahoma in 1944 and shipped out to Europe in 1945 where he later came ashore at Normandy as part of the 638th Tank Destroyer Battalion. Dante chased the German Army across France, Belgium and Germany before returning to the United States.
Sébastien Thévenin recalled the historic friendship between the United States and France. « Your accomplishments during World War II are a vibrant reminder of the profound friendship between France and the United States. A friendship bound in bloodshed and hardships ever since the War of Independence. »
Header Photo: John Napa.