Art & Culture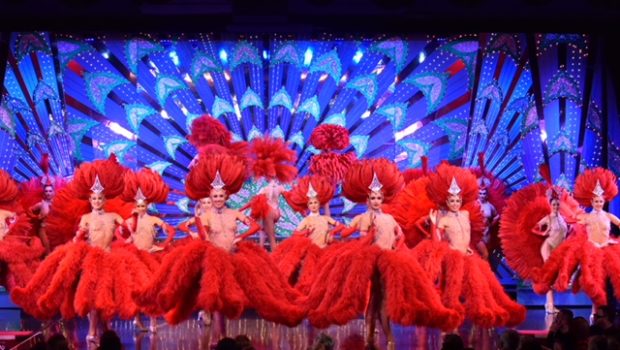 Published on November 30th, 2018 | by Isabelle Karamooz, Founder of FQM
0
A memorable evening at the Moulin Rouge
Last Summer my sister and I were invited to spend a wonderful evening at the Moulin Rouge in Montmartre, where I met with President Jean-Jacques Clerico to discuss this historic and family-oriented institution of three generations. It was a pleasure to share our interview with Mr. Clerico in our 2018 printed issue and many of you congratulated us and asked us questions about the shows at the Moulin Rouge.
Founded in 1889, the Moulin Rouge is famous all over the world for its legendary French cabaret and cancan show. It was immortalized by the painter Henri de Toulouse-Lautrec and some of the greatest stars in the world have performed there, including Ella Fitzgerald, Liza Minnelli and Frank Sinatra.
The Moulin Rouge is immediately recognizable by its red facade and its giant windmill in front of which we stopped to take a picture of the exterior. It's magic when everything lights up at night, so even if you don't plan to see the show, I recommend you take a picture after the sun sets! We were impatient and curious to see the theater more closely, so we walked through the doors of the building. There was a small room where the Moulin Rouge shop was located inside the hall, and apart from that, some posters of the dancers.
I've never seen anything like the Moulin Rouge. The atmosphere was electric and there was already an air of festivity circulating throughout the hall before the show even started.  The room filled up little by little and we were invited to follow a member of the team to go to our table. The 900 seat room is amazing. The posters hanging on the Morris columns are the original posters of the artists who performed there. I could already imagine the clinking of glasses and people chatting at their tables. The Moulin Rouge and its chef David Le Quellec were the first cabarets to appear in the famous Gault & Millau restaurant guide. Dinner is accompanied by orchestral music and guests can dance if they wish. The Moulin Rouge is more than just a show. It's an experience to do at least once in a lifetime!
As we had not booked dinner reservations, we arrived about 40 minutes before the show. We were sitting at a table with other spectators and a waiter brought us a bottle of champagne to share. So… showtime!
To be honest, I hadn't really imagined what the show would entail, aside from the Cancan, the fabulous costumes and bare-breasted dancers.
Well, it completely exceeded all my expectations! It was a truly memorable experience that I will never forget.
The Féerie show consists of a troupe of 80 artists, including 60 Doriss Girls and 20 Doriss Dancers from 14 different countries, and 1000's of costumes made with feathers, rhinestones and sequins! They dance in front of shimmering sets created by Italian designers, while original music is being performed by 80 musicians and 60 singers.
It's not just about dancing; the show is divided into numbers of all kinds, including the world's fastest juggler, an acrobatic duo performing captivating hand-to-hand acrobatics and a famous ventriloquist named Marc Metral. There is even a woman who dives into a giant aquarium with a capacity of more than 1,200 gallons of water.
Unfortunately, it is strictly forbidden to take pictures or videos. If you break their rules, your device may be confiscated until the end of the show, you may be expelled from the show or, worse, be sued. I hope that the photos provided by the Moulin Rouge will give you a feeling of the atmosphere that surrounds the spectacle Féerie (Fairy show), but at the same time, the element of surprise is always welcome.
After the show, we went to the gift shop to do some shopping. I bought a book with information about the Moulin Rouge, shot glasses and a Moulin Rouge Féerie C.D.
Tickets and information on the Moulin Rouge
There are two performances at 9 pm and 11 pm, and there are 3 different types of tickets with varying prices:
• Dinner and show at 7 pm (the show starts at 9 pm)
• Show at 9pm or 11pm with 1/2 champagne or drinks
• Show at 9pm or 11pm without drinks
Tickets available here: http://www.moulinrouge.fr
The dress code suggests an elegant outfit, although a tie and jacket are not necessary for men. It is best not to wear shorts or jeans, and no sneakers or sportswear.
For all performances, you must arrive at least 40 minutes before. The nearest metro station is the Blanche station, on line 2, or if you prefer, you can take a car, an Uber or a taxi to get you there.
This article was translated in English by John Wilmot.