Art & Culture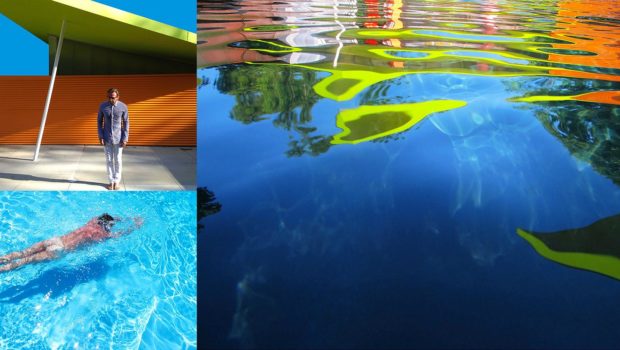 Published on January 9th, 2019 | by Isabelle Karamooz, Founder of FQM
0
Spotlight on the artist Pascal Blondeau
An internationally renowned photographer whose work is sold at Sotheby's in New York and Paris. Recently, exhibited at Art Basel Miami, Pascal Blondeau was born in Paris and grew up on the left bank with a taste for Art and music from an early age. Pascal studied at the Ecole des Beaux-Arts, then at the competitive music school of Alice Dona and worked as a photographer for 20 year in Paris, but really hit his stride since his move to New York in 2009 where he is obsessed with his creative passion.
We're at the residence of the French Ambassador (in Washington D.C.), what are the three adjectives that best describe your personality?

To describe myself: 1) Original. I'm an artist so obviously that's apparent and my friends never miss the opportunity to point out that I'm a little off-the-wall. 2) Distracted: I think I live on another planet. 3) Reliable in friendships with my friends. It's not me who says it, it's them.
How long have you been interested in photography?

For a very long time actually. When I was a kid and was asked what I wanted to do later in life, I said, "I wanted to be a radio." I wanted to play, sing, be in the world of entertainment and I was interested in everything related to art. From what my family told me, you could already see at the age of five that I would be an artist.

It's not a job for me to be an artist, it's my personality. I'm like that, it's my life. There are people who say "I want to be an artist later" it's true we can also become one. Around 19 – 20 years old, my godmother, my father's sister who had detected my artistic talents, offered me a very nice camera, a pentax, a camera that I still use from time to time. . Now I've gone digital but I still use it because I love it.

She gave me my first camera which I took a lot of pictures with and I loved it. So, I enrolled in a class at a school in Paris. I did an exhibition at Saint Germain des Prés which worked well but then I stopped because I enrolled at a theater school in Paris led by someone known as Alice Dona. I did what I wanted to do since my childhood, that is to say, singing and dancing. I attended these theater classes for five years and dropped photography. I also learned how to be a stagehand at this school among many other things.

After completion of this training, I worked on artistic projects in the show and I returned as a scenographer at the Museum of Decorative Arts in Paris. Then, one day I went back to photography. I photographed one of my scenographies which showcased mannequins (quite special in color). I found the pictures interesting and it gave me a passion for photography. A museum director asked me to present them and that's how I got my foot in the door.
How would you describe your style?

I am in contemporary art. There is abstract and figuration in what I do. There is both a real photographer job, (I have always studied light) and there is a work of the moment with photos that I do not touch or maybe I clean from time to time but barely. Then, there is also what is called the photo plastician, that is to say, the reworked photo. Either I choose the theme before and I photograph what I have prepared, or I take the picture and rework it.
That's the genius of a photographer.

Yeah, I don't know, It's you that says that…

Are there any artists that you particularly like that have influenced your approach to photography?

Yes, there are photographers and painters of course. My biggest influence, and I'll tell you about him soon, is David Hockney. He's an extremely powerful painter, and is extremely well known. There are some very nice retrospectives of him at the Georges Pompidou Center, in London and in New York as well. David Hockney really influenced me a lot like Andy Warhol, who was also a catalyst for my career.

But I moved a little away from Warhol after meeting Ultra Violet, who was one of his muses in New York and with whom I've worked with. She did everything to make me forget the forefather, the master, so I got a little detached from the work of Warhol even if his work did teach me a lot about pop art. David Hockney definitely remains my biggest influence. I did an exhibition in tribute to him which was a big success in New York, titled Swimming Pool tribute to David Hockney, in a very important gallery, the Eric Morlot Gallery.The Morlot family in France was one of the most important families in modern art, and the most famous in the last century since it had created the largest lithographic printing company. In their gallery they had everything that ever counted by Picasso, Matisse, etc …

They exposed huge pool photos to refer to the work of David Hockney who photographed boys in the pools and at the edge of the pools, etc … I played a role sometimes. I am naked in the pool and I watch myself get dressed. Sometimes it's the opposite, I'm naked outside of the pool watching this boy get dressed and it's always me who plays the role. I happened to be in a house outside of New York, designed and created by architects in honor of David Hockney.

I found myself in this pool where everything, according to the hours of the day, the light, the colorful walls of the house were reflected in the water and I had the sensation of a single stroke to swim in a painter's palette . I came out quickly, grabbed my camera and started taking a series of shots. The following year, I rented this house again to finish my series.
And can we see some samples from this exhibition on your site?

Yes, there's samples from the exhibition, in fact there's the whole series …

Can you give us your website for our readers?

www.pascalblondeau.com

What did photography bring to you?

Photography obviously brought me a lot. It allowed me to get started professionally and it helped me to progress. I see pictures everywhere. It's both beautiful, because it's my life as an artist, but at the same time, it can poison my life because It's all I ever think about. I'll never be the same as I was before, it's a reflex, it's automatic. I have troubles on vacation or while traveling because I'm always falling behind and I bore everyone with my camera. Now I go out without it, but obviously I miss many opportunities.
Your idea of the perfect composition, does it exist?

No, all the artists will tell you no. Afterwards it becomes a study. When I see my work, I don't see it like others, I see it full of defects and I tell myself that I should have done otherwise.

Can you comment on two or three photos that you choose to illustrate this interview?

Two or three pictures of the highlights that determined the important moments of this small career…, the one where there is a fur cape with faces coming out of the light and is called Ave Maria. This photo shows a fashion show with faces that are completely amazed by what they see. I think I did a nice job of light on this photo. I really worked on the light a bit like Caravaggio. I am very impressed by the work of the painter and obviously I think I have worked in that direction. I certainly did not, I'm not Caravaggio. All the people tell me that they are impressed by my picture Ave Maria. She was well received, we talk about it all the time.
That's it and I could take one of the Hockney series photos because it's an important shift, I believe, in my career. This is the series by David Hockney's "Swimming Pool." There may be one or two pictures in the series that I prefer but it's not the ones that gallery owners or people prefer to exhibit because in some of them I'm naked. We live in a time that's a little puritan …. At the same time, they are not shocking photos either, it's rather an aesthetic work. It's a series of photos I'm most proud of.
Do you remember the last exhibition you did?

Yes, it was this one here. I don't do a lot of exhibitions. Of course I won't refuse when I'm offered beautiful things in important galleries and museums. In fact, I haven't did an exhibition since I met a woman named Ultra Violet in New York, 9 years. She was one of Andy Warhol's muses. She died four years ago. We lived and worked together for five years in his studio. We had a very important exhibition in New York after the 9/11 attacks. When she passed away four years ago, I started writing stories that tell our story and I made a performance.

I had the chance to work in New York at "FIAF," at the Alliance Française on the stage of a very beautiful theater. It went well so I continued with this show and ended up at the Phillips Collection in Washington, which was the first museum of modern art in the United States.
I also performed at Artcurial in Paris, last January. It was a huge success. There were people from TV there, it was really good for me.

I am also preparing a major exhibition for next summer in Greece. There's a brand new museum of contemporary art on a Greek island that has become one of the hubs of art. This island is called Hydra and there are some very important collectors and gallery owners there, so the museum has completely blown up, and they asked me to organize the first mini retrospective of my work. We are going to present four or five series of photos from the beginning of July to the end of August 2019. This is a big project because the first book on my work will be published. I am very very enthusiastic. I leave in November to work on the book.
We wish you lots of luck for this exhibition and one last question: Washington DC, how does this city inspire you?

The city of Washington is beautiful. I didn't move here necessarily for professional reasons, but rather for its quality of life: the houses and the gardens are beautiful. I'm athletic and cycling in Washington gives me the impression of being healthy, but to say that this city inspires me artistically, that wouldn't be quite true because it's more of a residential city. What really inspires me is the people I meet, the collectors with whom I've become friends with. I know a woman who collects Lalanne's sheep. It's really extraordinary. I met people with whom I can talk about art, and have wonderful conversations with. However, it's in New York, where I spend a lot of time, that I truly find my creative craziness.
Thank you for the time spent answering my questions, good luck with your future exhibition in Greece and thank you again.

It is I, who thanks you.

This article was translated in English by John Wilmot.