History
Published on June 18th, 2019 | by Isabelle Karamooz, Founder of FQM
0
On the footsteps of Alexandre Dumas – Château de Monte-Cristo
At 40 minutes from Paris, on the hill of Port-Marly, we discover the residence where Alexandre Dumas lived, his park but also his life full of anecdotes from the writer. We had the pleasure of meeting the director of Monte Cristo Castle, Frédérique Lurol, who tells the story of the house of Dumas…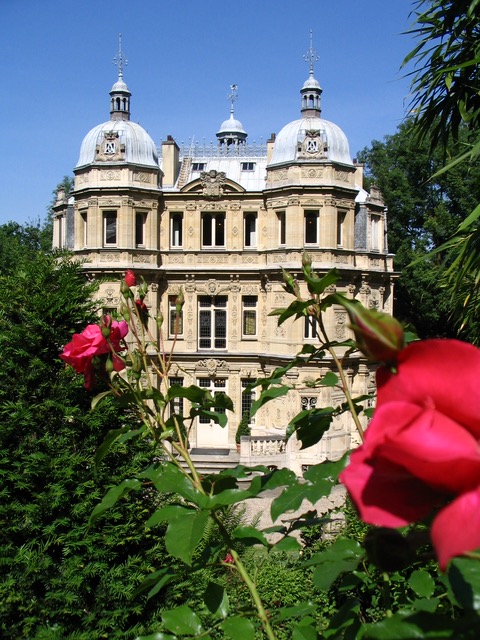 We are at the Castle of Monte Cristo with Mrs. Frédérique Lurol. Madam, why did the author of the Three Musketeers and the Count of Monte Cristo, among the works he wrote, become interested in this region of the Ile-de-France?
Dumas traveled a lot in his life but much of the time he lived in Paris and during this period he led a mundane life between the theater and his nights out with friends. To be able to write, Dumas needed calm and concentration so he decided to move away from Paris and his tumultuous life. For this, he moved to Saint-Germain-en-Laye but there he began the same lifestyle he had in Paris. He took care of the local theater, he received a lot of money and would have really liked to live in a house in the countryside with a large park and he especially wanted a study space that would be away from the main house. One day, while Dumas was walking between Saint-Germain-en-Laye and Versailles, he discovered the land on which Monte-Cristo was built. This terrain was covered in hills but offered a magnificent view of the Seine at the time. Dumas literally fell in love immediately. He ended up buying the land that belonged to the peasants and asked an architect to build a cottage in the countryside that would eventually become the cottage in front of the castle of Monte Cristo. He went on to build a separate workshop/study, completely surrounded by water, which will be called the castle of If.
Can you briefly tell us about the history and the construction of the Castle of Monte Cristo? And also a little bit about the study and the large park of 3 hectares?
Dumas acquired the land in 1844. He went on to choose a well known French architect, under the name of Hippolyte Durand at that time, he went on to tell him: "I want a house built on these lands and in front of this house I want a study surrounded by water. There are surrounding waters which you can make cascades with. The thoughtful architect studied the grounds and says to him: "But Monsieur Dumas, it will be impossible! The land is made of clay so your house will sink. Dumas insists, he absolutely wants the house here and says to him: "You will dedicate these three arches of land here and they will endure the tests of time. He was right, the castle still exists today. Hippolyte Durand built this house became a small castle with very intimate dimensions. It's important to imagine that at the time, from the terrace, one could see the Seine. Today of course, with urbanization, this has unfortunately disappeared. At the time though, there were magnificent views of the countryside. This castle is completely isolated but in stature, both the castle and Dumas are very proud because they like to impress and dazzle.
It's always been popular, and still remains to be so since there have been many visitors that continue to visit the castle of Monte Cristo. On the day of the housewarming celebration, nearly 600 guests traveled from Paris to visit Dumas' house…
This is a story told by Dumas himself, so maybe you have to measure his words. Dumas always has the tendency to elaborate on the story. When he speaks of the 600 people that rushed out to visit his house during the housewarming party, was that actually true? We know that he sent fifty invitation cards and that many more people are stated to have came. So now, there were apparently six hundred guests, we're not sure of these figures and we'll never know actually know the precise numbers but why not believe it? Dumas would have liked it that way. Indeed, many guests came because it was very popular, we came to see where "Mr. Dumas" was going to settle. The Versaillais would have liked to recover Dumas to be able to profit from its notoriety.
Can you tell us a little bit about the steeple on top of the writing study, is there anything particular about it?

Yes, the writing study is really a building totally different from that of the Monte Cristo Castle, both architecturally and functionally, since here it was really Dumas' house and the castle. If was truly the place where he went to work alone. It consisted of two floors. This study has a somewhat eclectic architectural form. You can find a Swiss balcony, Norman timber, many stone carvings that have a neo gothic flare but there is also a beautiful roof that was recently restored in 2016 and at the top of this roof, at the top of the steeple from the castle of yew, there's a coat of arms. Unfortunately, due to the height of this coat of arms visitors do not necessarily see it. You'll have to take my word on it that these coat of arms are engraved in the zinc, waves that surround a mount and this mount is Monte Cristo of course. Below, we read a proverb "Waiting and hoping is waiting and hoping. These are the last words that are inscribed in the book of the Tale de Monte Cristo.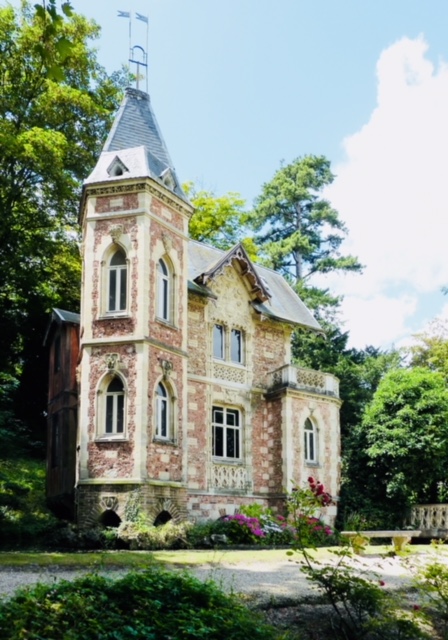 Can you tell us a little about your contemporary art collection?
So here we have permanent collections that always refer to Alexandre Dumas, his life and his work. Once a year, for two to three months, we also showcase another contemporary artist on the top floor of the castle, sometimes there are also sculptures in the park. Every year we try to promote a different artist, sometimes unknown to the general public. It's very interesting to be able to mix both this wonderful story of Dumas and also the story of today's artists. I think that Alexandre Dumas would have been proud to know that beautiful contemporary works of art are being exhibited at his house.
When did you start exhibiting contemporary art?
We started exhibiting contemporary art 8 to 9 years ago. We met a wide array of different artists and sculptors who made totally abstract art. We had abstract painting outdoors, sculptures in iron, metal, and bronze. It's extremely varied and in several different themes. As the works are figurative, we saw plenty of animals but also lots of characters from world travel, like Tibetan monks for example. We have a lot of fun discovering and welcoming new artists every year.
What's an item that reflects Alexandre Dumas' daily life (in his collection) the most?
We have a cooking dictionary that's an original leather bound book with letters from Alexandre Dumas "A" and "D." This cooking dictionary is a work of Alexandre Dumas. It was written towards the end of his career, he could not even finish it. In fact, this book was prefaced after his death but it is a book that was very important to him.
Dumas was a great cook and gourmet, hence his desire to describe a cooking dictionary. It's sorted alphabetically and we'll be able to follow the adventures of stuffed hare or Kangaroo fillet and even how to cook elephant feet. It's a little whimsical but there are recipes that are quite feasible today, of course, reducing the quantities. This is a very interesting book in which all the verve of Alexandre Dumas is present. He used to say that what he would leave to posterity would be his pots and not his works. He was very well known for his good food and was used to entertaining people, designing menus and making really well cooked dishes. It's really a dictionary that has been made by him and with all his heart.
So it's a nice book that we have here, sorted alphabetically, with quite interesting recipes. You will know everything about eel, andouille and almonds … well there are a lot of good recipes in this book.
Following the visit of the castle…
We are here in the Moorish salon that Alexandre Dumas had made during one of his travels in the Orient. He fell in love with the Moorish architecture and managed to bring that back with him here to France and to his castle which was being built in 1846. He hired two craftsmen who were building the mausoleum of the Bey of Tunis and he managed to bring them back to France by saying to the Bey of Tunis: "You are building a mausoleum, it is a work for the dead" "so it is not in a hurry. Me, I want a work of life in my castle. The Bey of Tunis was sensitive to this argument and gave him the opportunity to bring back with him the two craftsmen who carved this Moorish salon. This one is authentic. It was restored in 1985 thanks to artisans from Morocco so really in the rules of art and thanks to the patronage of King Hassan II.
Why did he make this Moorish salon, did he have the idea to visit it?
The idea was to have something oriental, exotic. It is very fashionable in the 19th century to evoke travel by any means whatsoever. Dumas is a great traveler, he loves to visit other countries, listen to legends and the history of the country, meet the people, learn the local costumes, taste the local cuisine, he loved it. He writes travel stories and having a Moorish living room at home is all natural eventually. It is an eccentricity perhaps, but what a pleasure to travel even when staying at home.
This article was translated in English by John Wilmot.