Art & Culture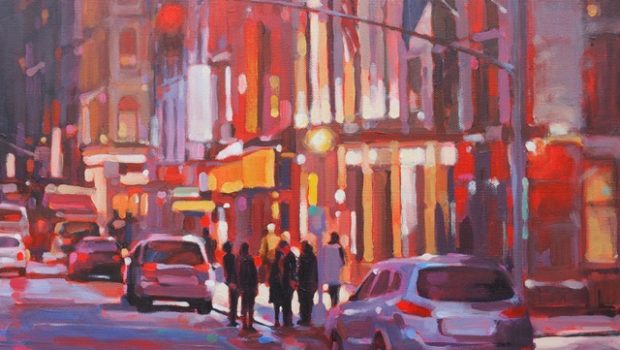 Published on July 8th, 2019 | by Tyson Thompson
0
Veronica Schmitt – The Art of Painting Real Life
Making the transition from the colorful cobble stoned streets of Paris to the breezy coastline of Southern California, has turned out to be a career defining moment for a student who once contemplated where her talents would take her. 
Over the years painter Veronica Schmitt has developed a knack for capturing splices of life around her with a finely tuned observant eye. One of her biggest inspirations seems to come from the mundane that surrounds our everyday lives that we often take for granted.
It wasn't until she moved to the United States that she developed her own style and began to distinguish herself in the art world amongst her peers.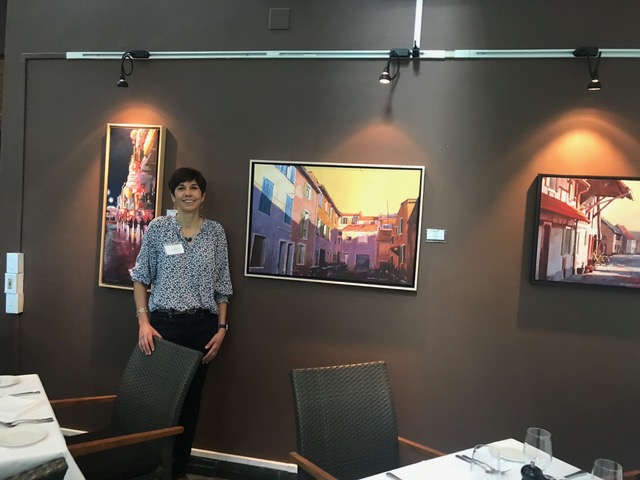 The hustle and grind of getting ones work in galleries and exhibits represents the growing pains that many up and coming artists must fight through, but the seemingly reserved artist has emerged through some adversity and found her niche in recent years.
With plenty of distractions that living in an entertainment mecca can bring, Schmitt has managed to keep her focus on building her body of work. That diligence has paid off and seeing her work in galleries is something she has become more familiar with.
Her modest approach allows her art to speak loudly for itself, but as any artist knows trying to gain exposure and sell your art is a labor of love, and one that doesn't always reap instant rewards. She has learned to embrace all the opportunities that come her way big or small, and still remains a fan and supporter of the Art community in which she has formed a family.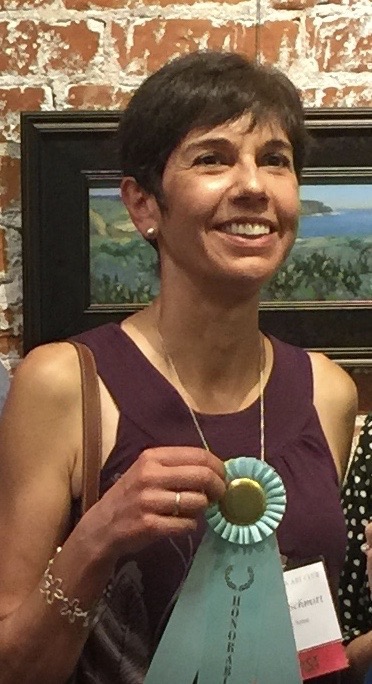 From observing the works of fellow impressionist painters Schmitt has discovered in her area, she is constantly encouraged to keep taking her skills to a higher level. That is just one of the motivating factors that allows her to keep pursuing her passion and push herself beyond the creative boundaries. 
Veronica Schmitt took a few moments to sit down and discuss the trials and triumphs of her journey.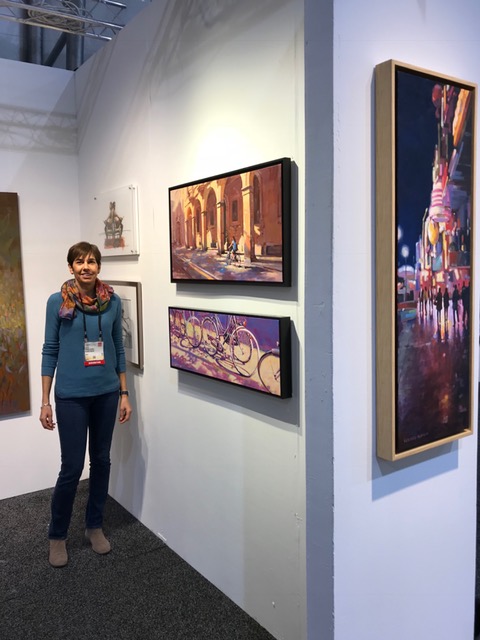 Before your breakthrough in Art, you studied graphic design in France. How did that training influence your career?
Yes after grade school I made a decision to attend to Art school at Ecole des Beaux- Arts in Strasbourg and do five years in my field. It's probably a lot different than a University in the States. Back then graphic design was a lot more practical and less to do with computers. We used to learn everything by hand including layout and sketches. Drawing was a big part of the class and I did graphic design to make money but I didn't feel it was my true calling as an artist. When I switched to painting I had to teach myself everything through reading books and experimenting.

What attracts you to the places that are the settings for your paintings?
The very first thing that usually draws me to a specific place is the lighting. There has always been this emotional connection to the light and you can see it reflected in my city paintings. A lot of my impulses to recreate a scene come from come from just being in the moment. I frequently take pictures to use as a reference, but it can become more complicated when people are involved. I love the candid moments, so my goal is to capture a photograph without the subject knowing. People tend to change their demeanor when they know a camera is on them so that's the trick. I honestly just want everything around me to be in its natural element.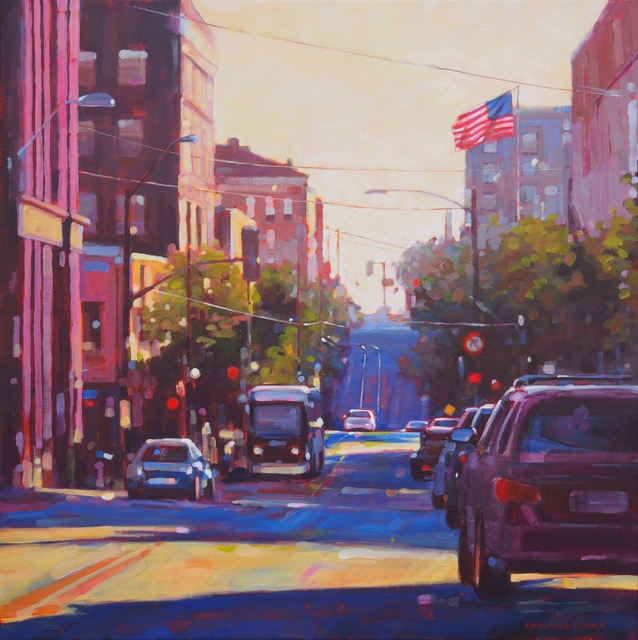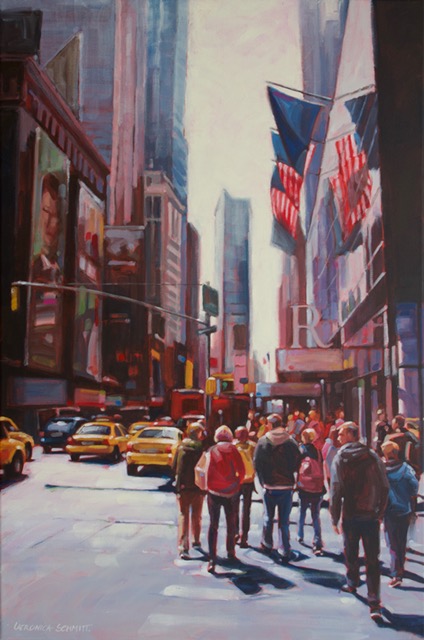 In 2018 you got the chance to show your work at the Las Vegas Art Expo. What was your first experience like in Sin City?
I definitely met some interesting people out there in the desert. Most importantly I was able to establish decent contacts with some galleries and also exchanged creative ideas with artists, but as far as Art sales go it wasn't a good day for me. There was a convention at the time and I feel people were distracted by the festivities and not too concerned with Art. Overall Vegas was a good place for me to capture street life and some cool atmosphere for my paintings. The city is really lit up and there is a lot of energy, but I'm not a fan of the lifestyle. I prefer a slower pace.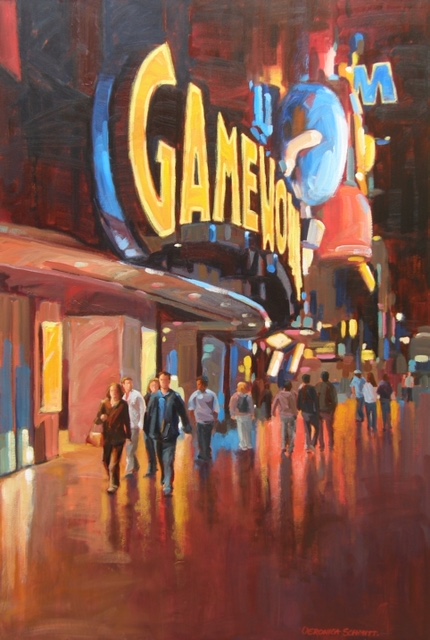 How often do you visit France? Do you stay in touch with other artists there?
A few people that were involved in my Art School I keep in touch with, but not too many painters there since I didn't start my painting career until I moved to the United States. I bonded with more artists here out west when I was trying to form my style. I make the trip back to France once a year to visit family and friends and get fresh ideas. Europe has been the biggest influence geographically for my impressionist artwork. Many of my paintings consist of European settings because I enjoy the unique buildings and colors the make up the towns.  
    
What has been the biggest challenge being an artist in the United States?
For me when I first came to the United States it was tough finding galleries to represent me for exhibits. I guess trying to gain more exposure as an artist is a big challenge and making a home for yourself as an artist. In the early stages of painting my style I wasn't too sure of myself, but after my work won first place on a juried panel at it gave me the motivation to move forward with my art. Another big step for me that helped my confidence was showcasing my pieces for the French Consulate in Los Angeles. That was a wonderful experience and it felt good having my art on a bigger stage.

Do you enjoy live painting? Is there a thrill that comes from working in front of an audience?
It actually wasn't until recently that I did my first live painting in Newport Beach and it was definitely something that I have to get used to. I think people were excited to watch me do my art in person but I don't like to rush and I find it hard to finish a painting live. Sometimes my concepts take a while to develop and I can get over anxious if there is an audience. I'm just used to being alone I guess and painting slow or at a deliberate pace and live you have a lot of noise and people asking questions. It can be a little distracting for me to maintain my focus In that kind of setting.

Your second biggest passion is cycling. Can you explain the relationship between your biking experiences and your impressionist artwork?
Riding bikes has been a part of my life since I was young. I see a lot more on the road and I am able to process things easier and find subjects en route. France, like the Netherlands is a huge cycling country and many cities in Europe are filled with bikes. When I'm on the road on a cycling adventure I keep my camera ready to shoot. For me it's about capturing a moment in time when I see something interesting. Being on a bike is the best therapy for me and my love for bicycles is reflected in several of my paintings.
Veronica Schmitt is currently exhibiting at Bistango Restaurant in Irvine, CA through July 2019. She has received awards and been published in several French and American magazines including The Artist Magazine.