Art & Culture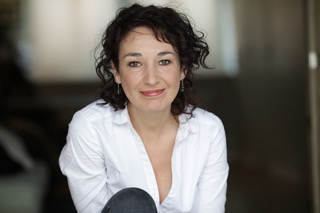 Published on July 20th, 2019 | by Isabelle Karamooz, Founder of FQM
0
Interview with actress Sylvy Ferrus live from OFF Festival of Avignon 2019
How and when did you feel the desire to become an actress?
I first felt the desire to be an actress at 11 years old. I remember it because I said to myself "when you will be asked later, remember that I was 11 years old!" An irresistible attraction for acting awoke while watching Isabelle Adjani, Jean-Paul Belmondo, and other star actors of the 80s. I understood them, recognized myself in them. I felt a growing awareness of my emotions, stirring of my imagination and a heightened desire to do what they did.
What were the decisive encounters during your training and your career?
First, all the French and American actors I watched in the cinema. I learned so much by watching them work. I did not see the character, but rather, the actor at work technically, emotionally, psychologically, and personally. I learned the impact of joy with Belmondo, the power of emotions with Adjani, simplicity with Catherine Deneuve, and the tremendous work necessary to embody a character in the most complete way by observing most American actors.
Then, inevitably, there was a master teacher Jean-Laurent Cochet (who taught Gerard Depardieu and Isabelle Huppert, for example). I was 34 when I observed one of his master classes, and I connected with what he said. He has changed the lives of hundreds of actors (if not more). Like mine.
He taught me to understand an author's intentions (not that I get there every time!). He taught me that the actor must forget himself… to be as objective as possible in order to better serve the character. An author is a rhythm, a universe, a singular world, a state of mind, a desire to convey his vision to the public.
And then he understood the human. He could write a book about any character in the play, whether someone with one line, or the leading role. He understood an actor's potential with a simple yet difficult assignment: presenting from memory a fable from 17th century French poet Jean de la Fontaine.
Mr. Cochet brought so much to my life. I could talk for hours about him and how he brought essential things to my life. I worked up to 10 roles simultaneously in his course, I worked some for 4 years in order to fully understand them.
In July, you participate in the Festival d'Avignon as a director. How do you live these three weeks of the OFF Festival 2019?
The actors are autonomous now, and they continue to develop on their own. I go to Avignon once a week to see their evolution, and I find it wonderful.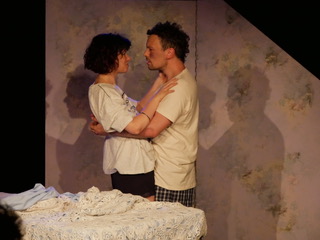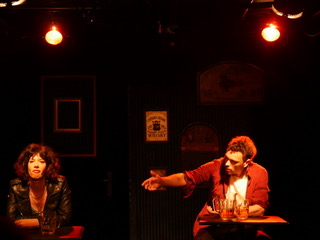 What captivated you about staging John Patrick Shanley's (New York-based screenwriter, film producer, and American director) "Danny and the Deep Blue Sea" play, which you play during this festival of Avignon, at the Pixel Avignon Bayaf Hall, from July 5 to 28 at 11am?
Vincent Simon proposed that I direct this wonderful play that he discovered with Estelle Georget. So I put them together on stage. This is the second time that I have worked twith Vincent. The last time was for another American play, Lyle Kessler's "Orphans," which had never been performed in France until we produced it from 2015 – 2019 in France and Switzerland.
As in Orphans, the characters' difficult past has a strong influence in their lives, and an event challenges them to transform aspects of themselves in order for them to move forward.
Both plays feature realistic characters that we could encounter in our everyday lives.
In "Danny and the Deep Blue Sea," the two main characters have an out of the ordinary emotional journey, but their hearts remained pure despite their hardened hearts and Danny's predisposition for brawling. The love they feel for each other forces them to drop their masks, and above all, to abandon the rejection they have of themselves… big work!
Do you feel attracted to bilingual theater?
Yes, by the American theater especially. I do not know much about other nationalities. It's the very powerful and very realistic side of American theatre that attracts me. I recognize myself a lot in this.
Through your roles in the theater in general, is there a common denominator?
I cannot really say that there is one common denominator… There are women of character, those who love, those who suffer, those who are funny, those who are gently crazy, those who fight… and sometimes all this is grouped all in one character!
Do you have a phrase, quote, or rule that guides you in your career?
"There is no difficulty that can not be overcome by extra work." (Jean-Laurent Cochet)
"Faithful to the author, effective for the public." (Louis Jouvet)
"The stage is the refuge of beings too beautiful." (Lili Lehmann)
Have other pieces of this Festival impressed you, and why?
"Hugo l'interview" by Yves-Pol Déniélou, directed by Charlotte Herbeau at the Theater of Essaïon.
Yves-Pol speaks as if he were Victor Hugo. Déniélou's Hugo answers a journalist's questions about life, and his opinion on various subjects. Intelligence in the text elevates the collective intelligence in the audience.
What are your projects in theater, film or television for the 2019/2020 season?

I have some roles for film and television but as you know, we rarely talk about it before things are really done…
"Orphans" (by Lyle Kessler), the play I directed before "Danny and the deep blue sea" will surely be replayed next year in Paris.
Stay tuned for other exciting projects on the horizon!

Thank you so much!