Interviews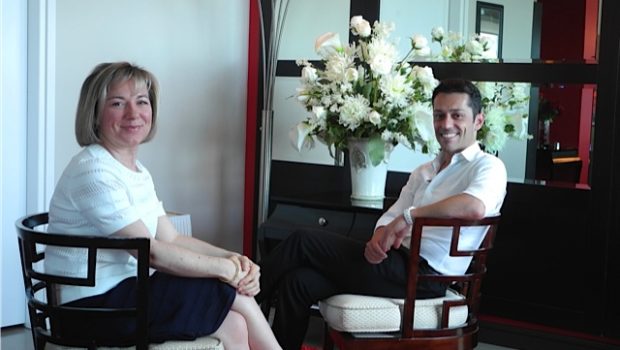 Published on August 26th, 2019 | by Isabelle Karamooz, Founder of FQM
1
Interview with Frédéric Da Silva, a mentalist at Bally's hotel and casino
Credits of the interview
Editor of the interview: Isabelle Karamooz
Interviewer: Isabelle Karamooz
Editor: Isabelle Karamooz
Transcription & video: Pascale Nard
I.K. : Hello Frédéric Da Silva, how would you describe yourself in a few words?
F.D.S. : I am a mentalist. It is not a term that everyone knows, it is a kind of magician of thought. We created a show where we produce effects that appear to be supernatural, or paranormal. The term is mentalist, that is to say someone who reproduces paranormal effects through entertainment and a show.
I.K. : Were you born with a particular power or a mixture of illusion and magic or just a lot of hard work?
F.D.S. : It may be a little of all of these. It is true when I was a child, at the age of five years old, I was offered a small magic suitcase and it seemed really very intriguing to me. I understood at that point that I wanted to dedicate my life to figuring out these secrets and mysteries that magicians had. Later, I was fascinated by hypnotists, we always believe that hypnotists have a mysterious power.
I always was fascinated by it. Obviously also it is a lot of hard work.
Magicians are known to have no power, but in any case they have some expertise in diverting attention, so that certain things will go unseen, so that the clues are not evident. For hypnotists as well, there is real work behind what they do. It's a bit like being a pianist or an athlete. I think at the beginning, there is a practice, a very strong desire to work and it is this desire, then, that is mysterious; no one knows why we are taken by the urge to learn these things.
I.K. : Can we talk about passion? At what age did this passion start?
F.D.S. : Yes, it really is a passion. It's even more than a passion. This passion took over my life. It has become my life. I began when I was five years old. I started doing small tricks, I had a magic suitcase. It was my mother who told me the secrets because I could not read and, already at the time, I was very upset to have to divulge my secrets to anyone including my mother but I knew I could trust her and let her in on the secret.
Then gradually I started doing shows for my family, doing shows in school for my classmates. After I started working in restaurants, I gave out my business card then people hired me for private parties. That's how it got started early on.
I.K.: Does one need special knowledge to do this job? Are there any mentalist schools?
F.D.S.: To my knowledge, there is no mentalist school in fact. Mentalism is a mixture of techniques such as neuro-linguistic programming, which is something that we can obviously learn from books, a mixture of memory, psychology, suggestion, hypnosis (which also can be learned) and magic. All of these arts here, we can learn them separately. After that, you need the formula to be able to put them all together. I think there are few mentalists in the world who really are professionals, most are magicians basically or hypnotists, but it is something that can be learned once you understand how to put all these things in order.
I.K.: When did you perform your first show?
F.D.S. : I do not really remember my first show. I had to be five, six years old. After the suitcase, I started to do tricks. I remember I did it for my family so I improvised the shows and it was great because obviously the tricks were not necessarily very good in my opinion, most could easily understand how they worked, but still something special was happening. People were so amazed to see that I was amazed to do that.
In the end, I think that people were fascinated that such a young child would say "Here is my magic show!" I think there was a side that was a little "cute." It was done with great fondness, I found it wonderful to have such an important impact; to be nice, people told me: "Bravo, Frédéric, you are a great magician." That is something that motivated me later on to work on the "real thing."
I.K. : Speaking of "real things" haven't you worked with Jean Pierre Foucault and Sebastien Cauet on television?
F.D.S.: Yes, both of them, I have actually been on TV several times. I think my first TV performance I did with Jean-Luc Reichmann. At the time, it was a program at noon named "Attention à la marche" (Watch Your Step). Every Wednesday in this program, they invited artists, we played the game and had a short performance. At the end of the year, there was a special show with the 'darling' artists of the year. I had been chosen as the "darling" artist of the year. I remember I had Jean-Luc Reichmann appear in a box with explosives, then I made him float in the air. It was my first TV performance. I had to be eighteen or so then, I was contacted by TPS to present the cartoons, so I presented the cartoons, and I did some magic tricks. It was Eureka, the channel for children. The idea was to develop the children's critical thinking; we had a magic trick, a kind of enigma, and the children had to try to find a solution, how the trick was done. They gave the solution either during the next episode or after the commercial.
We had no budget at the time, we had to offer a prize for someone to win. I said, since we have no money, I'll go to the winner's home and I will present my magic show for them.
That's how it started.
Then I did other TV shows, I did "Incredible talent" twice, I did Cauet three to four years ago. Who was the other person you were mentioning to me?
I.K. : Jean Pierre Foucault!
F.D.S.: Jean-Pierre Foucault, we were on tour. He presented my show, we were on tour with the show "Age tendre et tête de bois" (Young and stubborn) with so many other artists, particularly singers. It's a great tour in France, and at the peak of the tour we were performing twice a day and on cruises, so he was the one who presented my show. He was also on stage to interact with the audience members who came up on stage.
I.K.: Now Las Vegas, it's been a few years since you moved to Las Vegas?
F.D.S.: This is the fifth year, but it took me fifteen years before coming here. I feel as if I had spent all my life here in Vegas. I opened the show at Bally's in June 2013 then two months later I had to return to France, because I was on tour in France. I came back in 2014, I spent three hundred and forty hours flying in 2014. I worked sometimes in France until Thursday, I was back on a plane to perform here on the weekend, I headed back to France on Monday, I came here the weekend after.
I was under contract in France, I did not have the right to cancel, I could not cancel the shows. I did not want Bally's to think, "Frederic is never there! He is more interested in doing shows in France than here!" So I tried to show them that I was really motivated, sooner or later my contracts (I was not signing any new ones) would be completed and then I would be here full time. This will be my third year.
I.K.: Why did you choose to live in Las Vegas?
F.D.S. : Because this has always been a dream of mine. I have had several flashes, things that appear in your head in a clear and defined way. You know it will transform your life. I had one when I was five. I knew then I would be a magician. When I came here at eighteen, it was my eighteenth birthday gift from my family and friends. Everyone had saved up to buy me a plane ticket. When I arrived here I understood that I was born to live here, my life was here, it was here and nowhere else.
It was a fifteen year struggle because here in Las Vegas everything is actually very small. Ultimately there are few casinos, there are few shows relative to the number of applications. They receive thousands of DVDs per day but there must be no more than a hundred performances. Every casino has a number of shows, and no more, entertainment niches cannot compete too much with each other. I was a magician, there were already magicians, it was said that even if I was "the world's best magician," they never would want me because people had non-exclusive contracts. That was the thing that hit me at eighteen, I knew it would take me all my life, that the extent of what I was asking for would require an unimaginable amount of sacrifice and work.
I.K.: What is the necessary visa to practice your profession in the United States?
F.D.S. : That too is hard work, it is a P 01 visa. I think it's called "visa for personality internationally recognized for his extraordinary skills. "
I.K.: So it is an artist's visa?
F.D.S.: It is an artist's visa, but you cannot replace another artist. If there is an American who can do the same thing, you are taking an American's job in a way, so they do not need you. It was necessary to create a show that was unique in the world with things that no one else had been able to do.
Then I did a lot of competitions in France. I did the European Magic Championships, then I represented France at the world championships, although it took three or four years to get the necessary credentials in order to apply for this kind of visa, then it still took a year to be able to get it.
I.K.: Are Americans more receptive than the French?
F.D.S. : That's a question I get often, I'm not sure, we often say that American audiences are easier but here in Vegas, people are accustomed to seeing the best shows in the world, Cirque du Soleil, David Coperfield… People who just saw Celine Dion will have an expectation of quality that is much higher than anywhere else in America I believe. What's great with American audiences is that they are all friendly. When we get on stage they applaud, people shout. If you ask them to participate they will participate, they are warmer towards the performers than a French audience. The advantage of the French public (I'm glad I built my career in France) is that the French public is more skeptical, a French audience gives you a chance, that is to say they wait to judge you. If they see that you are very good, in the end they will cheer for you like an audience here, but if they see a thread, if they see a trace or for a magician (I do not do these things anymore) but if they see the dove up your sleeve… To the French public it is unforgivable should the trick or the explanation become obvious. So, it forced me, because I was very shy, I was afraid of being ridiculous, I was afraid that someone would understand how my tricks were done. I think that being French I built up the intellectual side of my act that was pushed to the extreme and probably, if I were American, I would not have done something as complex and elusive as that. Today when I go on stage, I'm pretty sure it is nearly impossible to figure out how the hell I manage to do what I do.
I.K.: Are there many of you in the profession?
F.D.S.: Here in Las Vegas there are only two of us. In the world there are a few more, I have no exact figure, there is no real organization; I am part of the European order of mentalists, it's all of Europe and there are about sixty of us. Maybe now it's a little bigger. There are many people who do this as a hobby or passion but they do shows anyway, it's a career where you do not really know when you become professional. You can be professional, do shows and be very bad, or you can be very good, do a few shows and have other jobs on the side. There is no real degree, there are contests that select the best mentalists, but no diploma to say that we are professional mentalists.
I.K. : Have you ever met Simon Becker, the actor from the American series Mentalist?
F.D.S.: No, no, this is the first time anyone has asked me the question. I've never met him, but I think he has met many mentalists, but you should know that he is not at all a mentalist, let alone a stage mentalist. This is what makes the difference between a TV show and what we actually do on stage, even though the TV series explains very well that he is not psychic, that he does not have supernatural powers but uses methods that are generally related to psychology. I think if he saw my show he would absolutely not understand any part of what I do. He's an actor, he acts very well indeed, and thank goodness for this series because before the show people did not know anything about it, did not even know the word mentalist.
I.K. : Where do you perform in Las Vegas?
F.D.S. : I perform at Bally's Casino right in the heart of Las Vegas, just opposite the Bellagio which is next to the Eiffel Tower. It is very centrally located, we are in the middle of Las Vegas Boulevard. I'm really happy to have the best place to perform my show, to be part of the largest group of casinos, the largest entertainment company in the world which is Caesar included the casino where I work, so it's true, I could not have a better location.
I.K. : Do you perform every day?
F.D.S. : Depends on the period. Right now I'm performing every day except Tuesday or Thursday. I do roughly between four hundred and fifty and five hundred shows a year. Depending on the season I sometimes do up to forty-eight performances per month.
Two a day on average, one at 4:00 and the other at 9:30.
I.K. : That's a hell of a pace!
F.D.S. : Especially since I do not just do the show, I'm also producer of the show and I'm also the owner… Well, I own a portion of the theater where I work. I still oversee many things even though I am trying gradually to take care of my show more and the other shows less, because it's a lot of work when in addition to that, you are on stage, continuing to create, to invent new acts and work on show production.
But it is a passion! It is so exciting to see how far we can go, you want to go farther, as soon as possible.
I.K. : I wish you good luck for the future and thank you again for taking the time to answer my questions.
F.D.S. : Thank you, it was my pleasure.