Fashion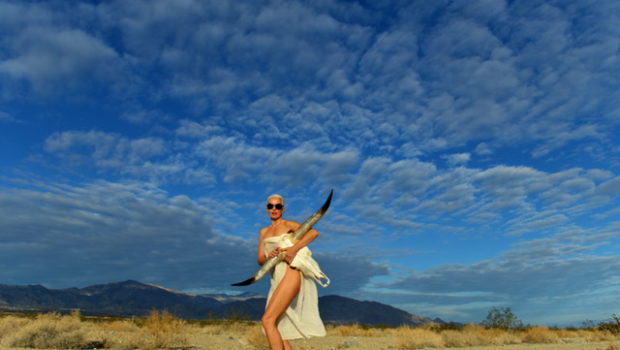 Published on September 9th, 2019 | by Philippe Traversian
0
Yazemeenah Rossi: "I'm an alien!"
8 pm Tuesday evening (French time), the sweet voice of young woman that I hoped to hear from for a long time, speaks to me from California! The most famous French senior model on the planet has found a moment between shoots and interviews to tell me about her current desires and projects.
I discovered Yazemeenah, this atypical woman, with dazzling silver hair, on the set of the show, "Ça commence aujourd'hui" on France 2 presented by Faustine Bollaert. Her obvious and immediate charisma seduced the audience, her very intelligent speech, her magnificent way of life, finally convinced us. Her surprise guest was her son, with his granddaughter, who found the words to invoke his incredible mother: "The Elf from the Lord of the Rings, that's my mother. " A magnetic and phantasmagorical character, living in an ideal sublime planet…
"He gave me a wonderful compliment but it's true that I'm an alien, I'm connected in the 5th dimension, out of time! "
A visionary, always ahead of a galaxy.
"I started self-portraits in New York 15 years ago," she says, "social networking was not my thing. It's my daughter who opened my accounts. In 2015, I posted photos and videos in bathing suits at home in Malibu on the Internet and in a totally unexpected way, these images went around the world. Since then, I'm asked almost every day for interviews. I do them for magazines and television shows all around the world!
Solicited non-stop, her new status of "star" changes only one thing for her: "It's important to the extent that it allows me to inform people about my way of life. The quality of life in its simplicity is my creed. Young, not so young, I have many requests. »
An astonishing range from 24 to 35 years! If it corresponds to time, being totally in tune with what's fashionable at the moment, she didn't wait for the current awakening to show the way. Forerunner of a healthy lifestyle, natural, aimed at physical and spiritual well-being.
"I have always refused, for example, to dye my hair," she argues with conviction, "I was the only one in Paris with white hair. When I arrived in New York at the age of 45, it was the same. There were only five or six of us at Ford with salt and pepper hair. They stopped me constantly in the street. Today young people dye their hair, while for me, it was for the sake of keeping it natural.
She converted to yoga and meditation over thirty years ago, the beautiful Yazemeenah represents a life based on some simple principles: diet, spirituality, positivity, freedom from social and family pressures. "I never wanted to cheat in my life. When I was younger, I complained about my lack of bust. It comes in handy today however, as it gives me a younger look! I never wanted to hide my white hair, it appeared at the age of twelve, despite the many pressures I received, I never succumbed to cosmetic surgery. If I do it, I'll say it. I remain open to life and I let myself be permeated by it. To feel in harmony is the message that I want to convey to the young women who follow me on the internet and thank me for the image that I promote."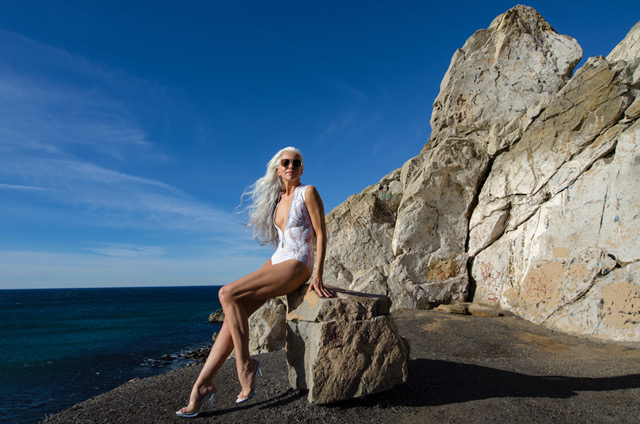 Natural and authentic
She began doing self-portraits in New York: "I was sick of the photos at work, I found them to be horrid. So I went to the desert to create my first shots. The agency found that they weren't pretty enough… They had to be retouched. There was, however, a demand for authenticity. "
Sufficiently sure of her talent, while traveling in foreign lands, she offered Ford the work that bloggers do today fifteen years ahead of its time! Thereby, going exactly against the grain of her trade.
Four years ago, she changed her name legally, after a personal introspection. "My first language was Corsican. My name was Yasmina, but they said Ghjasimina. I chose Yazemeenah and since then, many things have changed in my life. As an appreciation, there was an explosion on the Internet. My identity was finally in place! "
In the southwestern United States, in Malibu facing the beach, where she lives, the cradle of Indian lands, she came to a strange inevitability. "My grandmother looked like a native Indian, she had a ballerinas body. I met an Indian in New Mexico who revealed to me that by not changing any letters, but just by separating my name in two, it means bowl of salt. The connection was complete. Water, salt, the ocean is important to me. Yet for eight years in New York, I never imagined moving to the West Coast, it grabbed a hold of me suddenly when I visited here one winter.
A sudden notoriety propelled her like a rocket as World Ambition Ambassador! "My life has completely changed, I realized that my physique was useful for transmitting my values."
Today, above all, she considers herself an artist with a childlike soul, refuting the term selfie for self-portraits that she works in an elaborate way. "I've always loved the camera, in front of and behind the lens, because it's linked to the mystery of the human. It's magic. I preach the joy and beauty of creating. I print my photos on cashmere, I created a silver bracelet with LA artisans, which I dreamed for ten years, I make bags with photos printed on canvas to paint. It is very textured, organic, I do a lot of water photography, reflections.
Her many beautiful photos in the dunes of California, with its sumptuous landscapes, give her a feeling of freedom, which seduces her fans so much. "Your inner dimension becomes limitless. Having grown up without running water or electricity on the Island of beauty, it forces you to stay in touch with nature. It's the light that counts. And then I have the temperament of the contemplative, you make the link with yourself. Nature is our mirror.
Have you always maintained a close relationship with your body, is it the same today?
"Yes, but it has evolved. When I was younger, people thought I was a fitness teacher. I went windsurfing and swimming in Corsica. I have always been fascinated by the magical side of the body, how does it work? I started yoga at the age of 20 with one of my father's employees on the beach at sunrise. Spirituality has always mattered to me, it is to be connected with one's mind to capture the world, to find solutions, to move forward, to face difficult situations. "
She began modeling at the age of 28, when most models stop, when a friend proposed the she should fill in for a model last minute at the Paris ready-to-wear salon. Saint-Laurent, Mugler, Lacroix, she went on to travel to Japan several seasons in a row, she's selected for television ads, gets divorced, remarries, becomes a photographer, produces books for her sisters.
Spirituality, quest for meaning, generosity, health, nutrition, balance, the outdoors, always striving to be in harmony with nature, still very beautiful in her 60's, "the prettiest grandmother in the world," corresponds perfectly to its time:
"I always felt like I was not in the right era. In 2000, I had my first computer in New York, I didn't even bring it out for a year, I didn't know how to use it. Now, of course I do."
Youthism? "I see aging but I never thought about it. We can't do anything about it, it's a natural phenomenon. It's not an enemy. It must be accepted, that's all. Let's not lose our energy to fight against the current. We are all unique. See what's unique in you and put it to good use. Do something with it, it's your wealth."
Beauty? "It's ubiquitous in my life, I can talk about it for hours. It's the dimension of the divine, it nourishes the soul. The human being needs to express beauty. "
She lives without TV, in a peaceful environment, feeds on music, films, readings, selects news, surrounds herself with positive people, that are necessary for her well-being. She thinks of cinema; "If that's the case, I've been taking classes for a long time. I have to write my book, I've had this transmission project going on for over 25 years on what makes me feel good. "
A nice way to get even more profound with others. Her fans will eat it up!