Fashion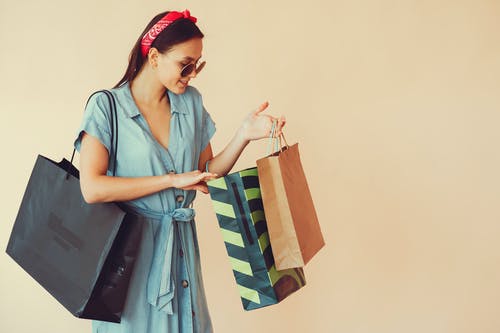 Published on February 24th, 2021 | by Jais Frank
0
5 Best Ways To Tie A Bandana Headband for Women
Bandana headband comes up with different shapes and sizes and its features make hair bandana a multifunctional hair accessory. The bandana's beautifully vibrant colors make a perfect hair ornament to achieve a modern, chic and classy look. These hair accessories are definitely securing their permanent place in the women's wardrobe.
They are widely used as the hairband and hair tie, but also they are for all age women. If you want to add some color to your outfit, you can wear it like a choker necklace.
Bandana headbands are not only beautiful and stylish hair accessories, they are the accessories that you can style with your own style statements. In addition, It is simple and we show you how to tie a bandana headband. You do not have to have any help from anyone. Dressed from head to toe, anywhere you plan to go, you can wear this colorful accessory.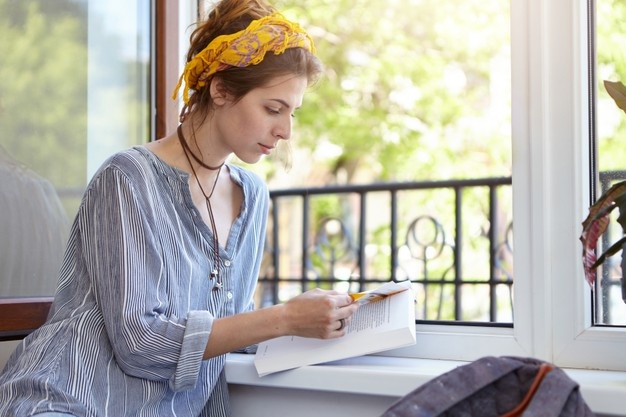 Photos Credit: freepik.com, pixabay.com and pexels.com.
5 Cool Ways To Wear A Bandana Headband
This very cool hair accessory goes with any outfit and any occasion. From prom parties to riding bikes, every wear of this small piece of cloth conveys a great style statement message. Bandanas come in different sizes, but a fairly standard size is 22 inches square (56 by 56 centimeters). By using some simple folding tricks, this manageable accessory adds a more stylish look.
Here are the descriptions of how to wear Bandana headband in different styles:
1. Bandana Wrap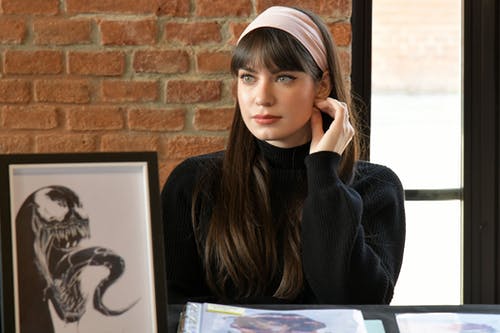 Bandana wrap is a unisex style of wearing a bandana headband. For achieving this smart look, you only have to get a proper size bandana. It is best not to pick small size bandana as you have to cover your whole head with this cloth so it can wrap your head.
How To Wear it:
Spread the bandana on a flat surface
Fold it and meet the opposite corner of the bandana
Make a clean triangle with this cloth
Place the long length surface on your temple and tie a knot behind your head
For achieving a neat look, get the one free side and make another secure knot behind.
2. Tie Bandana Like Hippie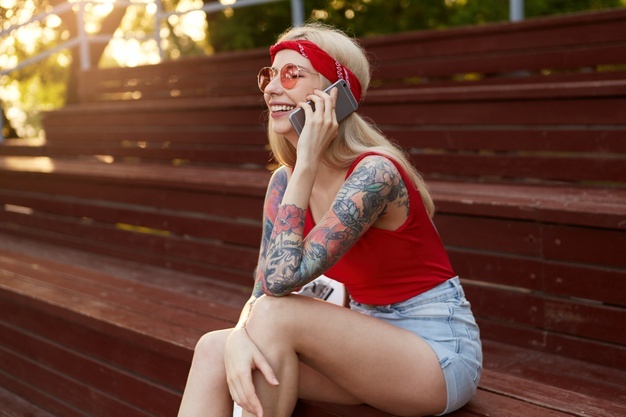 Bandana wrap and hippie-like bandana-wearing are both handy for bike riders in particular. Hippie-like banda wearing is becoming very famous for beach parties and in order to achieve the perfect casual look for summer. The former style is very trendy among bike riders and beach crawlers.
How To Wear it:
Only fold the bandana in a triangle shape
Start first by folding the bandana like a bandage
Fold it like a wide headband
For securing the headband from slipping off when you have it on your head, you can apply some hair spray
Place the band on the temple of your head and tie a secure knot behind.
3. A Colorful Ponytail holder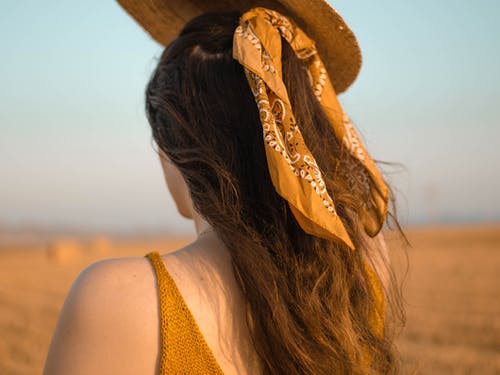 The ponytail is a stylish and modern hairstyle. For women with long hair, it is almost like a daily fashion statement. If the regular elastic hair ties are causing you pain, then these colorful clothes can solve your problem by making the ponytail less painful.
How To Wear it:
Gather all your hair on the top, then make a ponytail
Use bandana cloth instead of elastic hair ties
This ponytail is a casual look and adds a very soft look to your hairstyle.
4. Classic Way Like A Headband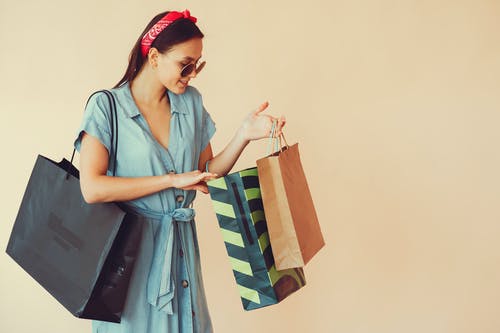 Classical headband style is the perfect style to achieve a classy and modern look. This hairstyle is adding a clean look too. When you are doing any outdoor activity, it is perfect for you. You can tie the bandana from the front and back; indeed, both of the looks are stylish and gorgeous.
How To Wear it:
Fold the bandana like a big headband
Tie the bandana like a headband, and for securing the band, use some hair spray
Smooth out the surface of the band with your palm
You can tie the knot from the front, or you can tie the knot from the back. These two styles are very stylish and useful for doing any outdoor activity.
5. Wear It Like 90's Style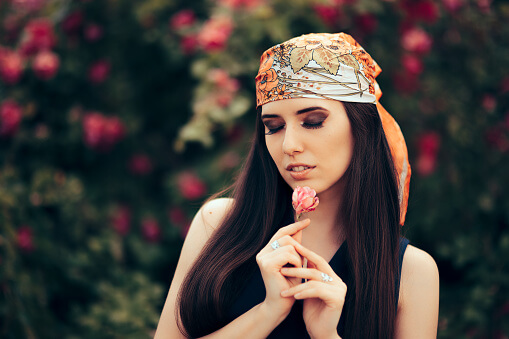 "Old is gold." This phrase can't be more correct for these hairstyles. The Hollywood beautiful actresses have rocked this look in many 90's movies. The beach outfit is incomplete without this look, which is one of the casual hairstyles and become the perfect go-to hair look for any beach party and summer backyard parties.
The best part of this style is it protects your hair from sun damage. You get to see your healthy gorgeous and protected hairs coming out from the cover of the bandana.
How To Wear it:
Fold your bandana in half and meet two opposite angles
Place your forehead in the center part of the triangle base
Wrap the bandana around your head and make a knot behind your head
If you want to flaunt your front bangs, take away your front locks from the bandana and then secure the bandana with two bobby pins
You have to secure the bandana with the bobby pins from the behind of your ears.
Bottom Line:
The best part of the bandana headband is its multifunctional purposes. Hence this headband is made with a simple, colorful piece of textile. Indeed, this hair accessory is the best choice for women who have very sensitive skin and develop allergic reactions with non precious metal contacts. Just pick the right color bandana with the appropriate shape, size, and style according to your outfit.