Art & Culture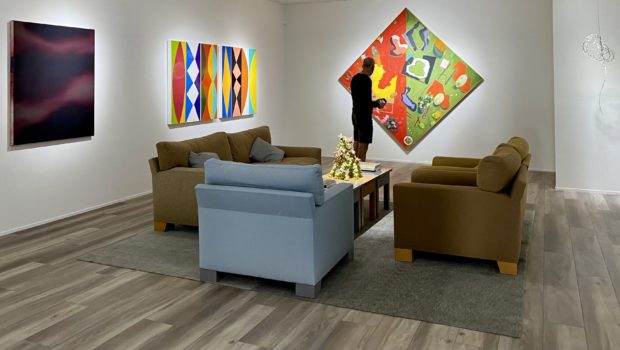 Published on April 20th, 2021 | by Laurence de Valmy
0
[:en]Quint Gallery, a gem in La Jolla[:fr]Quint Gallery, un joyau de La Jolla[:]
[:en]With its beautiful coast and active artlife, La Jolla deserves well its name. Quint Gallery, which celebrates its 40th anniversary, is one of the leading contemporary art gallery of the area.
We've had the chance to meet with Ingrid Westlake, Visual Curator and Director of ONE, a Quint Gallery satellite space. She shared about southern California artlife, Quint Gallery and the current exhibition with French artist Adrien Couvrat.
Cover photo Quint Gallery: artworks by Mara de Luca, Kim MacConnel, Manny Farber and Anne Mudge.
Hello Ingrid Westlake, La Jolla is home to many art galleries. How would you describe the art scene in southern California?
There is a very diverse offer when it comes to art galleries in Southern California: La Jolla is home of around 15 art galleries, and perhaps the same in various parts of San Diego. La Jolla is where the prestigious Museum of Contemporary Art (MCASD) is located so a variety of art galleries have established themselves to serve local collectors as well as visitors to the Gem of San Diego (that's what La Jolla means).
While Los Angeles has obviously a lot to offer with numerous world-renowned museums such as The Getty, LACMA and the Broad, I like to think that San Diego, and Quint Gallery in particular, has put forward a very distinctive visual offering which has contributed to the longevity of the gallery. Think of Quint Gallery as a gem inside a gem of a region and city, art lovers out there will forgive me for going all meta on them. 🙂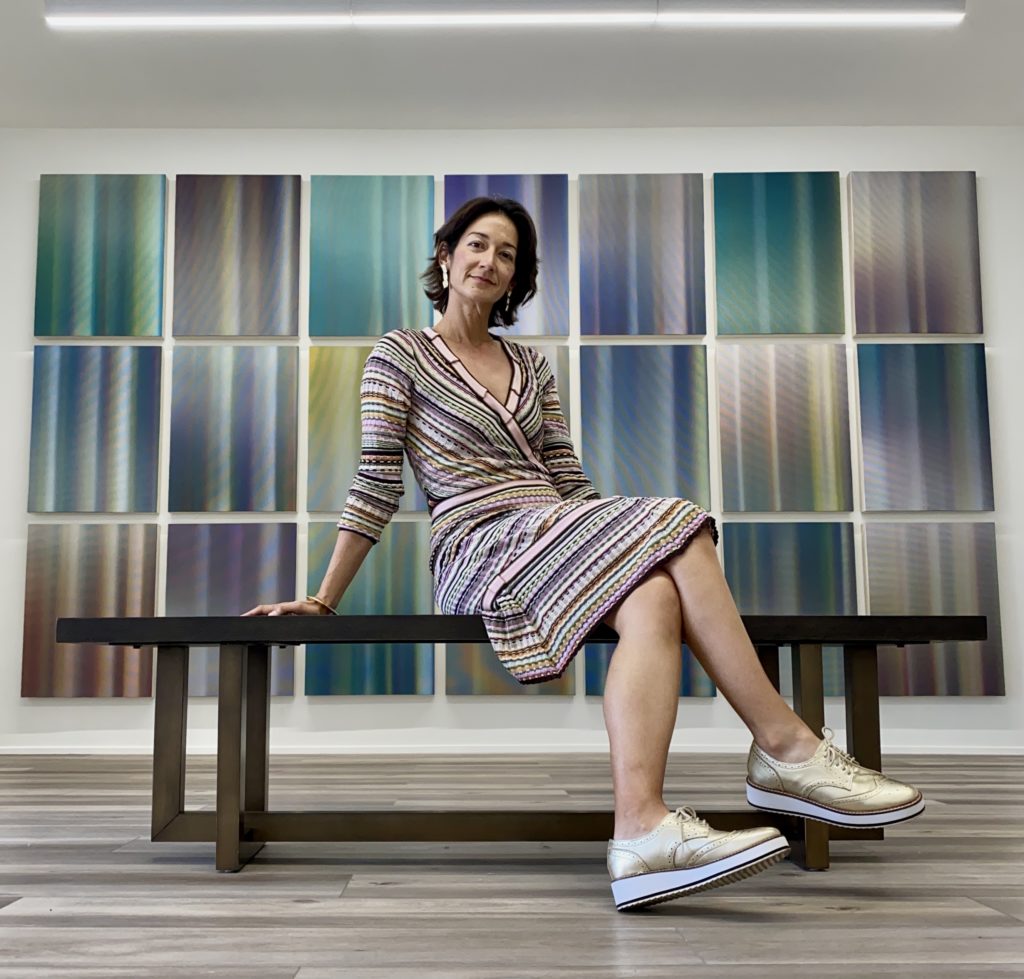 Can you share about your path that led you to be a Director at Quint Gallery?
I first got acquainted with Quint Gallery as an art collector when I moved to San Diego almost 10 years ago. Discovering the incredibly clever works of Kelsey Brookes and Adam Belt was a revelation. Further conversations and my writings about some Quint artists led Mark Quint and his team to approach me with the offer to curate exhibitions for Further, a satellite space they were starting in January 2020.
Further was a collaboration project with SixteenFifty, a Creative Intelligence agency here in La Jolla. With Covid-19, it quickly proved impossible to bring visitors to a working space so my 20/20 Vision: See Further exhibition was short-lived.
Mark Quint always dreamed of a slow art concept space which would show only ONE artwork at a time. This proved the perfect timing and we opened ONE in July 2020.
Can you share about the story of the Gallery and its program?
When Mark Quint established his gallery 40 years ago, he chose to champion artists of the Light and Space movement (Robert Irwin, Peter Alexander, Mary Corse, Larry Bell…), a movement now recognized as Quint-essential (pun intended) California Art. These iconic artists and painters with a Minimalist or Conceptual sensitivity showed early on at Quint Gallery, all turning the unique quality of the California light into an endless source of inspiration.
While Quint continues to exhibit works by these seminal Light and Space artists, careful attention should be paid to Adam Belt and Mara de Luca, the younger generation of Light and Space artists.
Another very distinctive trait of most Quint artists is how they embrace color in all its variations. A great example is the works of Manny Farber.
In a more abstract style, our artists Kim MacConnel and Kelsey Brookes are both graceful and clever: MacConnel choosing to rewrite art history by focusing on Pattern & Decoration while Kelsey Brookes' art is rooted in molecular science and brain perception.
I'd also like to point out the geopolitical aspect and San Diego's cross border culture. It is an important visual marker influencing many artists on both sides of the border. Quint Gallery chose to open a brand new large scale Gallery space last March by showing an important and significant installation by Chilean artist Alfredo Jaar in which a series of light boxes and mirrors immerse viewers into the journey of an asylum seeker crossing the Rio Grande from Mexico into the US.
Most artists are American and relatively local yet my European background has already led to showing some European artists I believe American collectors will be grateful to welcome into their collections.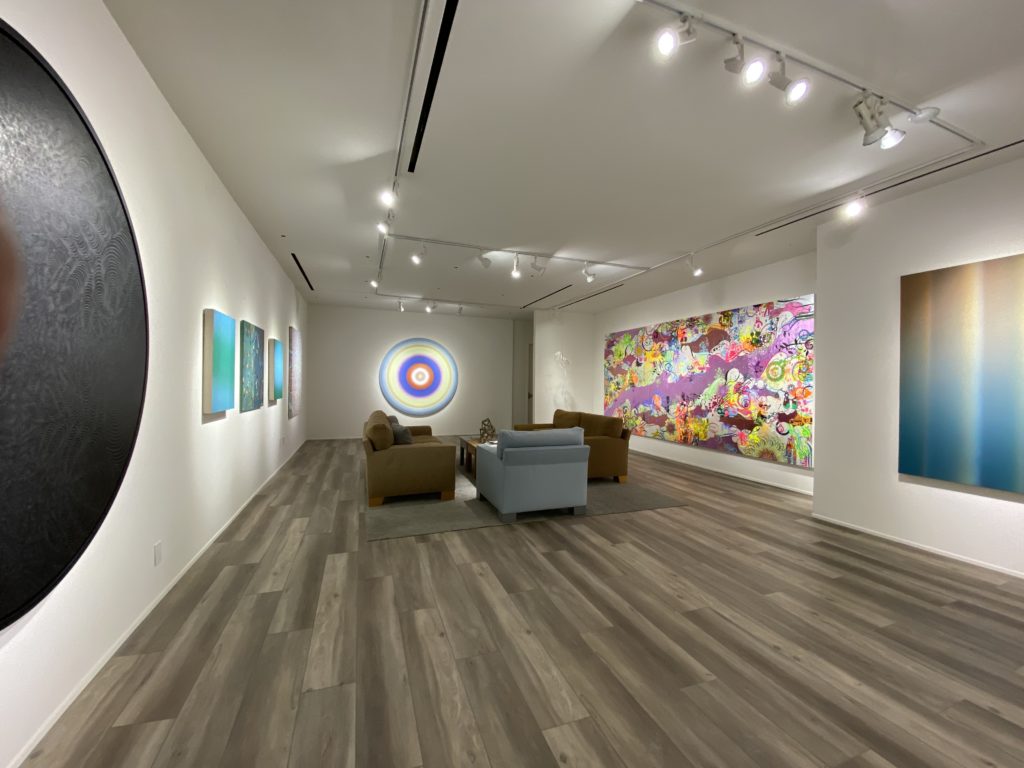 How did the gallery adapt to the current situation? Any silver linings?
I actually think after the initial shock, Quint Gallery was incredibly quick to seize the opportunity of a "by appointment only" model. Our personalized approach made for the best interactions with our clients and collectors who rallied in strong support of the gallery since we never stopped bringing top quality art exhibitions when all museums were closed.
Our slow art concept at ONE provided an art moment and so many people expressed how grateful they felt for this much needed mindful reset. With so much time spent at home, many people chose to invest in artworks. So yes, there were definitely many silver linings as we seized the opportunity to open a second exhibition space in March 2021 to celebrate Quint Gallery's 40th anniversary.
What are the current and upcoming exhibitions?
We are currently showing French artist Adrien Couvrat at ONE (until May 15) with a monumental installation of his ravishing optical paintings which change color as the viewer moves in front of them. Pure optical magic and Light and Space with a French touch.
Alfredo Jaar's Walking on Water will remain on view at the Gallery since this almost 30-year old installation about immigration is once more only too relevant given current events and under-age children being sent to cross the border on their own.
Mid-May, the Gallery will have a mid-career survey for our artist Kelsey Brookes.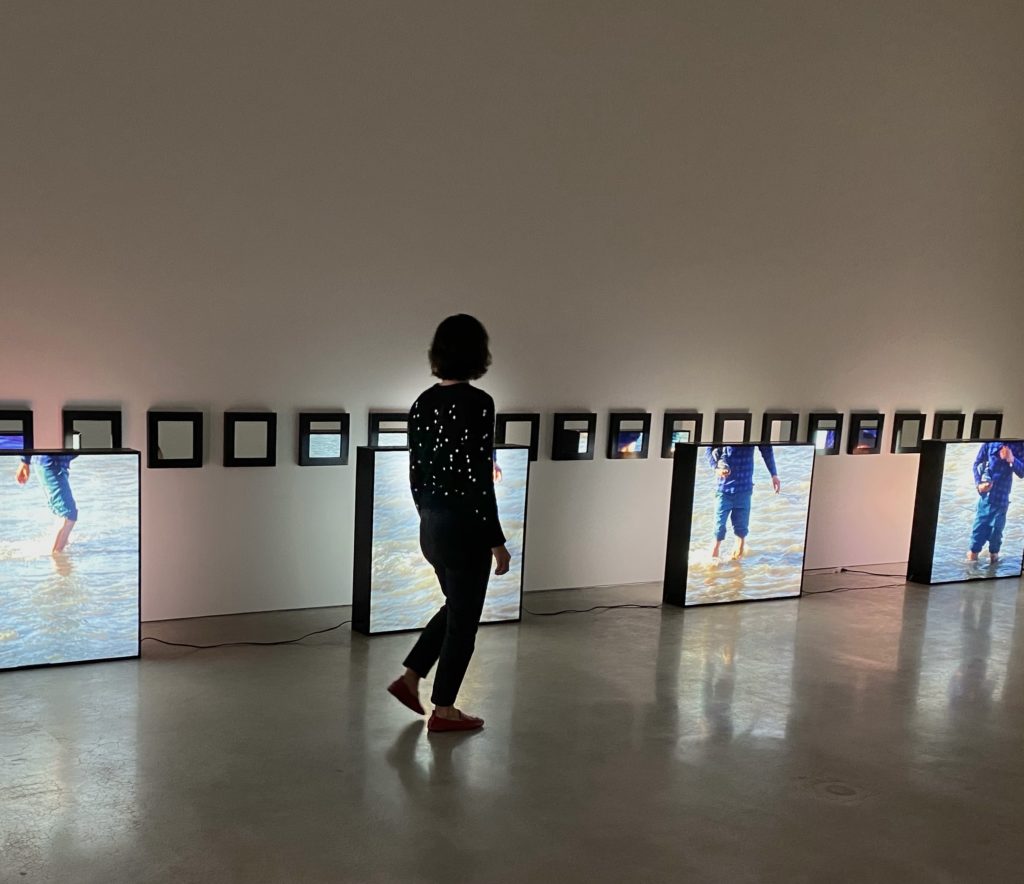 [:fr] Avec sa magnifique côte et sa vibrante vie artistique, La Jolla mérite bien son nom de joyaux. La Quint Gallery, qui célèbre son 40e anniversaire, est l'une des principales galeries d'art contemporain de la région.
Nous avons eu la chance de rencontrer Ingrid Westlake, curatrice et directrice de ONE, un espace satellite de Quint Gallery. Elle nous parle de la scène artistique de la Californie du sud, de la Quint Gallery et de l'exposition actuelle avec l'artiste français Adrien Couvrat.
Photo Quint Gallery: oeuvres de Mara de Luca, Kim MacConnel, Manny Farber et Anne Mudge.
Bonjour Ingrid Westlake, La Jolla abrite de nombreuses galeries d'art. Comment décririez-vous la scène artistique de la Californie du sud ?
Il existe une offre très diversifiée en matière de galeries d'art : La Jolla abrite une quinzaine de galeries d'art, et peut-être la même chose à San Diego. La Jolla est l'endroit où se trouve le prestigieux musée d'art contemporain (MCASD), de sorte qu'une variété de galeries d'art se sont établies pour servir les collectionneurs locaux ainsi que les visiteurs du joyau de San Diego.
Alors que Los Angeles a évidemment beaucoup à offrir avec de nombreux musées de renommée mondiale tels que The Getty, LACMA et The Broad, j'aime à penser que San Diego, et Quint Gallery en particulier, a mis en avant une offre visuelle très distinctive qui a contribué à la longévité de la galerie. Quint Gallery est un joyau à l'intérieur d'un joyau. 🙂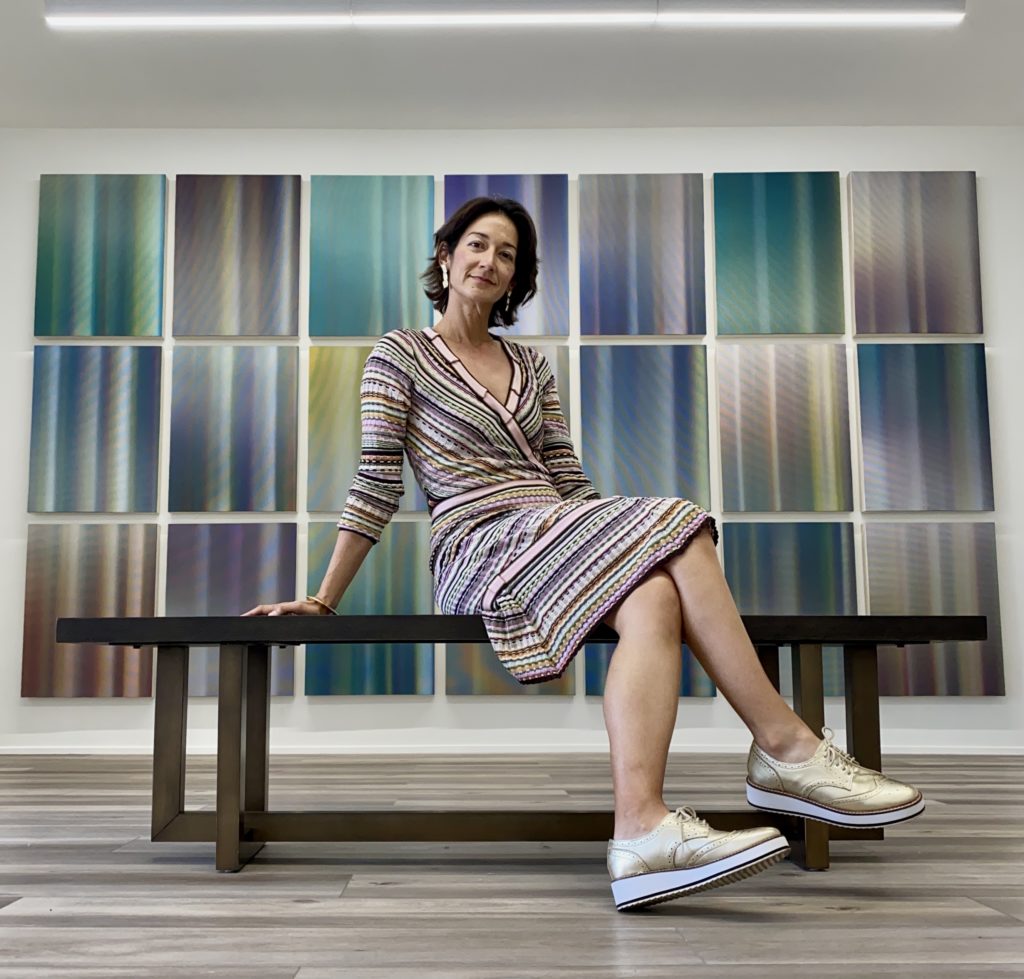 Pouvez-vous nous parler de votre parcours qui vous a conduit à devenir directrice de la Quint Gallery ?
J'ai fait la connaissance de la Quint Gallery en tant que collectionneuse d'art lorsque j'ai déménagé à San Diego il y a près de 10 ans. Découvrir les œuvres incroyablement intelligentes de Kelsey Brookes et d'Adam Belt a été une révélation. D'autres conversations et mes écrits sur certains artistes de Quint ont conduit Mark Quint et son équipe à me proposer de gérer des expositions pour Further, un espace satellite qu'ils commençaient en janvier 2020.
Ce projet était une collaboration avec SixteenFifty, une agence créative de La Jolla. Avec la Covid-19, il s'est rapidement avéré impossible d'amener les visiteurs dans un espace de travail, donc mon exposition 20/20 Vision: Further a été de courte durée.
Mark Quint a toujours rêvé d'un espace conceptuel de slow art qui ne montrerait qu'une seule œuvre d'art à la fois. Cela s'est avéré le timing parfait et nous avons ouvert ONE en juillet 2020.
Pouvez-vous partager l'histoire de la Galerie et son programme ?
Lorsque Mark Quint a créé sa galerie il y a 40 ans, il a choisi d'être le champion des artistes du mouvement Light and Space (Robert Irwin, Peter Alexander, Mary Corse, Larry Bell…), un mouvement désormais reconnu comme essentiel de l'art californien. Ces artistes et peintres emblématiques à la sensibilité minimaliste ou conceptuelle ont été exposés très tôt à la Quint Gallery, transformant tous la qualité unique de la lumière californienne en une source d'inspiration sans fin.
Alors que Quint continue d'exposer des œuvres de ces artistes phares, une attention particulière doit être portée à la jeune génération d'artistes de ce mouvement : Adam Belt et Mara de Luca.
Un autre trait très distinctif de la plupart des artistes Quint est la façon dont ils embrassent la couleur dans toutes ses variations. Les œuvres de Manny Farber en sont un bon exemple.
Dans un style plus abstrait, les oeuvres de nos artistes Kim MacConnel et Kelsey Brookes sont à la fois élégantes et intelligentes : MacConnel revisite l'histoire de l'art en se concentrant sur les motifs et la décoration tandis que l'art de Kelsey Brookes est enraciné dans la science moléculaire et la perception du cerveau.
Je voudrais également souligner l'aspect géopolitique de la culture transfrontalière de San Diego. C'est un marqueur visuel important qui influence de nombreux artistes des deux côtés de la frontière. La Quint Gallery a choisi d'ouvrir un tout nouvel espace en mars dernier en montrant une installation significative de l'artiste chilien Alfredo Jaar dans laquelle une série de boîtes lumineuses et de miroirs plongent les spectateurs dans le voyage d'un demandeur d'asile traversant le Rio Grande depuis le Mexique. aux États-Unis.
La plupart des artistes sont américains et relativement locaux mais mon expérience européenne a déjà conduit à montrer des artistes européens que je crois que les collectionneurs américains seront reconnaissants d'accueillir dans leurs collections.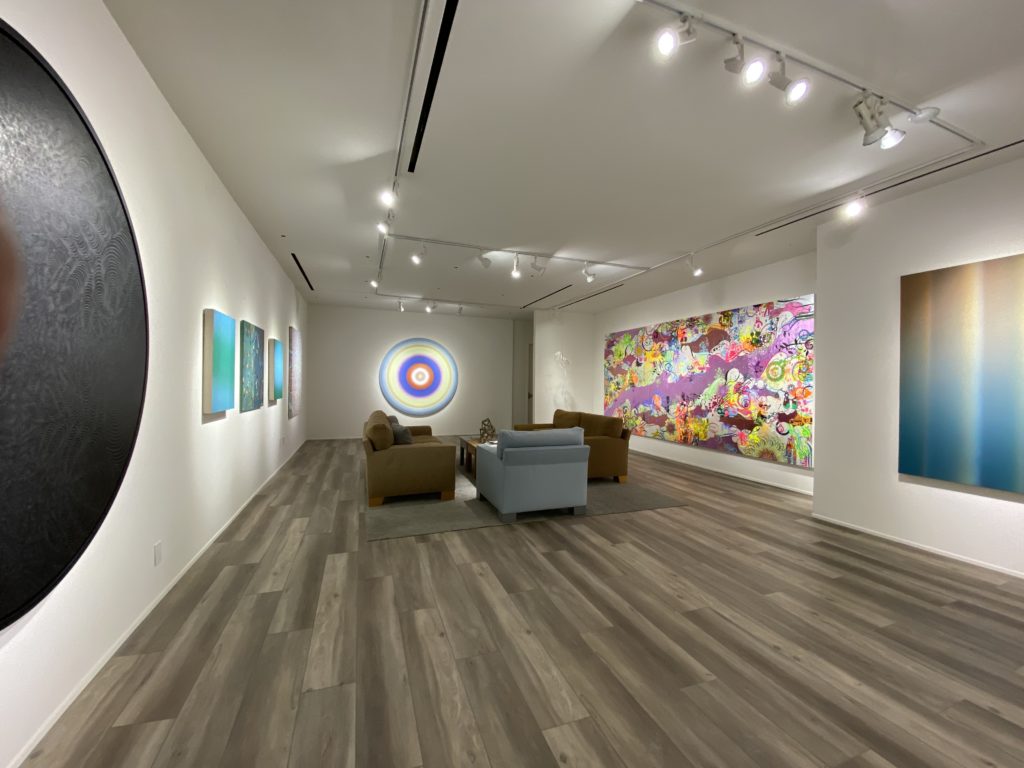 Comment la galerie s'est-elle adaptée à la situation actuelle ?
Je pense en fait qu'après le choc initial, Quint Gallery a été incroyablement rapide pour saisir l'opportunité d'un modèle sur rendez-vous. Notre approche personnalisée a permis de meilleures interactions avec nos clients et collectionneurs qui se sont mobilisés pour soutenir la galerie puisque nous n'avons jamais cessé de proposer des expositions d'art de qualité lorsque tous les musées étaient fermés.
Notre concept de slow art avec ONE a fourni un moment artistique unique et beaucoup de personnes ont exprimé à quel point elles étaient reconnaissantes pour ce moment si nécessaire. Avec autant de temps passé à la maison, de nombreuses personnes ont choisi d'investir dans les œuvres d'art. Il y a donc eu certains aspects positifs malgré tout et nous avons saisi l'opportunité d'ouvrir un deuxième espace d'exposition en mars 2021 pour célébrer le 40e anniversaire de la Quint Gallery.
Quelles sont les expositions en cours et à venir ?
Nous présentons actuellement (jusqu'au 15 mai) l'artiste français Adrien Couvrat à ONE avec une installation monumentale de ses fascinantes peintures optiques qui changent de couleur au fur et à mesure que le spectateur se déplace devant elles. Une magie optique pure et jouant avec la lumière et l'espace, le tout avec une touche française.
Walking on Water, d'Alfredo Jaar restera à l'affiche à la Galerie puisque cette installation de près de 30 ans sur l'immigration est toujours très pertinente étant donné l'actualité et la situation des enfants mineurs qui traversent la frontière par leurs propres moyens.
À la mi-mai, la Galerie effectuera une rétrospective de mi-carrière pour notre artiste Kelsey Brookes.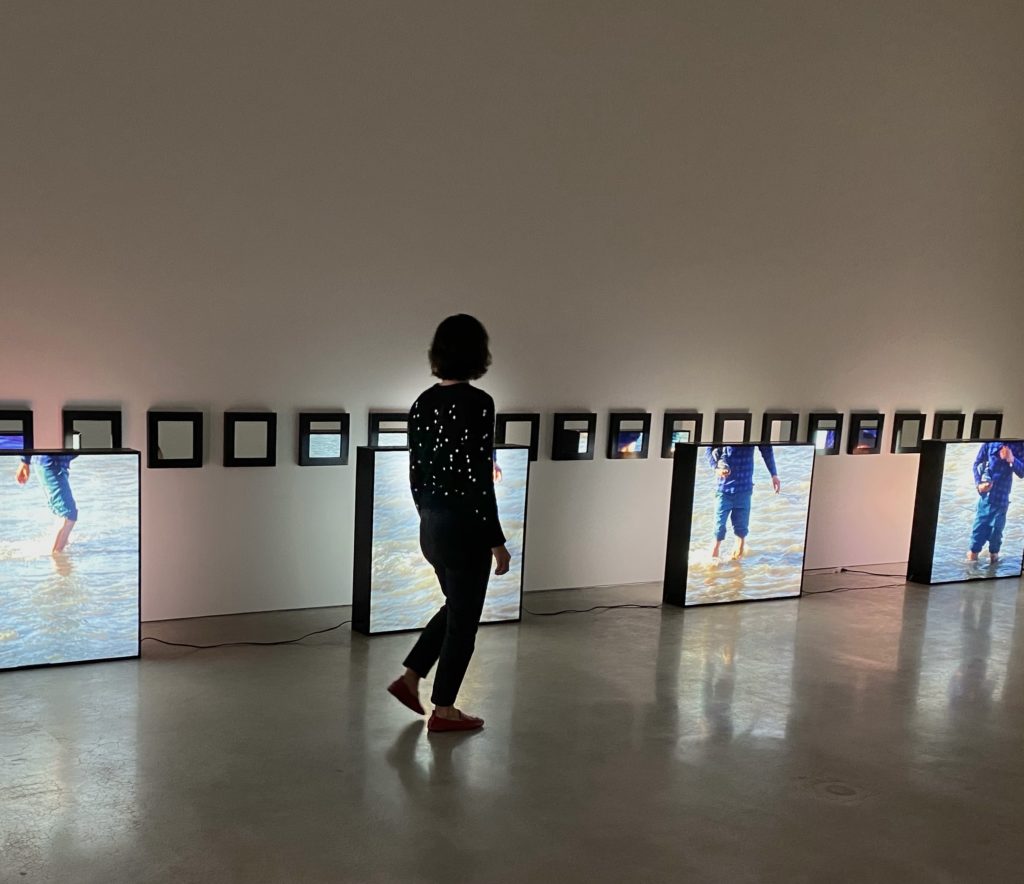 [:]