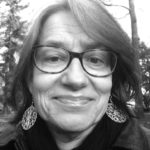 About Pascale Nard
Pascale Nard Pascale Nard's general interests are cinema, culture, and music, being her greatest passion. She loves human relationships. Participating in French Quarter Magazine allows her to contribute sharing of culture and knowledge between two countries. Pascale makes technical contributions by working on FQM's videos. She records, edits, and writes the video descriptions and transcribes interviews.
Author Archives: Pascale Nard
This author has no self-written articles in the archives.