Travel & Sports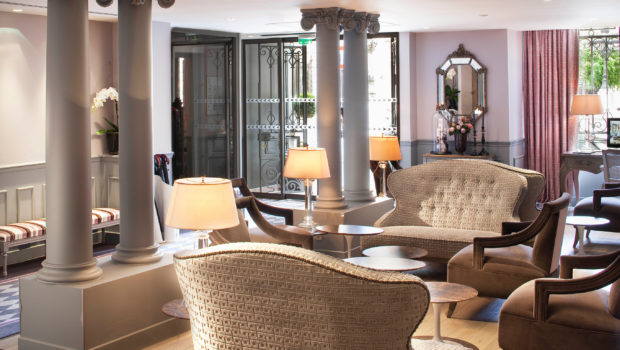 Published on September 8th, 2022 | by Isabelle Karamooz, Founder of FQM
0
A Comfortable and Luxurious Paris Night at La Maison Favart
La Maison Favart is located in the heart of Paris' 2nd arrondissement, only a stone's throw from the Opera Garnier and the Louvre. Galeries Lafayette is nearby for those who fancy shopping spree. This hotel attracts tourists from all around the world thanks to its ideal location and its perfect embodiment of Parisian chic. Come with me to explore this elegant establishment!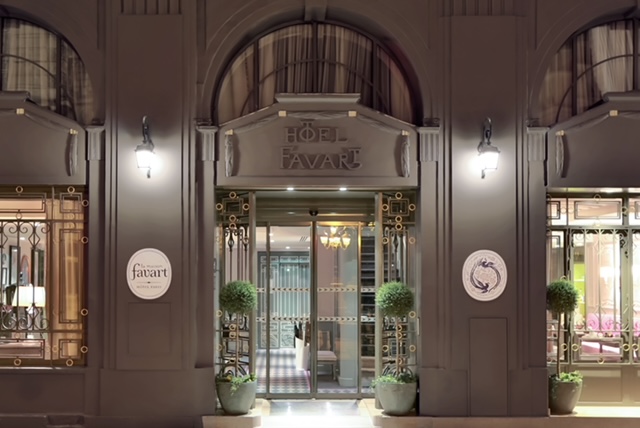 An Ultra-Central Location
I was anticipating my stay at La Maison Favart, which dates all the way back to 1824. In my opinion, it is one of the best establishments in the center of Paris. This property was completely renovated in January 2012. Located on the quiet and peaceful Rue de Marivaux, at the forefront of the Place de l'Opéra-Comique, the hotel is a 10-minute walk from the Louvre, Notre-Dame Cathedral and the picturesque Palais Royal, making it the perfect location for first-time visitors. There is no need to spend all of your time in public transport – many landmarks are easily accessible on foot.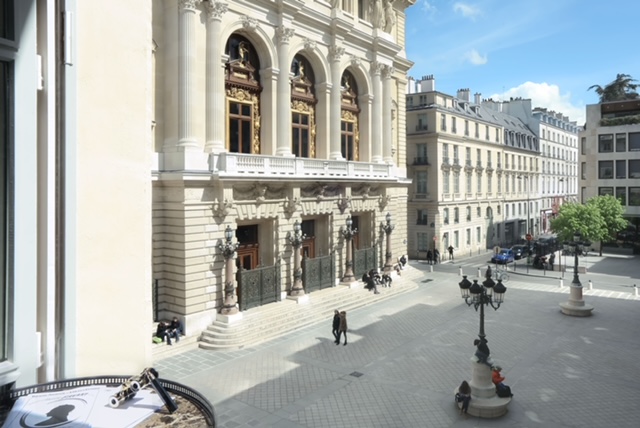 A Convivial Atmosphere Thanks to the Selection of Interesting Colors, Warm Materials and Parisian Elegance
As soon as I entered this boutique hotel, I was enchanted by the elegant neoclassical columns and velvet-upholstered chairs in the communal area. It has an invitingly warm and intimate atmosphere with Versailles-style artwork and subdued ambiance accentuated by a pastel color palette. The furniture was specially designed for the hotel. It harkens back to the 18th-century and integrates a classical-style mirror, reminds us of rich history mixed with modern interiors and an exciting Parisian atmosphere. The design creates a unique ambience and bold personality which certainly made an impression on me, particularly in the gorgeous lobby.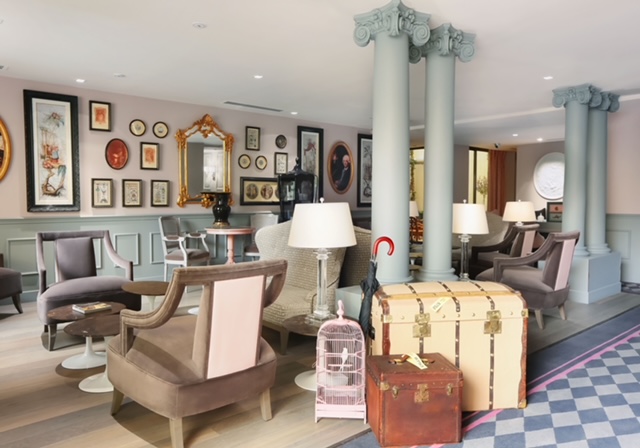 Heritage and History
We owe this gem of a hotel to the famous Favart couple: Charles-Simon and Justine Favart. The two lovers were destined to become cultural icons – Charles was a writer and Justine was an actress, both made their mark on the Opéra-Comique in the 18th-century. The design of the hotel made for an exceptional final result, where ornate portraits of the Favart couple hang in the hotel reception area and with rooms named after the theatrical duo. Nothing is too good for the two thespians!
Optimal Privacy and Elegant Design in 39 Exclusive Rooms and Suites
There are 39 lavish rooms spread out over six floors. They are beautifully decorated with 18th-century Parisian textiles and finishes. Each room has a different theme and during our visit we stayed in one of their Deluxe rooms called "Boudoir Suédois." The walls are covered in a Toile de Jouy fabric, with fine-striped heavy curtains. Every detail reveals another secret or an anecdote from the life of Monsieur and Madame Favart.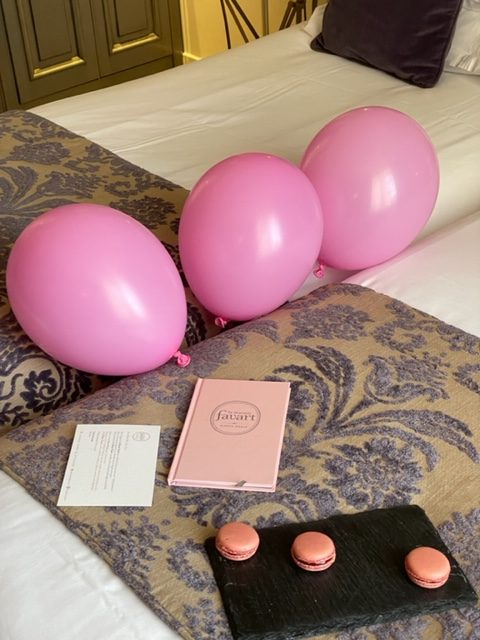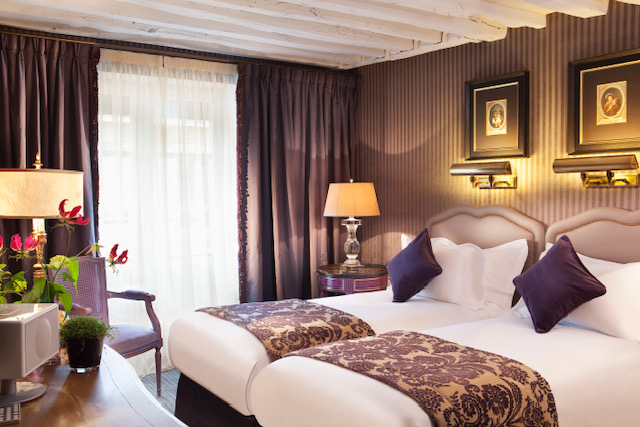 I was a huge fan of the interior design of our room, which combines contemporary elements with chic Parisian style throughout, including crown molding with two stylish wall lamps and two single beds that are joined into a double bed with floral bed-runners. It continues with a beautiful bathroom that features modern marble tiles with exclusive toiletries products from the Favart brand.
Velvety terrycloth bathrobes and comfy matching slippers are offered for you and your traveling partner. You can find everything you need, from a well-stocked minibar, a safe large enough to fit a laptop, Nespresso coffee machine, a long desk with iPhone dock, flat-screen TV and a free cine-club, free Wi-Fi and air conditioning.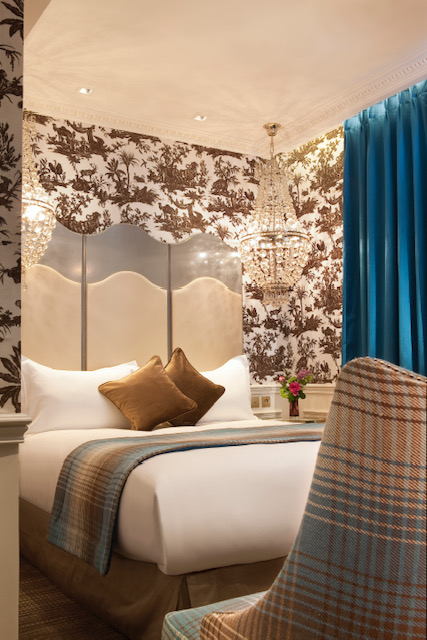 There is also a coffee station complete with takeaway coffee cups downstairs, so you can make yourself a hot coffee or tea to go and take it with you on your day out in Paris or to enjoy on site. This complimentary coffee station offers a gourmet spread of homemade cakes for the afternoon, artisan cheese and cured meats during the evening.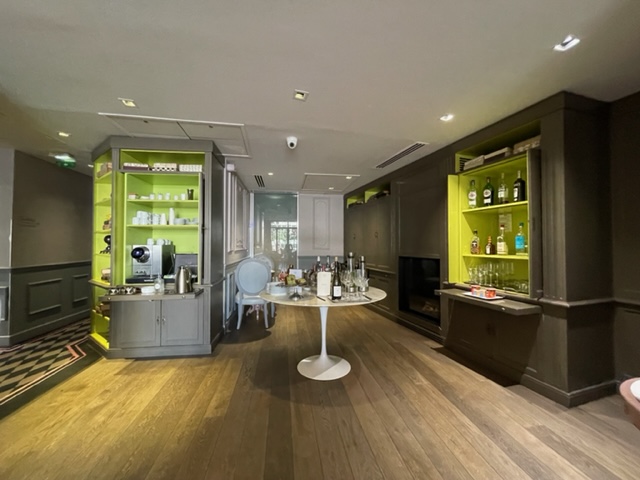 The service at La Maison Favart really stood out to me. We arrived too early at the hotel so our room was not ready yet, but it was not an issue. The staff was extremely helpful in attempting to get it ready quickly and even transporting all our belongings up to our room. Their exclusive concierge service is available 24/7, meaning you're in good hands. Free newspapers are available in the lobby.
Continental Menu for Breakfast
When it's time for breakfast at La Maison Favart, you'll feel like you are in a fantastic Parisian home. There is a breakfast room and an adjacent pastel-coloured dining parlour. Breakfast includes a generous offering of pastries, croissants and venoisserie or a buffet with sliced cold cuts, scrambled eggs, cheeses, cereals, muesli and juices.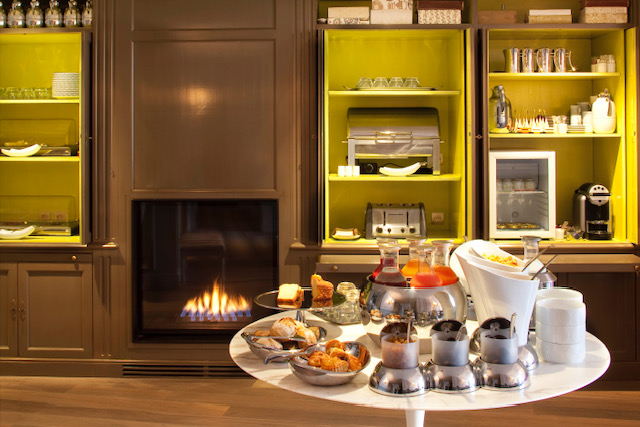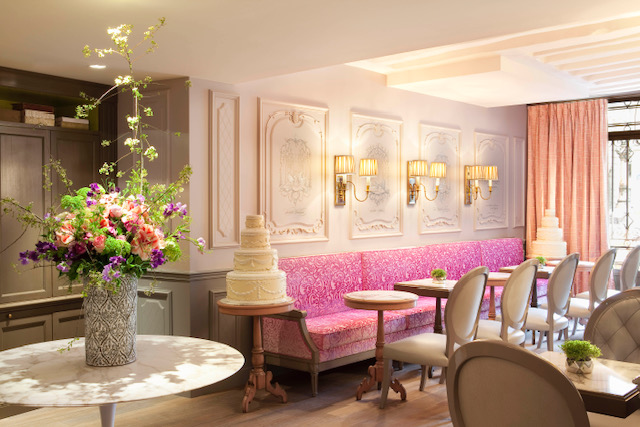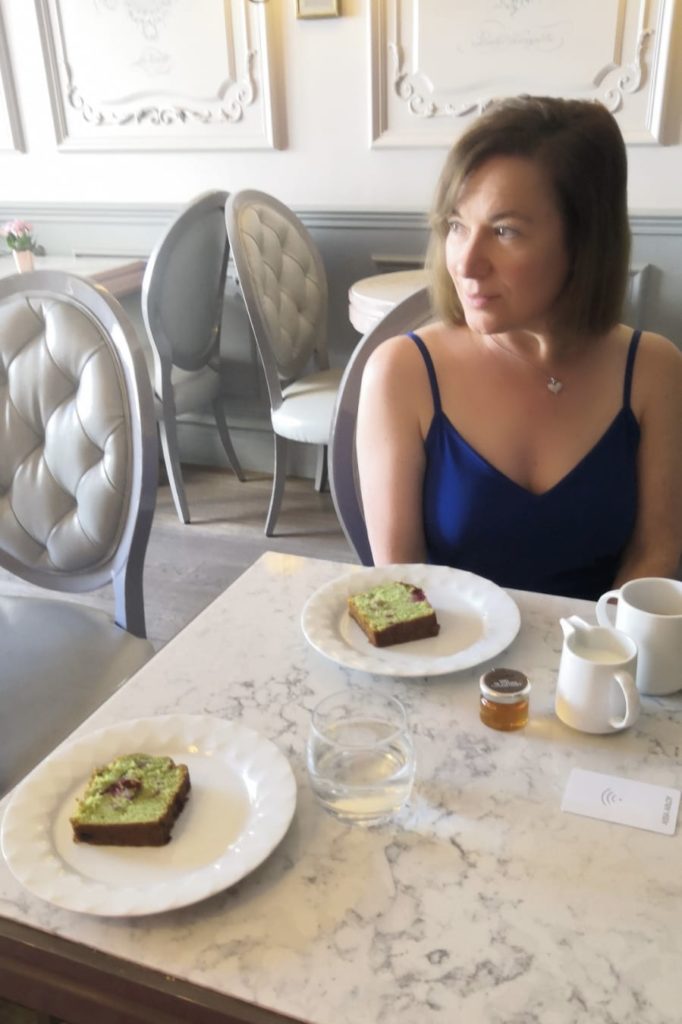 An Ultimate Luxury Exclusive Spa with a Well-being Area
To top off this four-star experience, there is nothing like their small exclusive spa, offering guests a haven of tranquility with a cozy blue light ambience, where we spent a full relaxing hour. Guests enter on the lower ground level of the hotel which gives you the impression you are in a secret passageway. We were able to reserve this haven of relaxation and enjoy the benefits of the sauna, a relaxation bath, a massage waterbed, as well as a fitness room, all just for us! This spa really brings the finishing touches to this trendy place, well-loved both by tourists and by local clientele!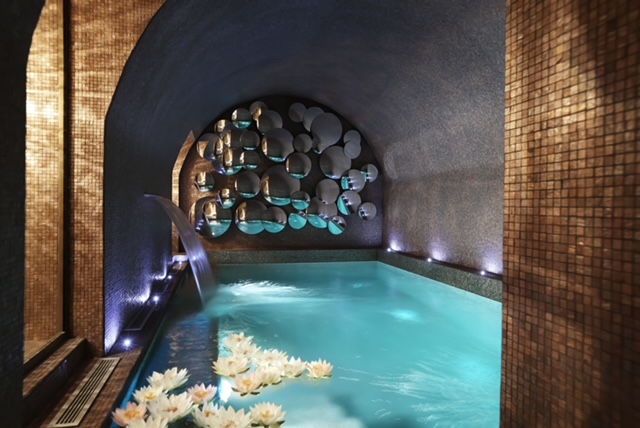 La Maison Favart
5, rue de Marivaux
75002 Paris
Phone: +33 (0)1 42 97 59 83
https://www.lamaisonfavart.com/
Header Photo Credit: @La Maison Favart