Business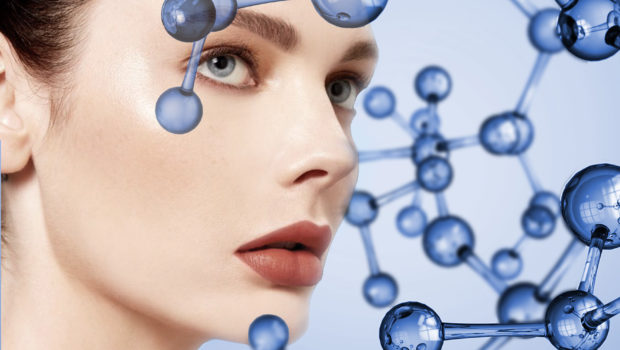 Published on October 26th, 2022 | by Isabelle Karamooz, Founder of FQM
0
Editor Select Top 5 Serum Product: French Products and More
If I can only have one skin care product in my life, it must be serum, because All in one.
There are many girls who don't know how to use the serum. I can proudly tell you that the essence is the "All in one" in the skin and the fighter in the skin care products! The essence is generally "small in quantity" but "refined in quality". It contains trace elements, collagen, serum, etc. It has the functions of anti-aging, anti wrinkle, moisturizing, whitening, and spot removal… In short, when your skin becomes very bad after a long stay up, bad mood, and long-term stress, the serum is your helper, which can save your skin 10000 times.
Recommended moisturizing serum
LANCOME ADVANCED GÉNIFIQUE FACE SERUM
https://www.lancome-usa.com/skincare/advanced-genifique-face-serum/1000302.html#tab=ingredients
SKIN CONCERNS

All Skin Types, including dry skin, oily skin, and sensitive skin

This serum strengthens the skin's moisture barrier in one drop. A strong skin moisture barrier helps to lock in hydration and defend against external aggressors including pollution, cold, and dry weather. Formulated with 10% Bifidus Prebiotic, Hyaluronic Acid, and Vitamin Cg this anti-aging serum helps to improve the look of dull skin and the signs of aging for visibly glowing skin.

Advanced Génifique Serum improves elasticity and improves the appearance of fine lines caused by dehydration or due to thinning skin, which can eventually deepen into wrinkles. Used morning and night, Advanced Génifique serum visibly hydrates, plumps and evens tone to restore healthy, younger-looking skin in just 7 days*.

INGREDIENT CALLOUTS:

Bifidus Prebiotic 10%: Helps provide a favorable environment for good bacteria that is present on the skin's surface.

Hyaluronic Acid: A naturally occurring molecule that is found throughout the skin, known for its ability to enhance moisture-retention and skin-hydration.

Vitamin C: An antioxidant known to help neutralize free radicals, brighten, and smooth the skin. This formula uses Vitamin Cg, a water-soluble, stable vitamin C derivative that is known to be gentle on the skin and that will not degrade when exposed to air, heat, or light.
DOUBLE R RENEW & REPAIR ADVANCED SERUM

https://www.guerlain.com/us/en-us/p/abeille-royale-double-r-renew-repair-advanced-serum-P061685.html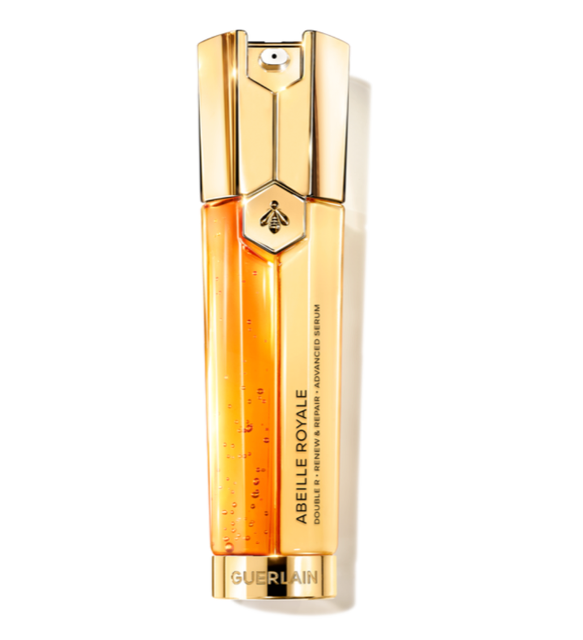 SKIN CONCERNS

All Skin Types, including dry skin, oily skin, and sensitive skin

Inspired by dermo-cosmetic care, Double R Renew & Repair Advanced Serum combines the power of two exclusive technologies to renew the look of the epidermis and offer skin a lifting effect in a single step. Skin is smoother and brighter, pores are refined. The skin appears tightened. Formulated with 96% naturally-derived ingredients¹. ¹Calculation based on the international ISO standard 16128, including water. The remaining 4% contribute to optimizing the formula's integrity over time and its sensorial texture.
Anti aging serum
Advanced Night Repair Serum
Synchronized Multi-Recovery Complex

https://www.esteelauder.com/product/689/77491/product-catalog/skincare/repair-serum/advanced-night-repair-serum/synchronized-multi-recovery-complex?size=1.7_oz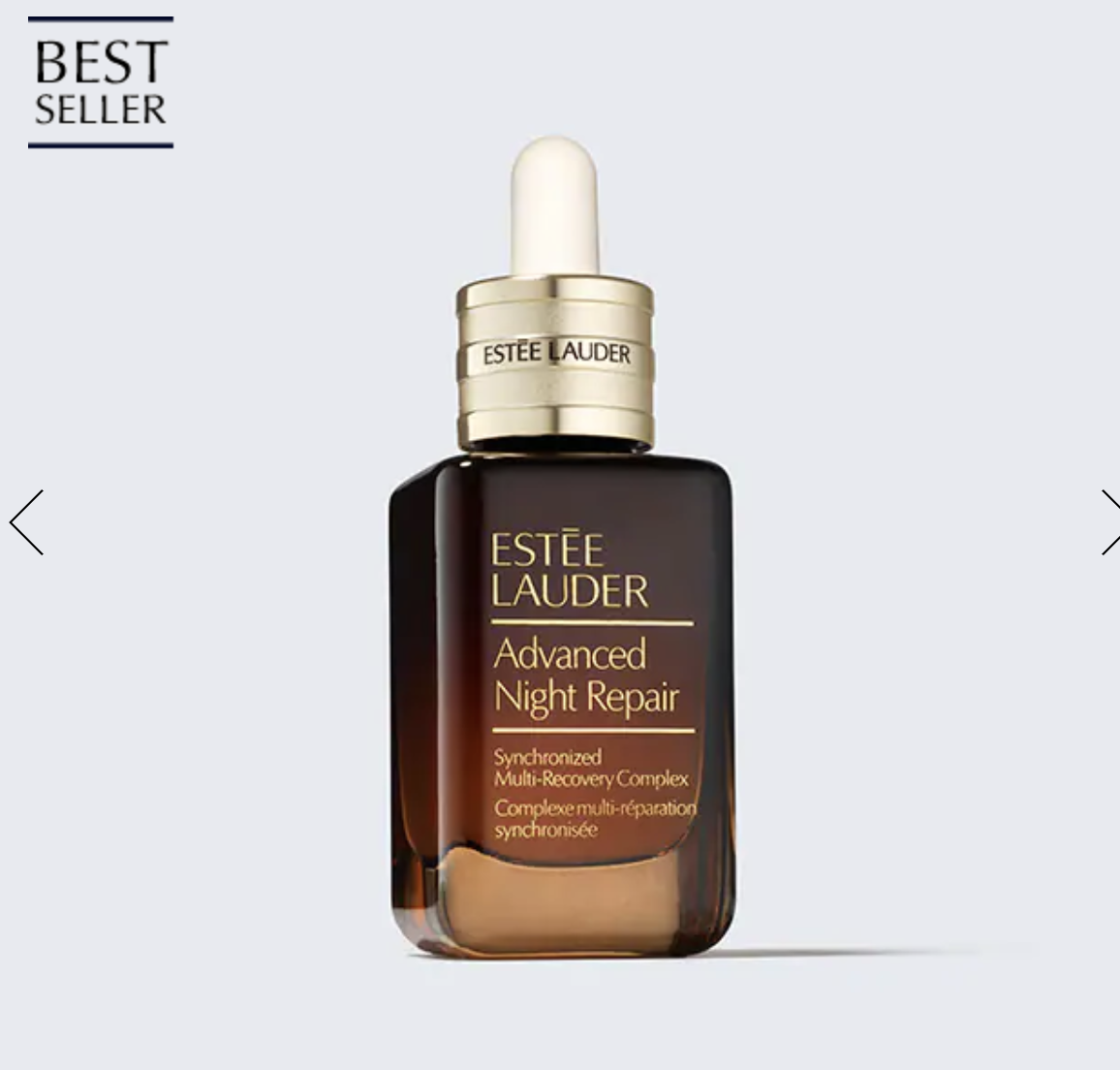 SKIN CONCERNS

All Skin Types, including dry skin, oily skin, and sensitive skin

Fast Visible Repair and Youth-Generating Power.

Experience the next generation of our revolutionary formula—the most comprehensive Advanced Night Repair serum ever. Patented until 2033.Now with Chronolux™ Power Signal Technology, this deep- and fast-penetrating face serum reduces the look of multiple signs of aging caused by the environmental assaults of modern life. Skin looks smoother and less lined, younger, more radiant and even toned
INGREDIENT CALLOUTS:

Tripeptide-32: Our exclusive peptide that supports skin's natural day/night rhythm of protection by day and renewal at night.

Sodium Hyaluronate: AKA Hyaluronic Acid, a ferment that is a powerful moisture magnet

Capsule-Vivienne Hu Hyaluronic Acid Daily Facial Serum
https://www.viviennehu.com/hyaluronic-acid-serum?product_id=1575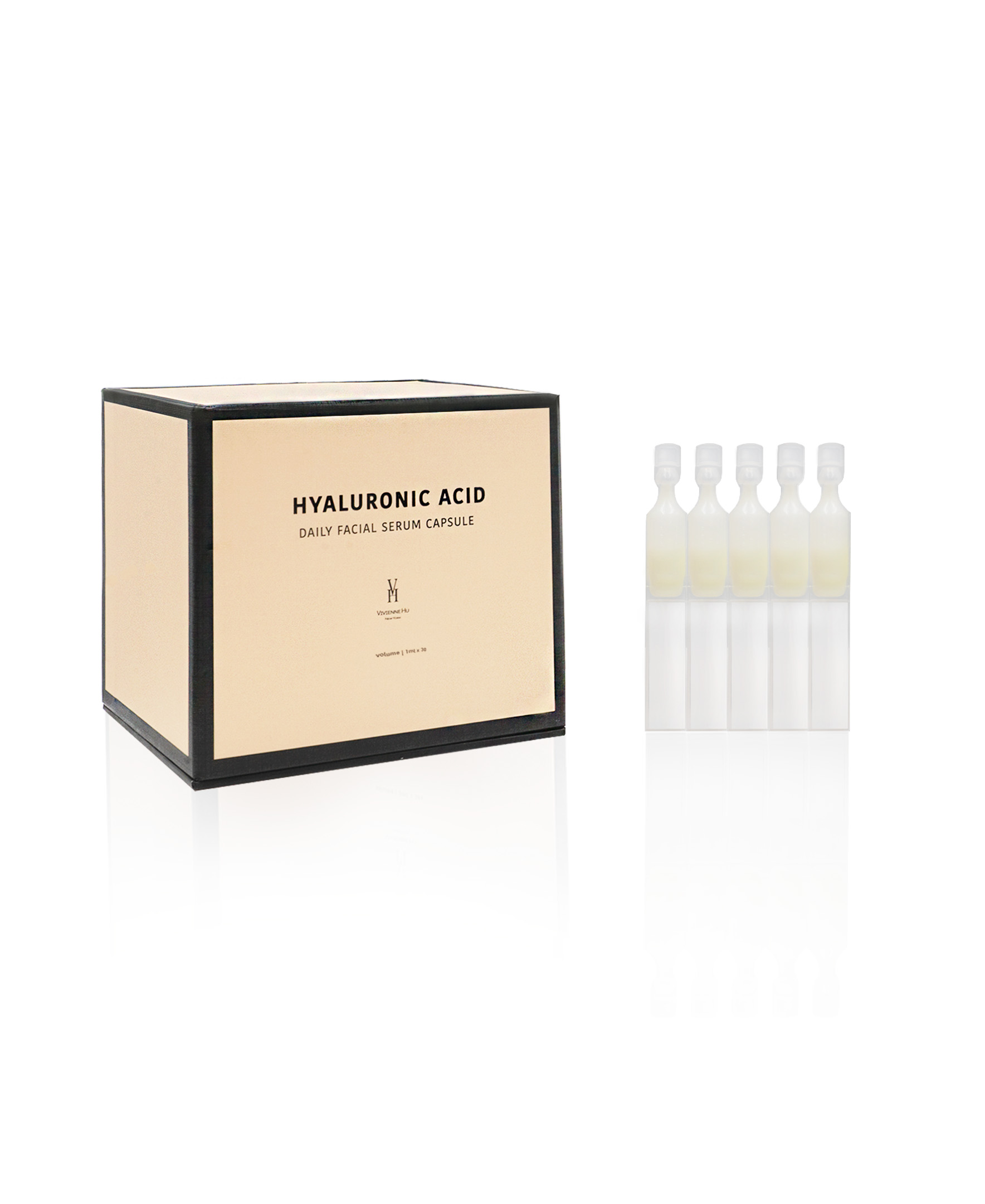 SKIN CONCERNS

All Skin Types, including dry skin, oily skin, and sensitive skin
Vivienne Hu Daily Facial Serum(VHDFS)will leave your skin smooth and supple. However, VHDFS is not an ordinary hyaluronic acid; it represents the crystallization of the most advanced hyaluronic acid technology INFIHA-HYDRA. Studies have shown that VHDFS not only moisturizes, but also plays a prominent role in repairing and anti-aging. VHDFS can promote the synthesis of dermal collagen and stimulate the production of hyaluronic acid.
According to experimental data, VHDFS can increase the expression of hyaluronic acid synthase by 1.45 times, thereby increasing the expression of hyaluronic acid synthase by 1.27 times, multiplying the endogenous hyaluronic acid content. In addition, VHDFS can activate the activity of "aquaporin AQP3", flexibly distribute moisture to all parts of the skin, and invigorate the skin's water channels. This not only improves the transdermal absorption rate of exogenous supplementation of hyaluronic acid, but also significantly promotes the production of endogenous hyaluronic acid in the skin, external supplementation + growth promotion, realizing dual-source supplementation of hyaluronic acid, building a three-dimensional hydrating ecosystem, and promoting hyaluronic acid Skin care has entered the "micro-nano era."
INGREDIENT CALLOUTS:

Hyaluronic acid is a glycosaminoglycan, a long chain of sugar molecules, that is found naturally in the body. It is a major component of the extracellular matrix, the gel-like substance that fills the space between cells.

Hyaluronic acid plays an important role in keeping tissues lubricated and moist. It is found in high concentrations in the fluid that lubricates joints, in the vitreous humor of the eye, and in the skin.
Skin Whitening essence.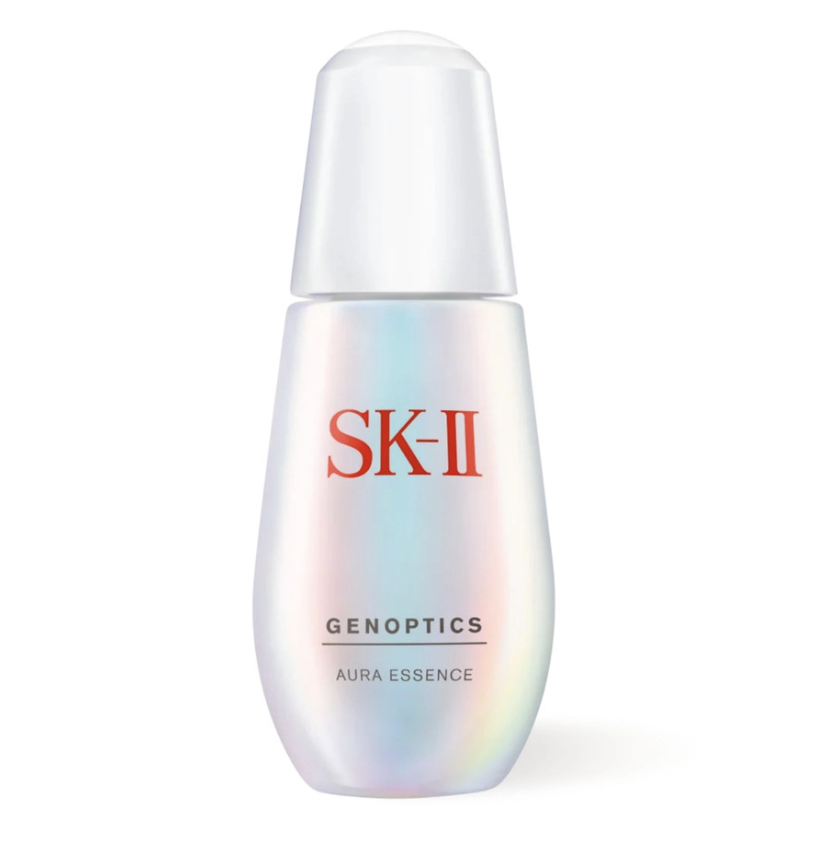 SKIN CONCERNS

All Skin Types, including dry skin, oily skin, and sensitive skin
Skin dullness is not just due to melanin production or pigmentation. It's caused by "anti-aura" parameters or "skin clouds" that block skin's aura from shining through. The GenOptics Aura Essence is designed to help clear these "skin clouds", to bring out your skin's aura. Powered by the one and only PITERA™ and GenOptics Aura Technology, this lightweight serum is packed with brightening ingredients and absorbs quickly to improve dullness and reduce spots caused by sun damage for clear, radiant skin. The formula—which has been reformulated to minimize the look of age spots—combines active brightening ingredients with PITERA™, which is a bio-ingredient rich in vitamins, organic acids, minerals, and amino acids that work together to enhance skin cell renewal.

INGREDIENT CALLOUTS:

GenOptics Aura Complex – A skin brightening complex containing PITERA™, Demelano P3C™, and Prunus Extract to improve the appearance of skin tone, age spots and cloudiness under the skin's surface.

Ume Extract – A Japanese plum extract with antioxidant and anti-glycation properties. It also helps prevent the appearance of dullness.

PITERA™ – A bio-ingredient derived from yeast fermentation that resembles your skin's Natural Moisturizing Factors. PITERA™ contains over 50 micro-nutrients like vitamins, minerals, amino acids and organic acids to condition skin's natural functions.

Prunus Extract – An antioxidant rich in vitamins and minerals that helps prevent damage caused by oxidative stress. When combined with PITERA™, it helps improve uneven tone for radiant skin.
Finally, I would like to reiterate that serum is not a must, but the key is to regulate your daily routine and diet. Otherwise, it is futile to use the most expensive serums.