Travel & Sports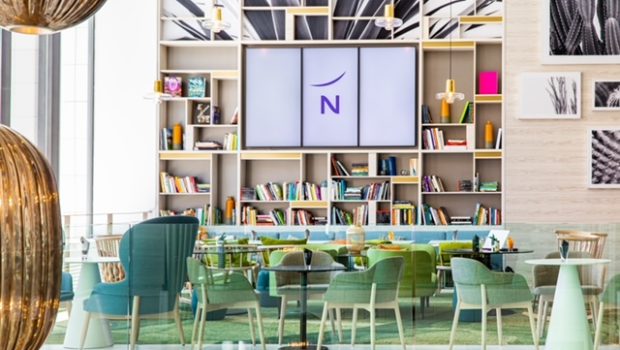 Published on August 2nd, 2022 | by Isabelle Karamooz, Founder of FQM
0
My Stay at the Novotel Monte-Carlo Hotel for a Short Getaway in Monaco!
This flagship of luxury destinations has an undeniable charm with its casino, its Palace and its small streets leading to it. So many things to be discovered such as the Hotel de Paris' wine cellar, the Oceanographic Museum, the botanical garden, and the Monte-Carlo International Circus Festival. When you choose the Novotel Monte-Carlo Hotel, you are sure to be within walking distance of all these main attractions! Once you arrive at the hotel, you will find a friendly atmosphere and a warm welcome. Guests can relax in the afternoon, for example, by the outdoor pool with decor inspired by the Riviera or in the gym, steam room or sauna. Having a drink on the terrace roof of the Fairmont Hotel, the other hotel owned by the Accor Group, is also a wise choice.
During my lightning visit to this elegant and luxurious city where you feel safe and free to dress in sequins or put on evening wear, I authored this article for you when I arrived at the Novotel Monte-Carlo Hotel, the ideal place for a first stay in Monaco.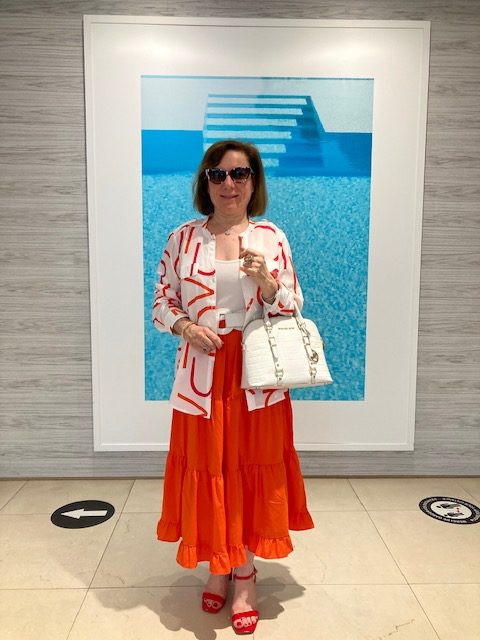 This charming hotel is ideal for a short getaway in the Principality. In addition, it is within walking distance of the main attractions, including the Place du Casino, the location of the Café de Paris (currently under renovation), the Carré d'Or and the Centre Commercial du Métropole. It is less than a 10-minute walk from Port Hercule, six hundred meters from Monte Carlo Casino and a 20-minute walk from the Rock of Monaco.
Due to its 3-star price, welcoming staff, and central location close to the train station (just a two-minute walk away) you will want to stay at the Novotel Hotel on your next trip to Monte Carlo. I have included a map below so you can see the hotel's location!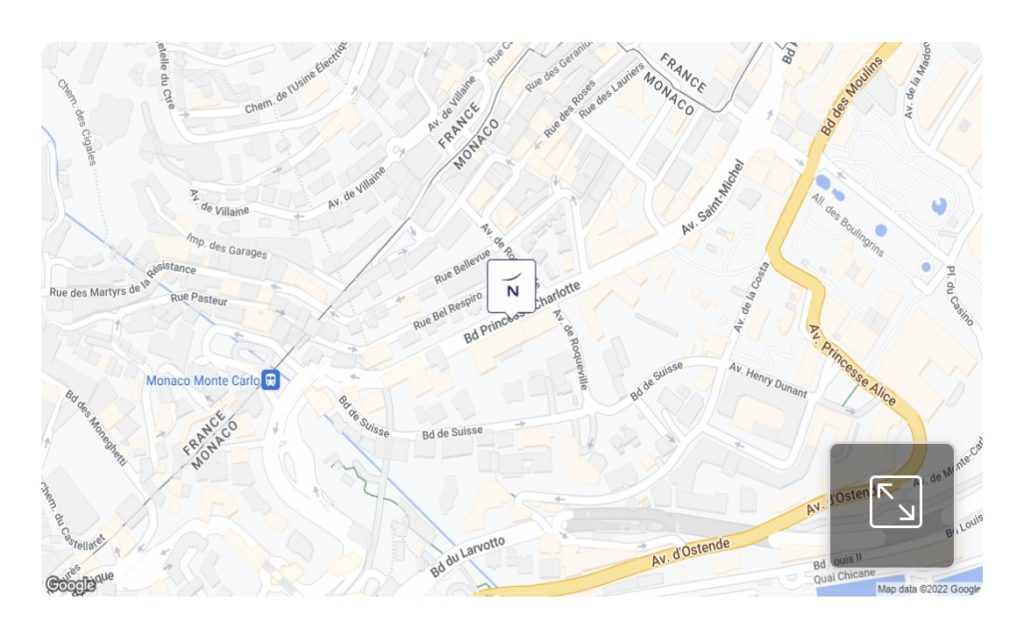 The hotel's executive rooms, consisted of light grey laminate parquet flooring, will give you the impression of being the guest of a modern and airy spirited apartment offering a maximum level of cleanliness. And we know how hygiene is a top priority at this time of pandemic with Covid.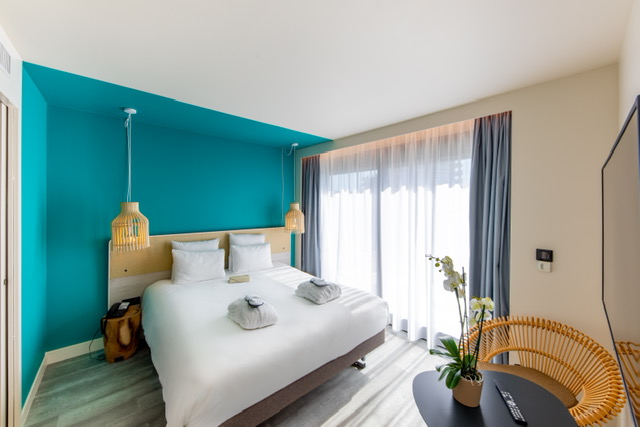 The rooms and suites at Novotel Monte-Carlo include air conditioning, a small desk with a rattan chair, a private bathroom, a hairdryer, and a bottle of water placed in the small fridge where you will find some drinks and room to leave a snack. Guests can also enjoy a coworking space in the lobby and on-site meeting rooms if you need to arrange business appointments.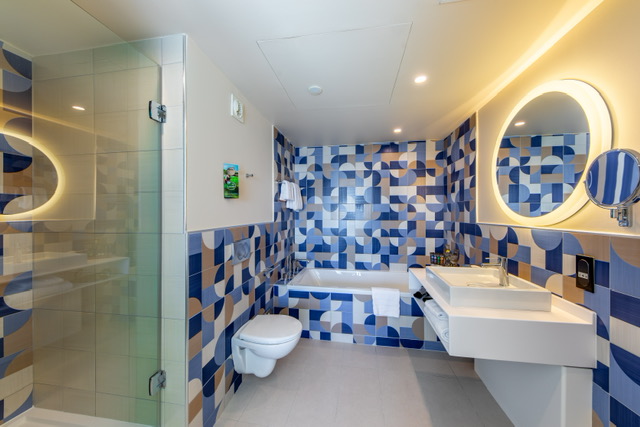 Some rooms with balconies offer views of the pool and garden as well as the city and on the horizon, you can catch glimpses of the Palace and the Mediterranean Sea. I was honestly impressed with the room space and layout. I love being able to leave my suitcase open and accessible and have enough room to store my belongings in the closet. Also, the wifi was free and worked perfectly! To access it, simply log in with your guest credentials. I had an important video call during my stay and was very satisfied with the internet connection. Overall, the rooms are ideal for a single traveler or couples wishing to spend a few days in a central location in Monaco.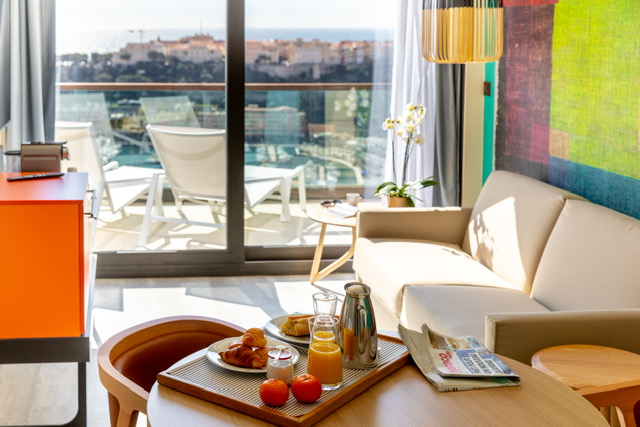 When booking a room, I know that my readers tend to worry about noise. I can assure you that the Novotel hotel is a quiet escape and that I slept well during my stay! It is true that I had specifically requested "a quiet room." All rooms are equipped with blackout curtains, and the bed and pillows were super comfortable. Thus, you are guaranteed to have a good night's sleep at the Hotel Novotel Monte-Carlo.
Extra precautions during these times: You can find hand sanitizer throughout the hotel and near the elevators.
This hotel offers several breakfast options, such as an American buffet breakfast, room service and a quick breakfast at the bar.
Novotel's restaurant serves Mediterranean dishes inspired by Riviera décor, while the on-site bar serves snacks for lunch and dinner. While choosing my menu at lunch, the friendly maître d'hôtel, Marc, was able to recommend a fresh menu as I had hoped, and I was not disappointed.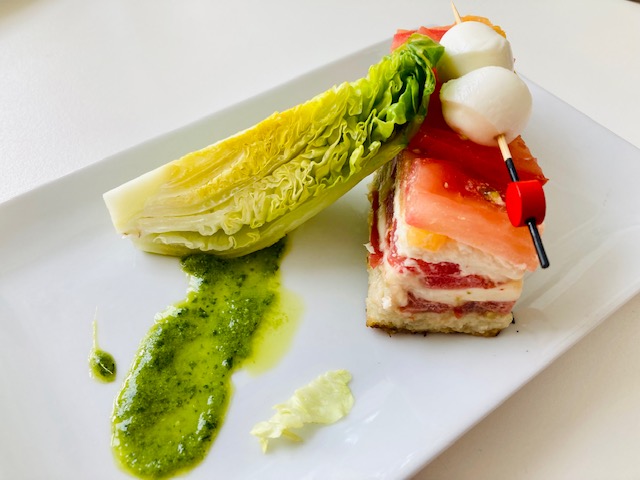 The concept restaurant "L'Azzura Kitchen," with indoor or outdoor tables overlooking the pool, serves a wide range of dishes inspired by the Riviera. You can enjoy grilled meats and order homemade cocktails and "detox" juices.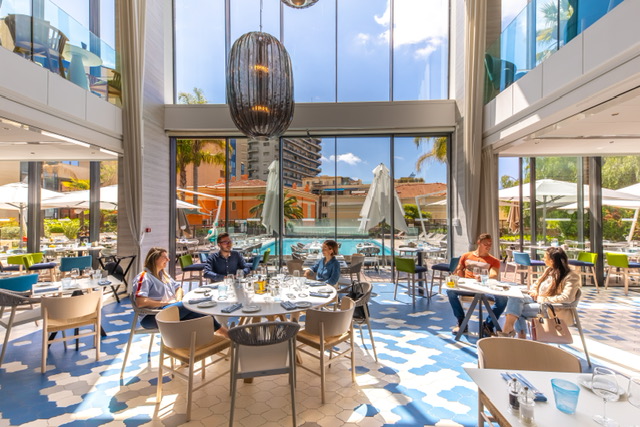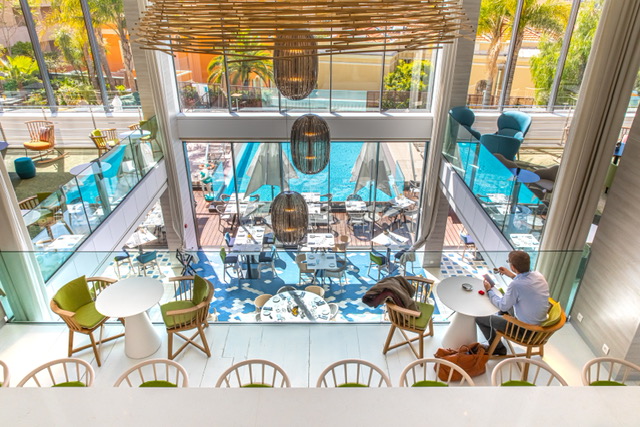 So, ready to book your stay at the Hotel Novotel? Click HERE.

The Novotel Monte-Carlo hotel upgraded me for three nights in exchange for this article. As always, all these opinions are personal.
This article was translated into English by Sandrine Sweeney.