Art & Culture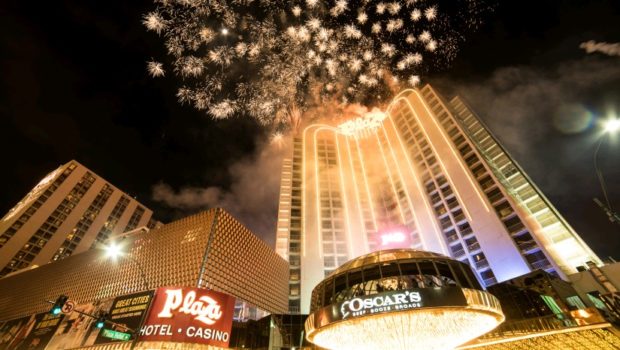 Published on February 10th, 2021 | by Christopher Cipollini
0
[:en]"Glitter Gulch:" An interview With Jonathan Jossel at the Plaza Hotel in Las Vegas[:fr]"Glitter Gulch :" Une interview de Jonathan Jossel au Plaza Hotel de Las Vegas[:]
[:en]In the vast trajectory of Las Vegas iconography, many images stand apart: the Welcome to Las Vegas sign, The Vegas Vic cowboy sign, The Mint, Atomic testing and showgirls. However, to really experience the whole of Las Vegas in all its glory, one should begin at Fremont Street, an avenue of neon laden casinos whose unashamed bawdiness and extravagant features would challenge Bourbon Street. At the starting point of this cornucopia of lights and razzle-dazzle sits one of the city's most iconic establishments. Nestled at 1st and Main St, The Plaza Hotel holds a unique distinction, for its anchored at the exact location where the city began over 100 years ago. Past the cascading lights upon its front, seen in so many films ranging from the James Bond film "Diamonds are Forever" or Ralph Bashki's "Cool World" and the Julia Roberts film, "The Mexican," the Helen Hunt romance "Pay it Forward," as well as postcards and imagery through the decades, sits an indelible history.
The site was offered as a Land auction in 1906, then was operated as the "Union Pacific Railway station," an Art Deco masterwork considered one of the architectural beauties of the era, the train station was razed and replaced by the "Union Plaza hotel" in 1971. The word "Union" is a subtle and generous homage to the new resort's past life as a train station.
In subsequent years, The Plaza has had a rich history. Revamped in 1982, with a characteristic new logo and the addition of a new luxury tower, as well as a resume in numerous films and music videos, the hotel became emblematic of not only its location but Las Vegas itself. The new layout would feature the addition of the Art Nouveau themed "Backstage" restaurant, which later became the "Center Stage," a glass-domed shaped edifice flanking Fremont Street with a commanding view of the neon bacchanalia below. In 1992, the hotel fell under the ownership of Las Vegas gaming pioneer Jackie Gaughan and became "Jackie Gaughan's Plaza." However, in 2005 the Tamares group purchased the property, and with it, a wealth of not only history but a unique and wonderfully kitschy characteristic only Las Vegas can create. Now simply, "The Plaza," it has found its niche as a place where people can enjoy the glitz of a Las Vegas seemingly long past. With its elaborate vintage showroom, an enviable location, signature signage recognized the world over and most of all, its history-almost 50 years in the making- this is where Las Vegas made her debut. A fact its new management is well aware of.
As a writer for French Quarter Magazine, I was pleased to sit down with the new CEO, Jonathan Jossel for a coffee and conversation.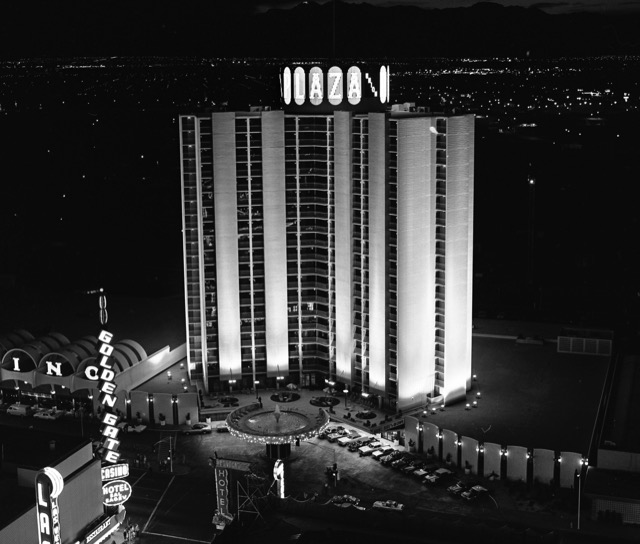 When we spoke you told me you are originally from South Africa, then London. Can you tell FQM readers how your journey led you across the ocean to the Plaza hotel?
I had written my thesis at the University of Birmingham (England), on "The Proliferation of the Gaming Industry in the UK" and have always been interested in the gaming industry. In 2007, my mentor, Poju Zabludowicz, the chairman of Tamares, asked me to move from London to oversee the company's real estate holdings in Las Vegas, which included the Plaza Hotel & Casino. Poju was convinced that downtown Las Vegas was on the verge of change. And in the decade-plus since, it has been amazing to witness first-hand the revitalization of downtown into a destination for tourists and locals alike.
Were you aware of the hotel's unique history when you came here?
Yes, I was aware of the property's storied history – from being built on the city's train depot where the first settlers of Las Vegas arrived to its opening nearly 50 years ago during the iconic Rat Pack era. The Plaza represents the classic vintage Vegas experience.
What is it you love the most about your role as a CEO of the Plaza?
I love the interaction I have every day with our employees and guests. I take pride in the fact that we have employees that have been here 20 or 30 years. I value their ideas, because at the end of the day, we all want to provide the best guest experience possible. Our customers are great too. I enjoy walking the floor and getting to know our guest on a first-name basis.
What is it you seek to bring to this property as well as the surrounding area? Is there a particular vision you have that sets you apart from your predecessors?
I have always believed that Main Street is the heart of downtown Las Vegas. After all, it is where the city got its start so many years ago. I look forward to enhancing the ambiance along our location on Main Street by redeveloping the Greyhound bus terminal into a dynamic destination that will make Main Street a more walkable promenade from the growing Arts District to the Plaza and onward to the Fremont Street Experience and our new neighbor, Circa. And as Symphony Park continues to grow on the other side of the train tracks, we stand in a unique position to help connect its new retail and cultural offerings with the rest of downtown via another pedestrian bridge and pathway. Our efforts to further improve downtown as a destination complement our continued commitment to enhancing the guest experience at the Plaza.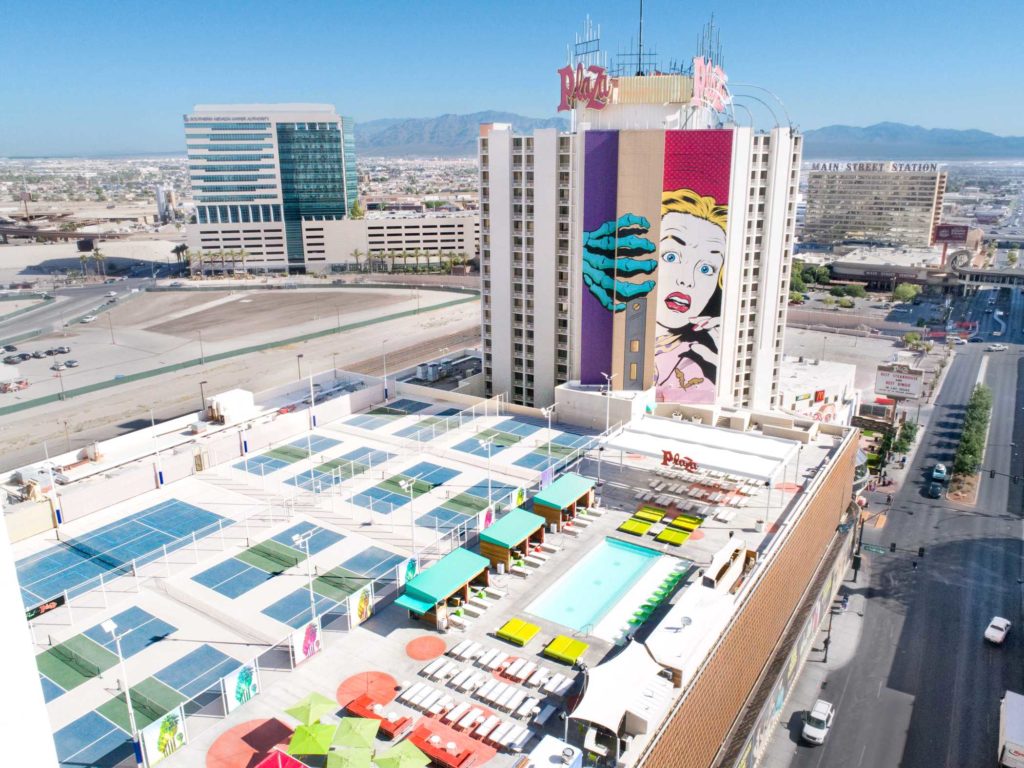 What is your favorite thing about this property? Any particular vestige of its past you find interesting?
There really is no one thing. I love the ambiance of Oscar's steakhouse, the friendliness you find on the casino floor, the amazing 21-story murals we had acclaimed artists add to the North Tower, and the relaxing vibe we created on the rooftop pool deck. I also love the history that you can find throughout the property- from the black and white photos in the guest rooms celebrating historic downtown Las Vegas to the mural by our Real Results Gym that memorializes the fact that an Amtrak station and ticket windows were connected to the hotel until 1997, giving it the distinction of being the only U.S. train station located in a casino. We are proud of our history, but we are even more proud of how we are making the Plaza the best place to stay and have fun in downtown Las Vegas in 2021.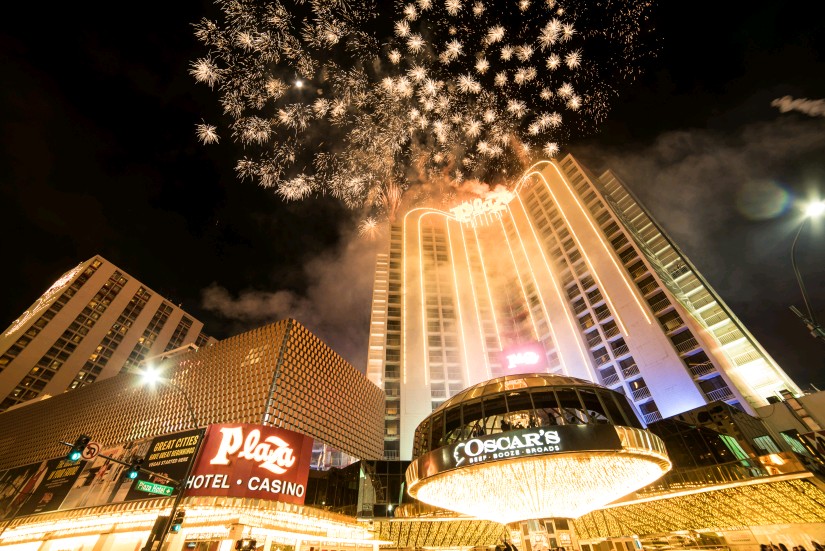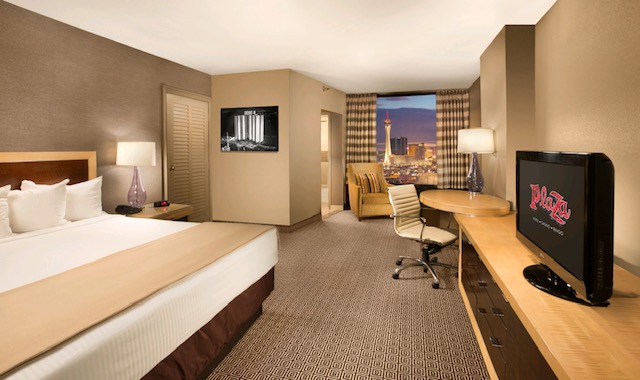 Lastly, what are your plans for the future of the hotel?
In 2021, our biggest project is the redevelopment of the Greyhound train station. It is a prime location for new dining, entertainment or retail that will transform the area, encouraging visitors to walk up and down Main Street and experience all it has to offer. We also will continue to evaluate projects at the Plaza that continue to improve our guests' experience, including accommodations, new dining options, and entertainment. We also look forward to people returning to Las Vegas in general as concerns with the pandemic eventually begin to subside. We are hopeful that the roll out of the new vaccines will give people a peace of mind to again travel and reinvigorate our local economy. When people are ready to travel to Las Vegas, we will be ready to greet them with the unforgettable experience that they deserve.
[:fr]Dans la vaste trajectoire de l'iconographie de Las Vegas, de nombreuses images se démarquent : le signe "Bienvenue" ("Welcome") de Las Vegas, Le signe de cow-boy Vegas Vic, le casino "The Mint," le Atomic Testing et les showgirls. Cependant, pour vraiment découvrir Las Vegas dans toute sa splendeur, il faut commencer par Fremont Street, une avenue de casinos illuminés de néons dont la débauche éhontée et les caractéristiques extravagantes relèveraient le défi de Bourbon Street. Au point de départ de cette profusion de lumières et d'éblouissements se trouve l'un des établissements les plus emblématiques de la ville. Niché sur l'avenue 1th Street et Main Street, l'hôtel Plaza possède une distinction unique par son ancrage à l' endroit exact où la ville a commencé il y a plus de 100 ans. Du passage des lumières en cascade sur sa façade, l'hôtel est représenté dans de nombreux films allant du James Bond "Diamonds are Forever" au "Cool World" de Ralph Bashki, au film de Julia Roberts, "The Mexican," ainsi qu'à la romance d'Helen Hunt "Pay it Forward," également sur des cartes postales et des images à travers les décennies, une histoire indélébile.
Ce terrain a été mis aux enchères en 1906, puis devenu "la gare Union Pacific," un chef-d'oeuvre d'Art déco considérée comme l'une des beautés architecturales de l'époque. La gare a été rasée et remplacée par le "Plaza Union hôtel" en 1971. Le mot "Union" est un hommage subtil et généreux à la vie passée de la nouvelle station en tant que gare.
Au cours des années suivantes, The Plaza a eu une riche histoire. Remanié en 1982, affichant un nouveau logo et ajoutant une nouvelle tour de luxe, ainsi qu'un symbole dans de nombreux films et vidéoclips, l'hôtel est devenu emblématique non seulement pour son emplacement, mais aussi pour Las Vegas elle-même. Le nouvel agencement comporterait l'ajout du restaurant "Backstage" sur le thème de l'Art nouveau, qui devint plus tard le "Center Stage, " un édifice en forme de dôme de verre comprenant le Fremont Street offrant une vue imprenable sur les quelques bacchanales de néons. En 1992, l'hôtel appartiendra au pionnier du jeu de Las Vegas Jackie Gaughan et deviendra le "Jackie Gaughan's Plaza." Cependant, en 2005, le groupe Tamares acheta la propriété, et avec lui se constituera une richesse non seulement historique mais également une caractéristique unique et merveilleusement kitsch que seul Las Vegas peut créer. Maintenant appelé simplement, "The Plaza," l'hôtel a trouvé sa place et les gens peuvent profiter du faste d'un Las Vegas apparemment connu depuis longtemps. Avec son showroom vintage élaboré, un emplacement enviable, une signalétique de signature reconnue dans le monde entier et surtout, son histoire – près de 50 ans de création – c'est là que Las Vegas a fait ses débuts. Un fait dont sa nouvelle direction est bien consciente.
En tant qu'écrivain de French Quarter Magazine, j'ai eu le plaisir de rencontrer le nouveau PDG du Plaza Hotel, Jonathan Jossel, pour une conversation accompagné d'un café.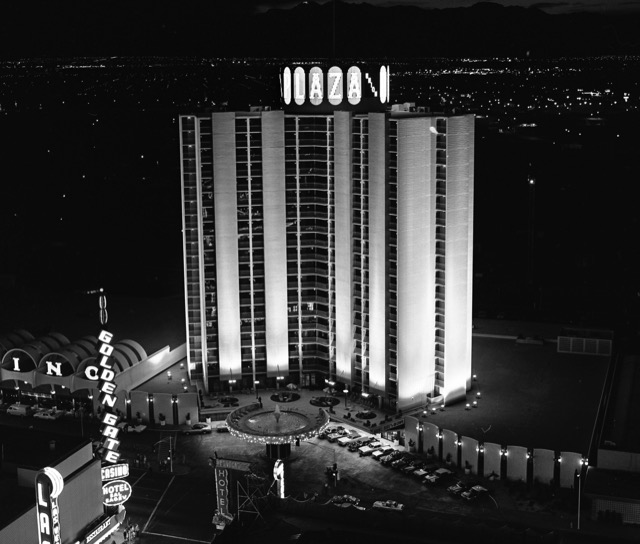 Lorsque nous nous sommes entretenus, vous m'avez dit que vous étiez originaire d'Afrique du Sud, puis de Londres. Pouvez-vous dire aux lecteurs de French Quarter Magazine comment votre voyage vous a conduit à travers l'océan jusqu'à l'hôtel Plaza ?
J'avais rédigé ma thèse à l'Université de Birmingham (Angleterre), sur «La prolifération de l'industrie du jeu au Royaume-Uni» et j'ai toujours été intéressé par l'industrie du jeu. En 2007, mon mentor, Poju Zabludowicz, le président de Tamares, m'a demandé de quitter Londres pour superviser les actifs immobiliers de la société à Las Vegas, qui comprenait le Plaza Hotel & Casino. Poju était convaincu que le centre-ville de Las Vegas subirait un imminent changement. Au cours de la décennie qui a suivi, il a été étonné d'assister en premier lieu à la revitalisation du centre-ville qui en est devenue une destination pour les touristes et les habitants.
Étiez-vous au courant de l'histoire unique de l'hôtel lorsque vous êtes venu ici ?
Oui, j'étais au courant de la riche histoire de la propriété – depuis sa construction sur le dépôt de train de la ville où les premiers colons de Las Vegas sont arrivés à son ouverture il y a près de 50 ans à l'époque emblématique du groupe des Rat Pack. Le Plaza représente l'expérience vintage classique de Las Vegas.
Qu'est-ce que vous aimez le plus dans votre rôle de PDG du Plaza ?
J'adore l'interaction que j'ai chaque jour avec nos employés et nos clients. Je suis fier du fait que nous avons des employés qui sont ici depuis 20 ou 30 ans. J'apprécie leurs idées, car à la fin de la journée, nous voulons tous offrir la meilleure expérience possible aux clients. Nos clients sont très sympathiques. J'aime me promener dans l'hôtel et apprendre à connaître chaque prénom de nos clients.
Que cherchez-vous à apporter à cette propriété ainsi qu'à ses environs ? Avez-vous une vision particulière qui vous distingue de vos prédécesseurs ?
J'ai toujours cru que Main Street était le cœur du centre-ville de Las Vegas. Après tout, c'est là que la ville a vu le jour il y a tant d'années. J'ai hâte d'améliorer l'ambiance le long de notre emplacement sur la rue Main en réaménageant le terminal de bus Greyhound en une destination dynamique qui fera de la rue Main une promenade plus accessible à pied du quartier des arts en pleine croissance jusqu'au Plaza et à la Fremont Street Experience et notre nouveau voisin, l'hôtel Circa. Et alors que Symphony Park continue de croître de l'autre côté de la voie ferrée, nous sommes dans une position unique pour aider à connecter leurs nouvelles offres commerciales et culturelles avec le reste du centre-ville via un autre pont piétonnier et un sentier. Nos efforts pour améliorer davantage le centre-ville en tant que destination complètent notre engagement continu à améliorer l'expérience des clients au Plaza.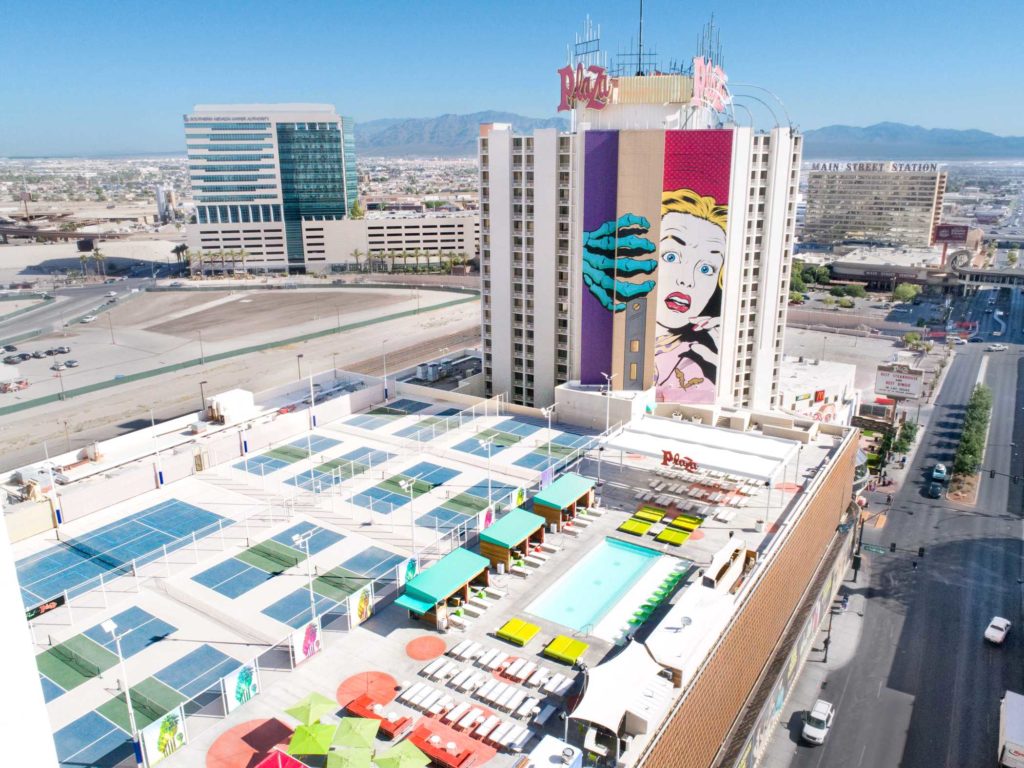 Quelle est votre object ou autre chose préférée en relation avec cette propriété ? Un vestige particulier de son passé que vous trouvez intéressant ?
Je n'ai vraiment aucune chose en particulier. J'adore l'ambiance du steakhouse d'Oscar, la convivialité que vous trouvez à l'étage du casino, les incroyables peintures murales sur 21 étages que des artistes renommés ont ajoutées à la tour nord et l'ambiance relaxante que nous avons créée autour de la piscine sur le toit. J'aime aussi l'histoire que dégage toute la propriété – des photos en noir et blanc dans les chambres célébrant le centre-ville historique de Las Vegas à la peinture murale de notre Real Results Gym qui commémore le fait qu'une gare Amtrak et des guichets étaient connectés à l'hôtel jusqu'en 1997, ce qui lui donne la particularité d'être la seule gare américaine située dans un casino. Nous sommes fiers de notre histoire, mais nous sommes encore plus fiers de la façon dont nous faisons du Plaza le meilleur endroit où séjourner et s'amuser au centre-ville de Las Vegas en 2021.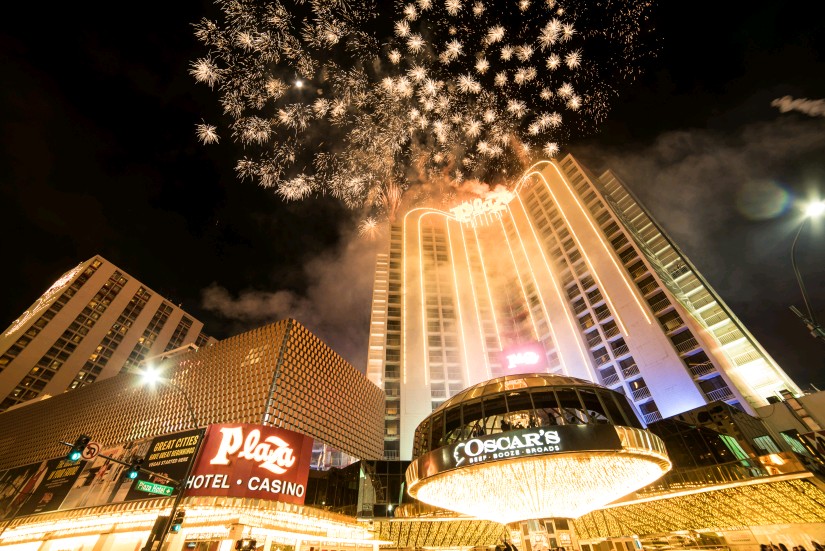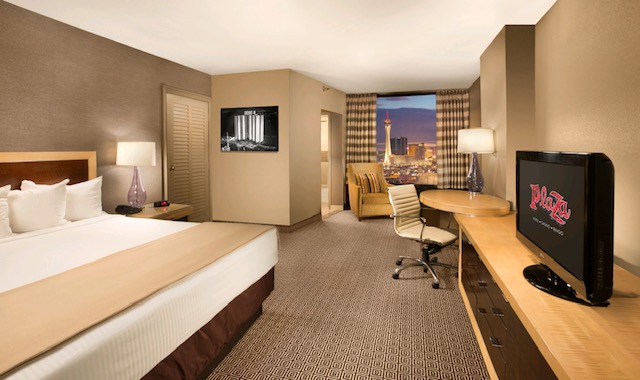 Enfin, quels sont vos projets pour l'avenir de l'hôtel ?
En 2021, notre plus gros projet est le réaménagement de la gare Greyhound. C'est un emplacement privilégié pour de nouveaux restaurants, divertissements ou commerces de détail qui transformeront le quartier, encourageant ainsi les visiteurs à marcher de long en large sur la Main Street et à découvrir tout ce qu'elle a à offrir. Nous continuerons également d'évaluer les projets à l'hôtel Plaza qui continuent d'améliorer le confort de nos clients, y compris l'hébergement, les nouvelles options de restauration et les divertissements. Nous attendons également avec impatience que les gens reviennent à Las Vegas lorsque les inquiétudes concernant la pandémie finiront par se dissiper. Nous espérons que le déploiement des nouveaux vaccins assurera aux gens la tranquillité d'esprit pour voyager à nouveau et aussi pour revigorer notre économie locale. Lorsque les gens seront prêts à se rendre à Las Vegas, nous serons prêts à les accueillir avec toute l'attention qu'ils méritent.[:]