History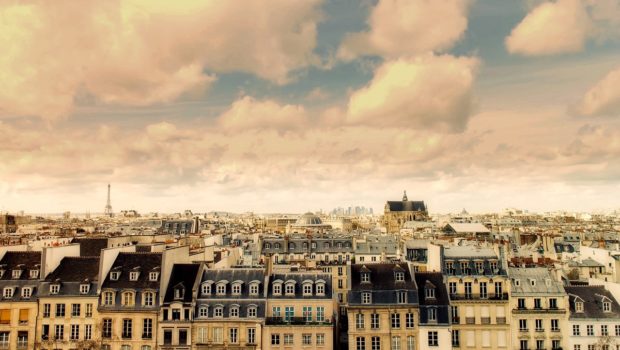 Published on July 10th, 2021 | by Pascal Ordonneau
0
History of the Americas District
Our Parisian discovery walks, evoking the United States, will sometimes lead us to unexpected places.
Header Photo Credit: David Mark by Pixabay
Paris is full of surprises. Consider that the Passage Dieu ("God Passageway") is a stone's throw from l'Impasse Satan ("the Satan Dead End"). Do you think I am trying to get your attention with a surprising joke? You will have to get used to it: Paris bursts with originality. Another example? Here is a street nowadays called "blue" like the color. Formerly, it was called "rue d'Enfer" (Hell Street"). Its extension was a street bearing the beautiful name of…Paradise!!! This name remained, but not the other, "rue d'Enfer" having become "rue Bleue." So, in Paris when "we come out of the blue," it is to go to Paradise. Formerly, when we left the rue D'Enfer, it was also to go to Paradise.
Why so much caution before approaching the Americas district? You will discover it by walking through the streets and along the houses of this charming sector of Paris. First surprise: you would think that the name "America" would have been given to a very modern area of Paris, something reminiscent of Manhattan. The district of La Défense which strikes by the modernity of its architecture, the height of its towers and this one-of-a-kind monument that is the "cube" would have been worthy of being called American. One might have thought so, but in fact, it is exactly the opposite!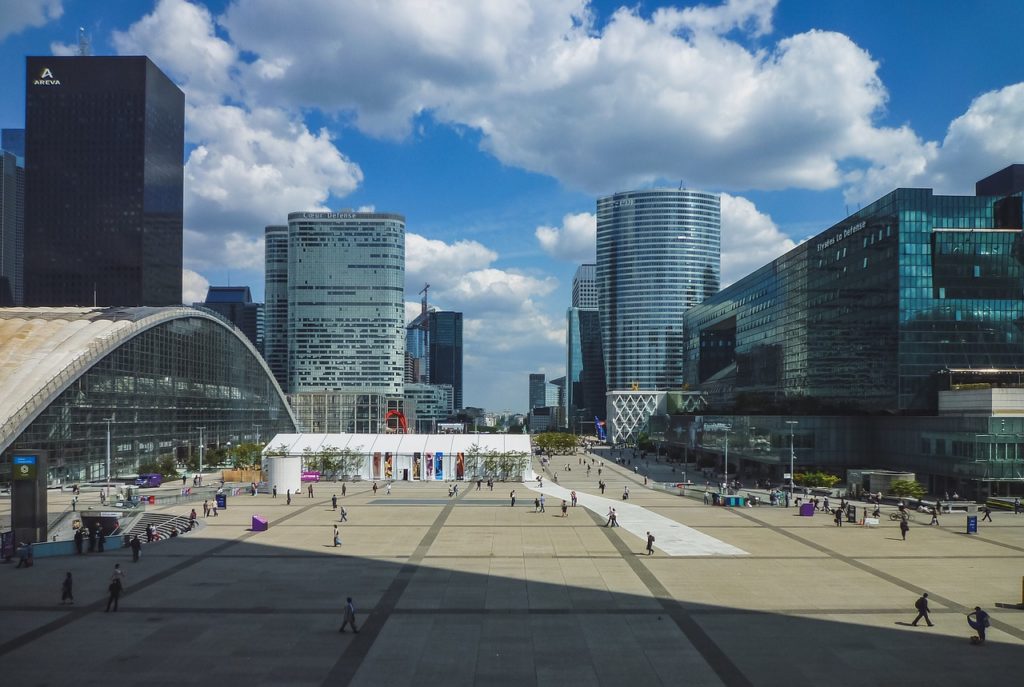 The Americas district is in the 19th arrondissement in the North-East of Paris between the Parc des Buttes-Chaumont and the Parc du Chapeau Rouge.
Urbanized during the nineteenth century, the district of the Americas is crisscrossed by small streets, alleys, passages, and consists of villas and small houses. Buildings, houses and villas show an expression of social hierarchy. A whole part of the district above the rue de la Mouzaïa consists of small houses. They were intended for a population of laborers. All around, flourished a body of industries of all kinds. Working-class district, district of revolts, it will be marked by that of the Paris Commune in 1871. Nowadays, factories and workshops have been pushed out of Paris and the Americas district has been rehabilitated by the famous "bobos," bourgeois-bohemians. The small "poor and modest" houses have been spruced up and even look a little show-offy.
A little further by the streets bearing the names of the republican trilogy: Liberty, Equality, Fraternity, facades with a more bourgeois style are displayed. Their style is composite to suit the French taste. It is true that there are so many different styles spanning centuries that options are infinite and that no one is surprised when a recent house resembles a small Renaissance manor or a Norman farmhouse with its thatched roof or a mountain chalet. Finally, in another part of this small district are real "mansions," which are also called "town-homes" to show that you can live in Paris in a large house and not in a collective building… if one is rich enough. Some of them are gathered in the "Danube Hamlet."
To get some fresh air and enjoy a magnificent view of the surroundings of Paris, people would go with their families to the Parc du Chapeau Rouge ("Park of the Red Hat") which owes its name to a "guinguette" where you could go drink wine from the Parisian hills.
A magnificent church dedicated to St. Francis of Assisi dominates the entire district. More modestly, on Place des Fêtes, sits the church of the "Antoinists": it brings together the members of a sect who believe that death does not exist.
The neighborhood is very green, because, in Paris, "town-homes" or "laborers' houses" mean gardens, lilac, ivy, climbing flowers, small patches of grass, flower beds. It is a delightful maze of small streets overflowing with greenery, illuminated by the traditional Parisian streetlights. Some tour guides speak of "Labyrinth". That is going a little far! You cannot get lost, most of the streets and passages forming a kind of checkerboard. You must walk slowly and slip into passages that are no more than three meters wide. No cars, no motorcycles, no vehicles, you must go on foot. The branches overflow and filter the sun. In the Spring, on a beautiful sunny day, it is an enchantment. Are we still in Paris? Are we not in one of these "villages" engaged in resistance? Pieces of countryside that fight against the city's progression, opposing the charms of their small houses to the coldness of large ensembles.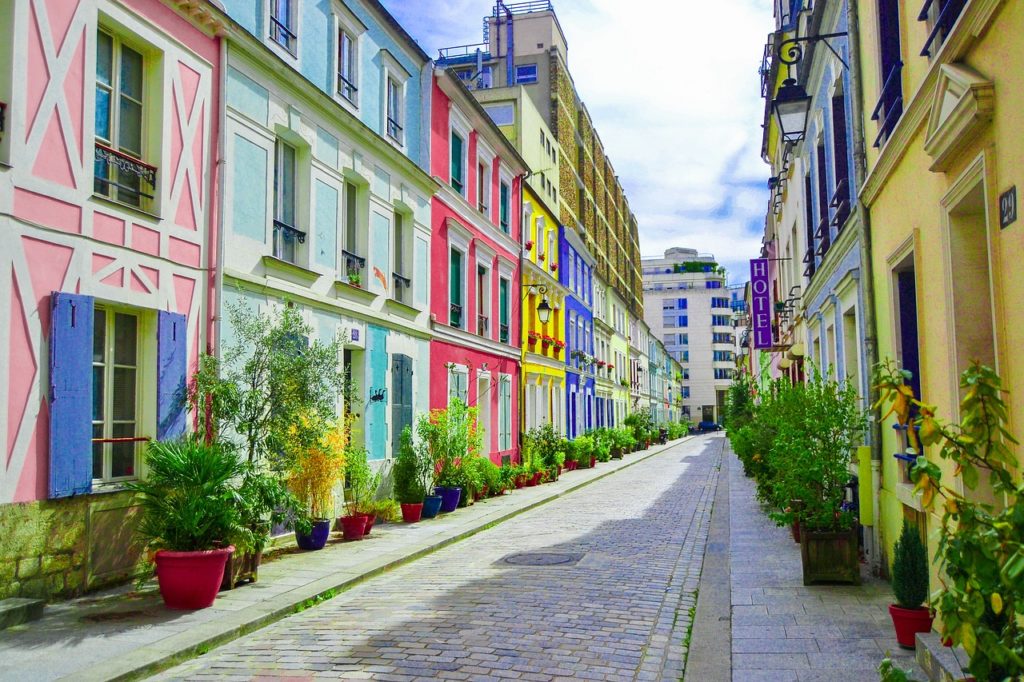 We dreamed a little, we walked in very modest streets that bear beautiful names, Liberty, Equality, Fraternity, Progress, Foresight, Solidarity; in Paris, big ideas have small streets! Great men too: Verlaine and Rimbaud have their streets, a stone's throw from one another.
We were in Paris without being there. We were in the Americas district. But, by the way, why "the district of the Americas"? And why these small streets and charming houses when the construction of larger buildings was a necessity in the face of Paris' population's continual growth?
Let us consider the issues one by one: the reason for these small constructions is to be found in the subsoil where plaster and gypsum quarries ran. They were exploited throughout the nineteenth century until the 1880s, most often underground, making the soils on the surface particularly fragile. It was impossible to build multi-story buildings there. The Americas district is not the only district to be suspended above the void! Paris owes its beautiful "cut" stone houses and plaster-coated buildings to its geological resources.
Finally, we must get there, why, is this district called "of the Americas"?
Before bearing this name, it was for a while nicknamed the "quarter of the Quarries of America." No one knows why gypsum quarries would have been American! It is said to be the fruit of an "economic" legend: the gypsum from this neighborhood's quarries possessed exceptional aesthetic and mechanical qualities. So exceptional that part of the quarries' production would have been shipped to the United States for the construction of many buildings on the East Coast! This is how some of this plaster would have been used to build the White House in Washington. But also, in the United States, they were starting to build very high. So, they needed the right material. And France produced it.
Nice story isn't it… but it is just a story!
This article was translated in English by Sandrine Sweeney.