Business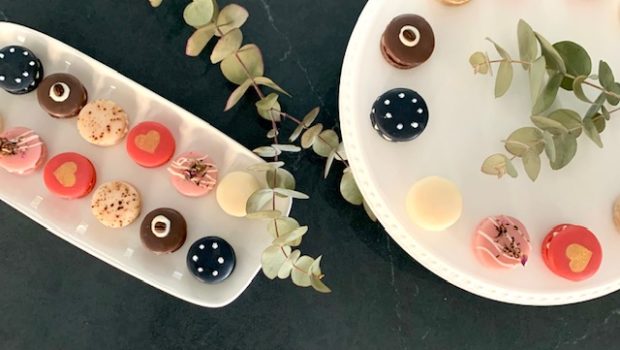 Published on November 4th, 2021 | by Isabelle Karamooz, Founder of FQM
0
Interview with Sophie FENOLL, CEO & Founder of Body Delice and a Master Soapmaker
How long have you been making soap and how did you get started?

I first started to make my own cosmetics 10 years ago. I was very concerned with the ingredients listed in the cosmetics I used at the time, plus I wanted to reduce my consumption of plastic, so I decided to start crafting my own products. That's how I started making toothpastes, shampoos, lotions, body butters… It was really fun and I quickly learnt a lot about phytotherapy and aromatherapy. But I was still purchasing soap bars because soap is more about chemistry than just mixing oils or butters. You have to manipulate sodium hydroxide which is not a harmless product. So, I took a class in France with a Master Soapmaker, and got certified in cold process soap making, also called "cold saponification." But this hobby really started to become a business once we moved in California with my husband, two years ago.
How would you describe your style of soap making?
My style is definitely Nature inspired! I love working with raw ingredients such as honey, almond powder, milk, flower petals, charcoal, clays, coffee ground… and transform them into a finished product with a stylish design. Some soaps may have a refined design, others may be more sophisticated. It depends on my mood and my inspiration. Except for my best sellers, I rarely make the same designs because I like to experience new things and to be honest, I can quickly get bored in making the same designs over and over again!
Where do you find inspiration for the soap that you make?
As a French soapmaker, I mainly find inspiration in my French culture. For example, I created a Californian version of the famous Marseille soap (a cubic soap stamped differently on each side). I also like working with the lavender fragrance which always reminds me of the French Provence. And I created French macaron soaps as well.
What are your best sellers?
The macaron soaps are actually my best sellers! They come individually wrapped or in a box of six macaron soaps. I also receive many orders for custom macaron soaps for weddings, bridal showers and baby showers. They make the perfect gift. And I actually created a limited edition for Christmas! You'll still find on my Etsy shop the usual rainbow color macaron soaps box, but I created a unique chocolate-inspired macaron soaps box. Each macaron has a different scent (white chocolate, sugared strawberry, chocolate coffee fudge, white tea and rose, Oreo style cookie and cinnamon supreme). It was a lot of fun imagining each design!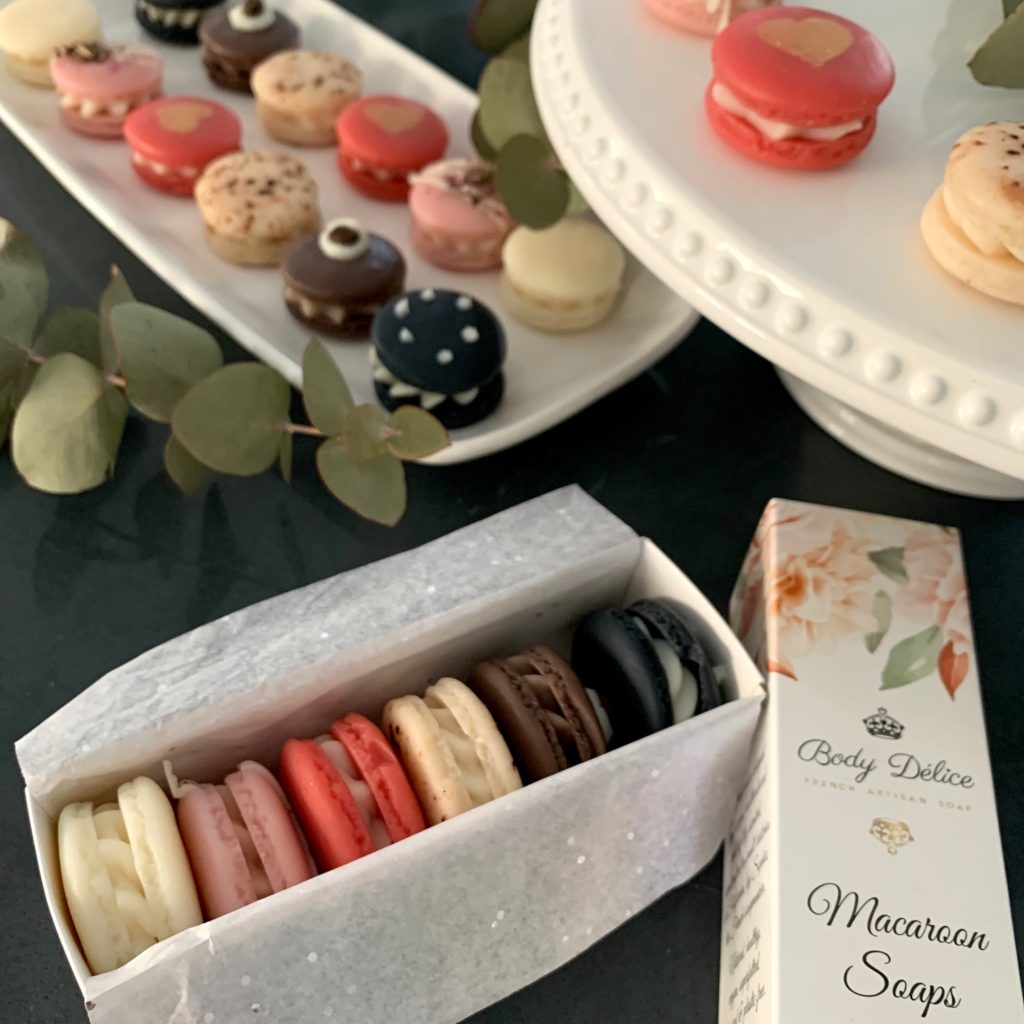 What is the difference between Hot Process and Cold Process soap?

A cold process soap is a handmade soap which follows a manufacturing process known as "cold" as opposed to the hot process which is industrial.
Basically, you obtain soap by mixing oils and sodium hydroxide. During this chemical reaction (also called "saponification"), the industrial process heats the mixing from 176°F to 248°F (80°C to 120°C). The heat accelerates the process in order to obtain a cooked soap quickly usable. The problem with this soapmaking process is that the heat alters all the benefits of the oils. Plus, the glycerin (a softening agent naturally created during the saponification) is removed from the soap as it obstructs the machines (so you lose all the moisturizing and softening benefits) and it is sold separately because of its high market value.
On the contrary, the cold soapmaking process does not involve heating the mixture so we keep all the amazing benefits of the vegetable oils used in the recipe. Besides, thanks to the glycerin, we obtain a good quality product highly moisturizing for the skin. But as every artisan product, you need time to craft it. The oils are blended with sodium hydroxide until the mixture reaches the consistency of custard. Then the preparation is placed into molds for 24 hours / 48 hours to allow the saponification reaction to continue. After this time, the bars of soap are unmolded, hand cut, and allowed to dry for at least 4 weeks. It's an artisan process which guarantees quality over quantity.
What about the product/invention that you are most proud of?
I am particularly proud of my ayurvedic shampoo bars. I stopped using liquid shampoos a long time ago now, so using a shampoo bar is really normal to me, but I know some people still don't know that you can actually wash your hair with a solid bar. So, I'm particularly proud of this product because shampoo bars are way better than liquid shampoos! They are economic (one bar has an average of 50 washes), plastic-free (no more plastic container to dispose of), zero-waste (composition and packaging are 100% biodegradable), eco-friendly (safe for grey waters and the environment), travel-friendly (customs hassle-free and leak-free in your toiletry bag), cruelty-free, natural, and enriched in ayurvedic powders (those have so many benefits for the hair!). Plus, I made them sulfate-free which was the most important thing to me! Because sulfates are very aggressive for the skin, not biodegradable, toxic for aquatic life, and have also the property to easily pass the epidermis barrier leading to cancer over time… Though, many shampoo bars on the market contain sulfates! So, I'm proud to craft good quality products and to educate people through them, about the "green washing" operated on zero-waste products. A shampoo bar is certainly zero-waste but not necessarily eco-friendly if crafted with sulfates…
What else do you do in order to be eco-friendly?
First, I try my best to source my ingredients locally and I'm careful about their composition. You won't find any paraben, phthalates, endocrine disruptors, BHA, silicone, mineral oils or sulfates in my products. On top of being bad for you, these chemicals are a disaster for the environment. Because when using a soap or shampoo, they go in your grey waters, and pollute groundwaters and soils, damaging your local ecosystems. Having a clean composition is therefore very important to me and that's why my products are all biodegradable.
I also won't use any palm oil in my recipes, which is an ecological disaster (even the supposedly sustainable one).
Besides, my packaging is always eco-friendly. I use glass containers, reusable tin boxes, kraft jars lined with a plant-based polymer, and right now I'm working on a new seed paper wrap for my soap bars. The tissue paper I use is also compostable as well as my stickers which are printed with soy ink. My business cards are printed on recycled paper and I ship my customers' orders reusing the bubble wrap, Styrofoam or paper from my own suppliers' orders.
I've also partnered with 1 Oz coffee in Mountain View to upcycle their coffee ground into custom soap bars exclusively sold in their coffee shop.
I'm sure I can do better and improve some other things in my production process, but I do my best at my level, to be sustainable and help our environment.
What is your number one soapmaking tip?
Be creative and try out recipes, designs, and scents! Mastering a skill requires practicing so my tip would be "practice, practice, and practice again!".
Tell us something nobody knows about you.
I'm a 32 grown up woman but I still sleep with my favorite stuffed teddy bear!