Art & Culture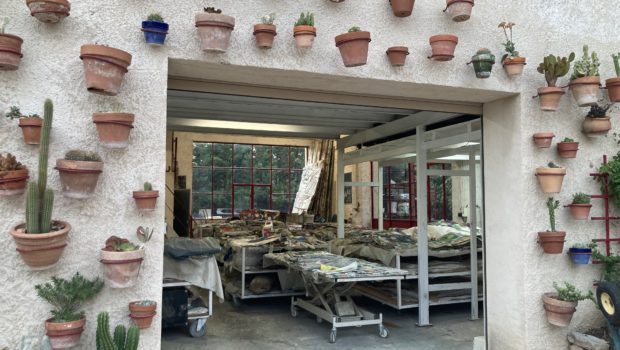 Published on November 1st, 2022 | by Isabelle Vaurie
0
Mark Alsterlind, a Californian artist in Provence
Manosque: the lavender of the surrounding fields that perfume the summer evenings, the rounded mountains, the lightness of the air, the cicadas, but above all the light: we understand why Cézanne, Bazille or Van Gogh loved the south of France so much. This is also the case for Mark Alsterlind, who has set up his vast workshop in this setting. The most French of Californian painters has been working in Provence for several years. It was in the heat of summer, with classical music as a backdrop, as he likes to listen to, that we met him.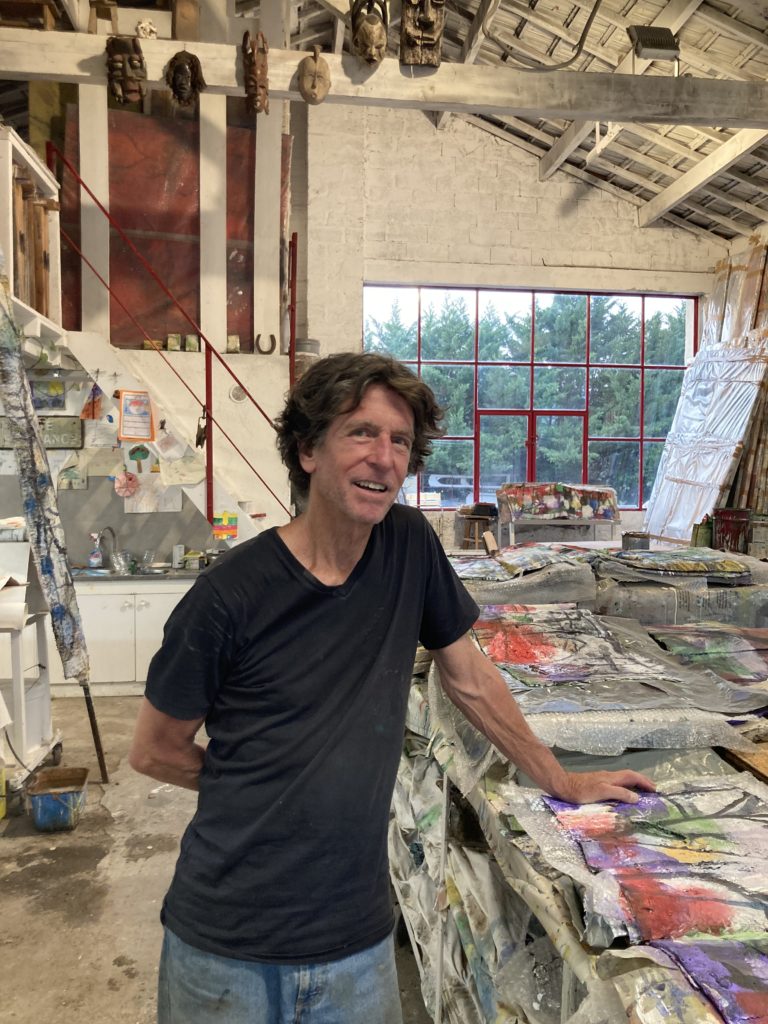 You arrived in France a long time ago, why France?
Strangely, I didn't speak French and a curious coincidence brought me here. I had finished my history studies, and I was living through a very rich historical period, the 1960s in the USA were a bubbling moment. On the advice of a friend I decided to travel, I went to Paris. When I arrived, it was an incredible shock. I didn't speak French but I felt from here, things seemed simple to me. I was supposed to stay for quite a short time, but that lasted several months, then I left for a two-year world tour. I stayed in India among other places, where you could live on 30 dollars a month. Then I returned to California where I did Fine Arts, a real chance. The training was very solid, you had to know how to do everything. I was more thinking of illustration at the time, but I quickly realized that what I wanted to do was drawing, painting. And I came back to France.
You didn't arrive in Provence right away, did you?
No, I was in Paris, where I also have a workshop, then I stayed in Dordogne where I worked on the replica of the Lascaux 2 cave: a formative and very powerful period of time, this work on works that tell us something about humanity, the figurative painting of the origin, it's very moving. Later I spent several years between Arles, Nîmes and Beaucaire, I gave lessons and varied the activities and I arrived here 5 years ago. I was able to have this workshop that I created so that it was totally adapted to my work. I make my canvases, my frames, my paints there with the pigments I choose. I like to do everything, even these rolling tables with trays to put the works on, it makes it easy to get everything out to put the canvases outside if I want to.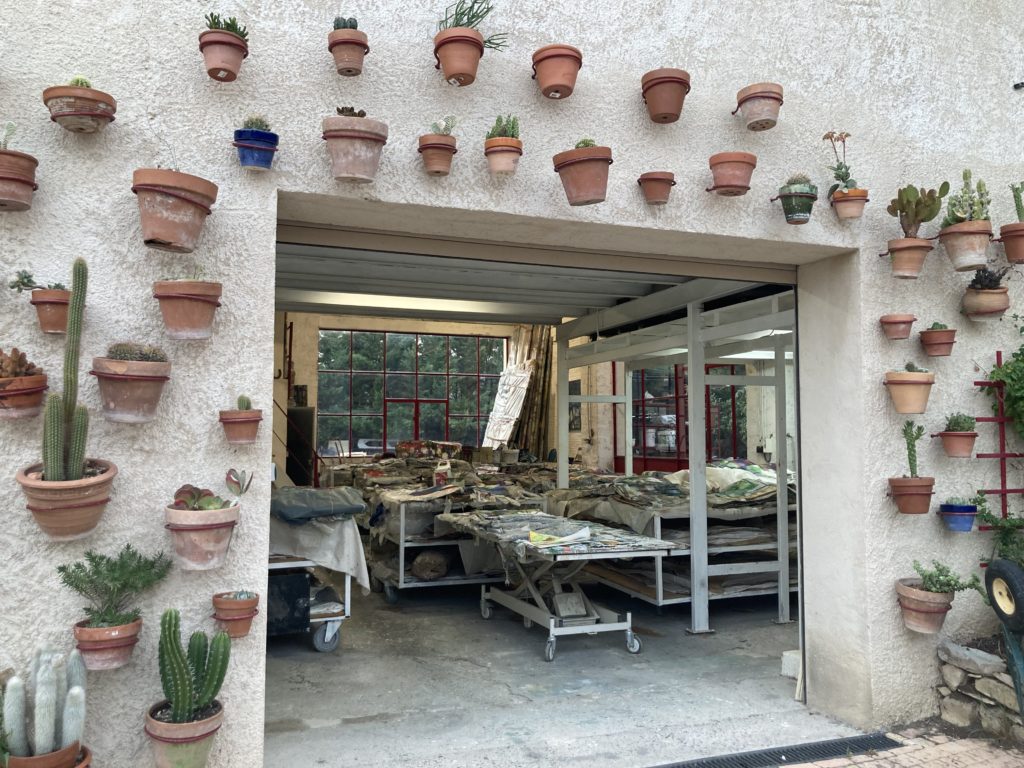 There are several works in progress at the same time, some are outside, others in the studio, how do you work?
I like being outdoors. First because at times I ran out of indoor space. Before being here, I had been lent a piece of land so that I could work outside, space question solved! This allows large formats. And then I like to work on works that express the passage of time, so I leave certain canvases outside, I get back to them regularly, and I let nature mark its own print; the rain, the light or the air all leave something on the canvases. Some have been there for several months, some for years. This screen for example, you have to work on both sides so it takes longer, it has been here for about 3 years. So the screen tells us something, what it's been through. Something you can't get indoors.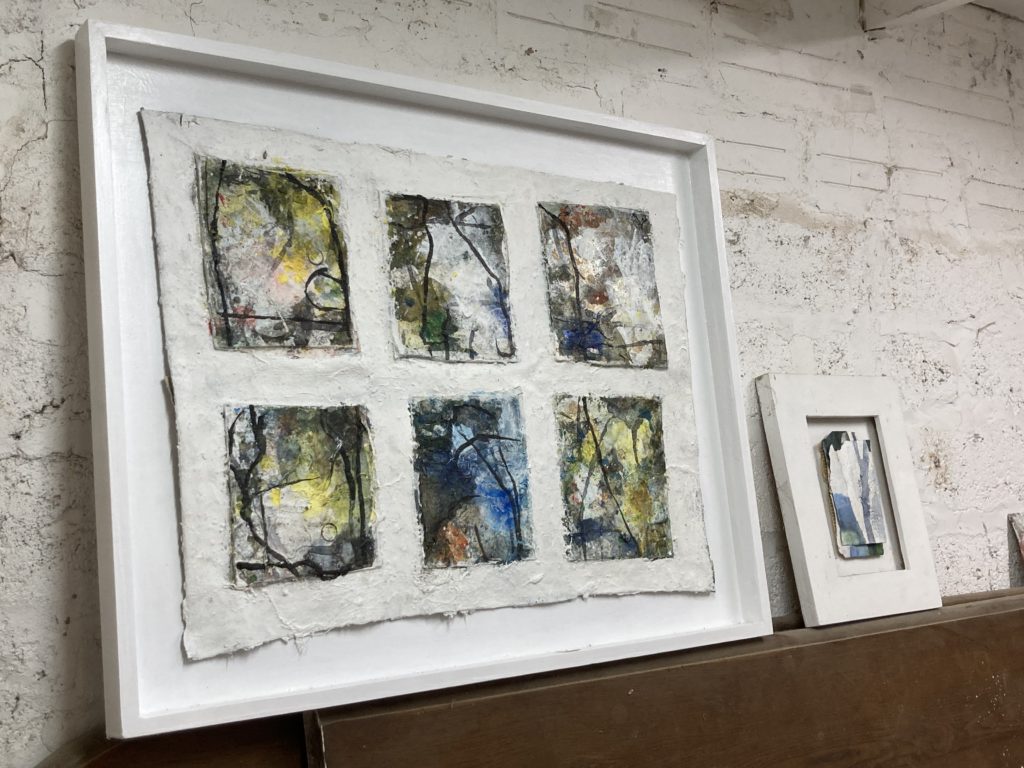 We feel that nature is an integral part of your work, well beyond a tribute, could you explain why?
I am deeply interested in the ecological transition and what trees can bring us. I have been working on a project with Francis Hallé (biologist and botanist) who has set up an association to recreate a primary forest in Western Europe. The tree is vital, the forests are in danger everywhere, although they protect us and we need them. The association's project (see references below) is to recreate 70,000 hectares of untouched primary forest. Trees are fascinating and inspiring, and they are indeed very present in my work. They communicate with each other, they are alive and last much longer than we do. It's interesting because some people think that there cannot be a primary forest, that man has to intervene in the forests, but that's not the case. Trees don't need us, it's the opposite…. Nature is therefore very present because it is so powerful and inspiring.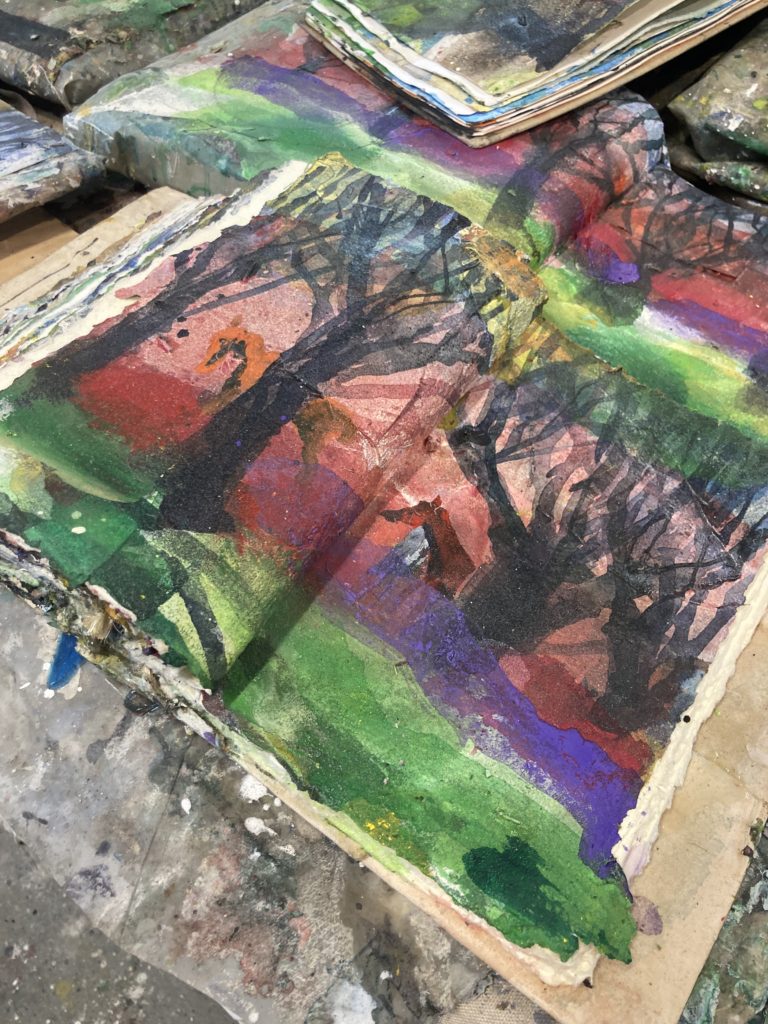 Some of your works look like books, what were they originally?
Oh they were books actually, I do use books that I paint, some are huge, voluminous, and I like to explore their volumes. They are made of leaves and therefore of trees, so that we find the trees throughout my work. There are some that I pile up and tie together, which explain how they get so big.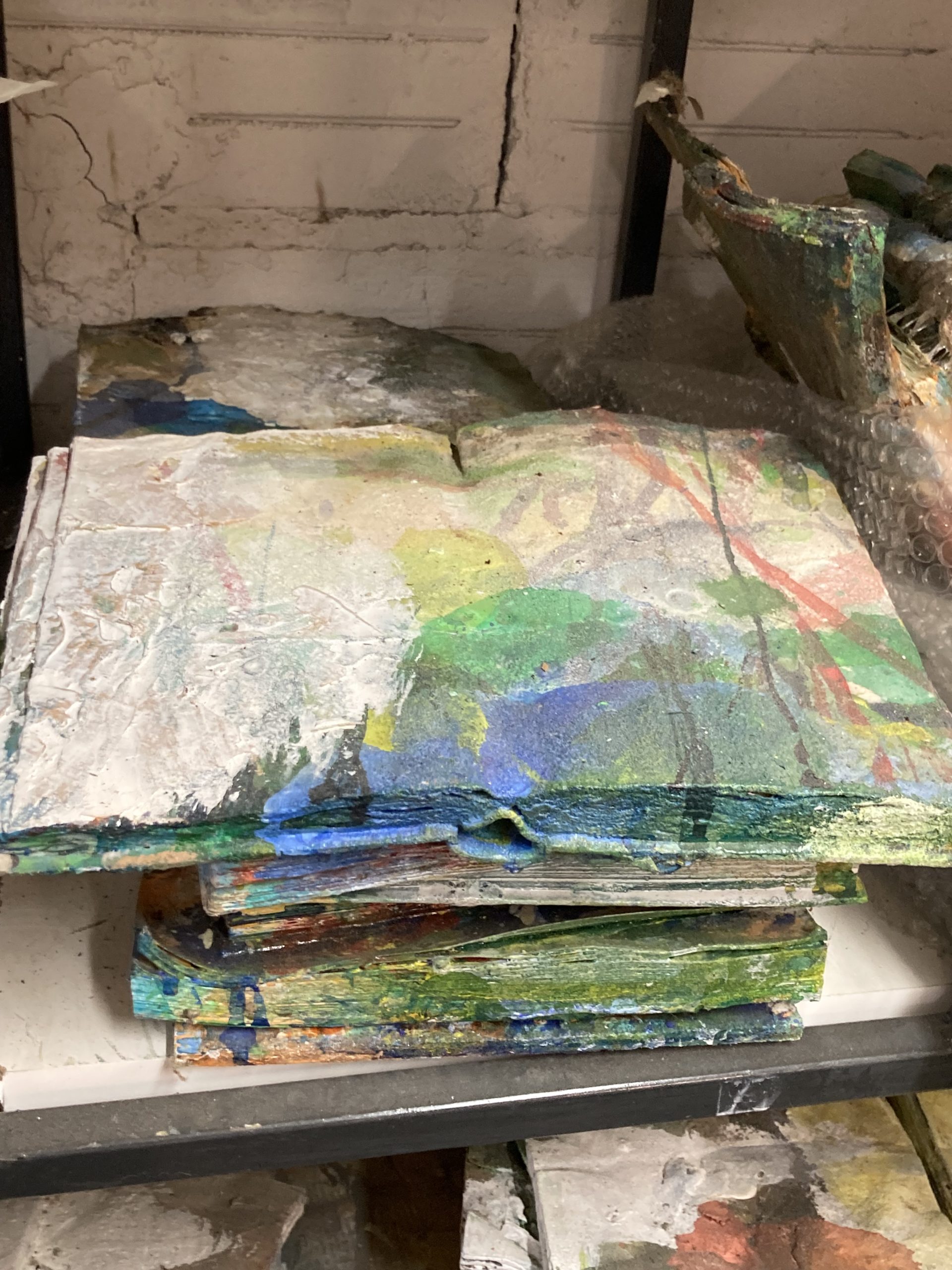 These stacked books actually look like sculptures!
Absolutely, they do, and yet you can turn the pages and the art work can vary when you turn its pages. It takes a long time, the process is therefore all the more interesting for it. The artwork becomes multiple, it changes according to the page you choose, which is an idea I really like, so that it isn't fixed once and for all.
You have organized and participated in many exhibitions yet always keeping a great freedom in the way you choose your shows, for what reasons?
I could have chosen to stay in the United States, work and exhibit in New York, where there are so many possibilities, to have galleries that choose to exhibit one work rather than another and that would have probably been easier at times, but I preferred to keep my freedom. This is what has allowed me to work on very different projects, ranging from my work in the studio, to the creation of posters for events such as the bullfights or "feria" of Arles, creations of chocolate paintings and visits in Paris. I show amateurs the Paris of painters, I often show American art lovers around and I enjoy that way of sharing art history and Paris. Indeed I preserved my freedom, I think it mattered more to me than anything, and artists should keep their independence; I was able to keep this diversity of activities thanks to that, and I could choose what I wanted to do.
Thanks to Mark Alsterlind for sharing and opening his workshop to us.
To find out more:
https://www.markalsterlind.com
Possibilities to visit the studio in Manosque and visits in Paris where Mark Alsterlind visits.