Art & Photography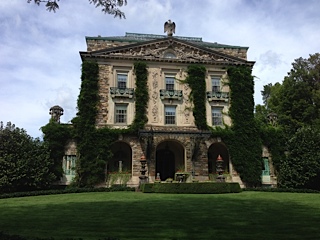 Published on May 16th, 2014 | by Teresa Tolentino
6
Picasso's rare tapestries and the Rockefellers
Pablo Picasso was one of the greatest and most influential artists of the 20th century. He experimented in almost every medium, but most people know Picasso for his renowned paintings. Born in Málaga, Spain, he spent most his adult life creating numerous works of art in France. I recently had a unique experience of seeing rare tapestry works by Picasso housed in the private art collection of the Rockefeller's country estate, Kykuit, in Sleepy Hollow, New York.
The stately summer residence of John D. Rockefeller, Sr. was completed in 1913 and is now open to the public as a historic landmark of the National Trust for Historic Preservation. I took a guided tour of the meticulously maintained mansion with its landscaped gardens and water fountains, which overlooks a breath-taking view of the Hudson River Valley. Rockefeller was the wealthiest man in America ever, his net worth equivalent to approximately 340 billion US dollars today.
It came to my surprise as a former resident of the South of France that the Rockefeller's private collection contained seldom-seen tapestries by Picasso. It felt truly special to see them, especially since I have studied architecture and art history. None of the Picasso museums in France, such as the one in Paris' Le Marais or the one in Antibes in the French Riviera, have any on exhibit.
Nelson Rockefeller was the grandson of John D. Rockefeller, Sr., who founded Standard Oil. The Rockefellers expansive art collection was legendary and the family was perhaps the greatest of all American art patrons. Apart from their wealth, their most significant contribution to America was to teach the public that art could be enjoyed, understood, appreciated and owned by all, not just the elite.
Nelson rose to become governor of New York and U.S. Vice President. He was a long-time friend of Picasso, and a collector of his work. In 1955, Picasso produced his first tapestry and made three reproductions of La Guernica. Rockefeller bought one since Picasso declined to sell him the original painting. From 1958 to 1974, he commissioned Picasso to make more reproductions of his paintings into tapestry. Picasso agreed to the commission of La Guernica and other tapestries by authenticating and signing a photo of La Guernica. This Guernica tapestry became the first of 18 Picasso tapestries commissioned by Rockefeller.
The tapestries were woven in the South of France in the town of Cavalaire, where a pair of Aubusson weavers, Madames Réné and Jacqueline de la Baume Dürrbach, had an atelier. When Nelson purchased La Guernica tapestry he stated "The subject had been sensitively and brilliantly adapted to the different medium and the result was a stunningly beautiful work of art in its own right." The geometric shapes and brilliant colors of the paintings transferred well onto the looms. There are about 15 of these rare tapestries in the Rockefeller's personal modern art gallery at Kykuit. Commenting on Picasso and his choice to create tapestries, Kykuit Curator Cynthia Altman says, "He wanted to bring appreciation of modern art to everyone, and tapestries are more portable and less fragile than the originals."
The Aubusson weavers translated La Guernica's mural-size canvas into wool, which took several months. Picasso replaced the original oil painting's black-and-white palette with warmer sepia tones. The tapestry is 23 feet long, compared to the oil painting on canvas, which measures 25.6 feet wide.
At one time, tapestries were among the most highly prized mediums of art, a way for nobles and kings to display their prestige and wealth. They commemorated military triumphs, told moral stories, and illustrated epic scenes. They decorated cold stone walls of castles and palaces with scenes woven in silk, wool, gold and silver threads. The trend of tapestry never became unfashionable, but the tapestry as an art form experienced a revival as styles of living and interior design changed with the 20th century to include scenes of modern art.
La Guernica tapestry is probably the most famous of its kind, however, other notable artists of the 20th century also created wonderful tapestries, including Matisse, Braque, Léger, Miró, Chagall, Calder and Derain. Picasso painted La Guernica in 1937 during the Spanish Civil War as his distressed reaction to the Nazi bombing of Guernica, a small town in the Basque region of Spain. The bombing almost destroyed the town, and the only things left standing were the main cathedral, the assembly house, and an oak tree. Picasso was in Paris when news of the bombing reached him. The media pleaded with him for a public statement regarding the war, but instead Picasso's sentiments of anguish were expressed in his painting of La Guernica. The original painting now permanently resides at the Museo Reina Sofia in Madrid, Spain's national museum of modern art. It has become perhaps the most famous anti-war image in the world.
For over fifty years, La Guernica tapestry has been loaned to several well-attended venues by Happy Rockefeller, widow of Nelson. First, the tapestry hung in the Rockefeller's home in Albany, New York from 1956 to 1984. Then, the tapestry was displayed outside the Security Council at the United Nations building in New York City from 1985 to 2009. It gained substantial attention in 2003 when it served as the back-drop for Colin Powel's address to the Security Council about the war in Iraq. When the UN building underwent renovations, it was moved to London's Whitechapel Gallery in 2010. In the summer of 2011, it was temporarily displayed at the Rockefeller residence in Kykuit. In 2012, it was loaned to the San Antonio Museum of Art in Texas, and currently resides at the Museum of Fine Arts Houston, continuing the Rockefeller's long-standing relationship with the state of Texas.
Modern art tapestries have many advantages. They are rare and difficult to counterfeit, something that both collectors and curators appreciate. Tapestry is very labor-intensive, and in France's weaving ateliers, it is an art that has been done by hand since the medieval times. Each thread is placed individually, therefore taking months or sometimes years to complete the work. Each tapestry that is translated belongs to a limited edition. Not every atelier was able to produce as many copies as their contracts permitted because of the time required. A second weaving of a tapestry would typically occur if the first weaving had been successfully sold, although many never reached their allowed contract limits.
Many ateliers accustomed to weaving traditional pieces also produced tapestries of modern art, evidence that this was a popular trend because of collector's desire to have distinctive art work in this form. The feeling I had when I first saw Picasso's tapestries at Kykuit was a similar feeling to when I first saw St. Peter's Basilica in Rome, the Eiffel Tower in Paris, the Pyramids in Egypt, or standing on top of Dubai, looking out at the view from world's tallest building at the Burj Khalifa. Monumental. Extraordinary. These rich and expansive tapestries deserve more attention than they have received in today's art world.
Header Photo Credit by Teresa Tolentino – Front Facade of Rockefeller Estate at Kykuit, Sleepy Hollow, NY