Art & Culture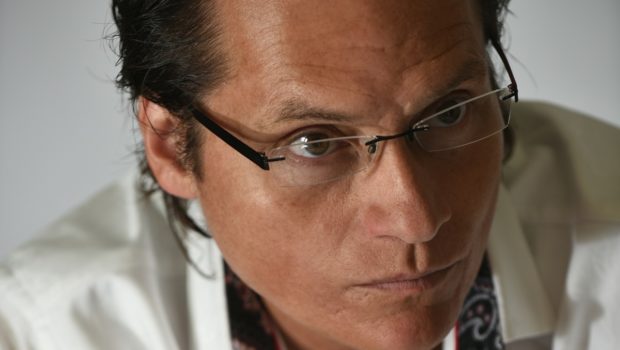 Published on November 2nd, 2020 | by Isabelle Karamooz, Founder of FQM
0
"Shadow," a New Novel that Announces "the Coming of a Phenomenal Being"
What does it mean to be a writer?
Using transversal skills allows us to see other methods of contribution than what usually guides our career. Following the loss of a loved one five years ago, I decided to make a contribution to the improvement of certain things. What was originally a small awareness conference on the impact of the digital age and on human values, has turned into two research works followed by this first bio-fictionalized work. The arrival of Shadow allows me to continue to offer a certain collaboration in a fictional novel form. With an unparalleled level of realism, Shadow's story takes the reader from one place to another while preserving this notion of deep and fundamental values of life. As a writer, therefore, we can offer some content on a certain topic that is important to us, more important, very interesting for the audience to read.

Some of our readers will discover soon your new book and are unfamiliar with "Shadow." Can you tell us a bit about it?

Shadow announces the coming of a phenomenal being. Analyzing certain contexts of society from different angles, the intriguing story allows the reader to travel the world and discover fantastic places. From the author's hometown of Las Vegas to the deepest remote mountains of Tibet, the story is addicting. Most readers devoured this book in less than 24 hours, reading these 300 or so pages one after another. The first of the three-book saga, Shadow delivers a tremendous amount of learning-oriented information, shrouded in a love affair like one from the days of chivalry.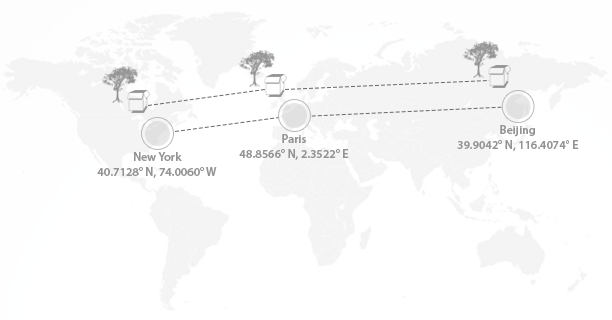 …So what does the title "Shadow" actually mean?

Shadow is the name of a little girl. Questioning life from all sides, this child has the power to solve and answer some of the most complex situations. With one of the highest IQs in the world, Shadow has a different way of looking at things. Her parallel universe captivates us and makes us realize that we have this opportunity to live our life to the fullest. While respecting the precious moments of life, such as a simple walk in nature or a very interesting dialogue with her father, this little girl puts her audience through the wringer.

Tell us a bit about your writing routine. Do you write early in the morning, or during the night? Are you using a pen or a computer?

I write when everything is calm and when everyone is asleep. Using my career expertise in information management, I use the digital approach throughout the process. Sometimes I write accompanied by music from Western Europe in which I have adjusted certain "beats" to obtain musical frequencies suitable for my work, so I create an optimized working environment. Obviously, when you write something that reflects a certain reality, there are certain nights when nothing goes right. Some passages were extremely difficult to write and required a resumption of work on several occasions. Sometimes with tears in my eyes, I have seen myself writing fantastic things.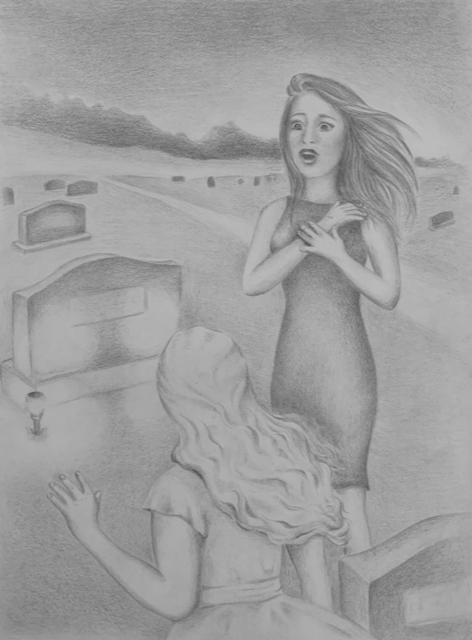 What prompted you to write the Shadow saga?

The Shadow saga is an experience. Far beyond the standard literary work, this project is the precursor of a multitude of possibilities. We have made a breakthrough in the school environment for student projects. We have opportunities to offer conferences. We promote our region by making it known to the whole world. We keep a certain autobiographical aspect. But, most importantly, a fantastic love story, which therefore leads to the conception of a completely incredible being. Whave already received interest from the film industry although impossible to consider until after the saga's completion. Following the protocol of its history, the Shadow universe therefore offers us a multitude of possibilities in our reality.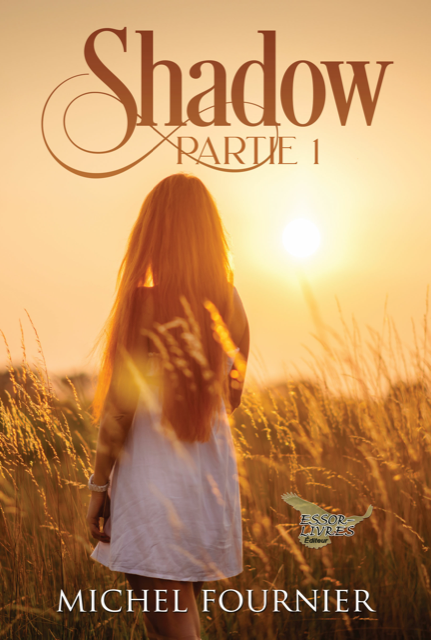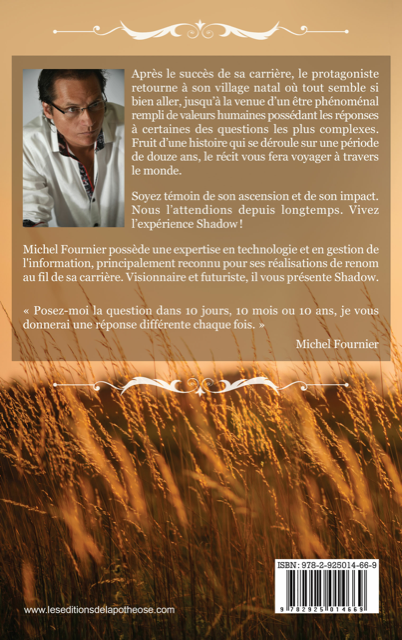 Which novelists do you admire?

I haven't read much in my life, other than for the end of my studies projects when taking advanced French lessons and for my work. I remember doing an analysis of La Femme de Trente Ans, by Honoré de Balzac, in my last year of high school. In our day, I liked Michael Crichton's Jurassic Park, because I was very interested in all the concepts of chaos theory.
Are you an author who interacts a lot with his readers?
Effectively, I interact with readers using my career expertise. I see improvements in the satisfaction rate by following up with them. This allows me to adapt certain content relating to it, in particular to know what they preferred in the first book so as to to incorporate these tendencies more in the second and third volumes. Most readers create a Facebook post, for example, by taking a picture of a book, making an interesting comment, and "tagging" me on it. This allows me to measure their satisfaction, to do continuous monitoring, and to use these metrics to benefit everyone.

What else are you doing in connection with your books?

Right now, we are adapting naturally like everyone else by adjusting to COVID-19. We had to postpone our regional launch from May to September. It was therefore an innovative launch made outdoors with dignitaries from provincial politics as well as the artistic community. We went live on the radio and we made the front page of our provincial francophone daily. We are currently continuing our regional tour by making the book known in new markets. Although some of these activities were canceled, we still managed to maintain a good track record. Our launches in Quebec City, Montreal and Las Vegas are currently on hold pending an improvement in the crisis. Naturally, the efforts to deliver Shadow Requiem are being done in parallel and in accelerated mode. As readers are impatiently awaiting the sequel, we are therefore aiming for a very quick completion  of the second volume.