Business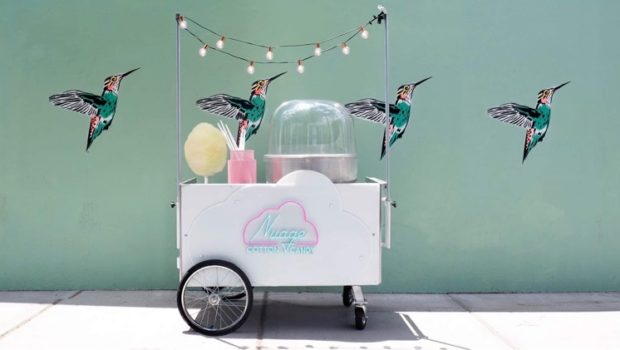 Published on August 31st, 2020 | by Christopher Cipollini
0
Sweet Devotion: Laure Thibeault and the Inspiring Story of "Nuage Cotton Candy"
From the stages of Paris, to the lights of Las Vegas and ultimately family and a passion for the pleasures that bring us together, France native, Laure Thibeault is a self made woman who's story should inspire all, particularly those with a sweet tooth!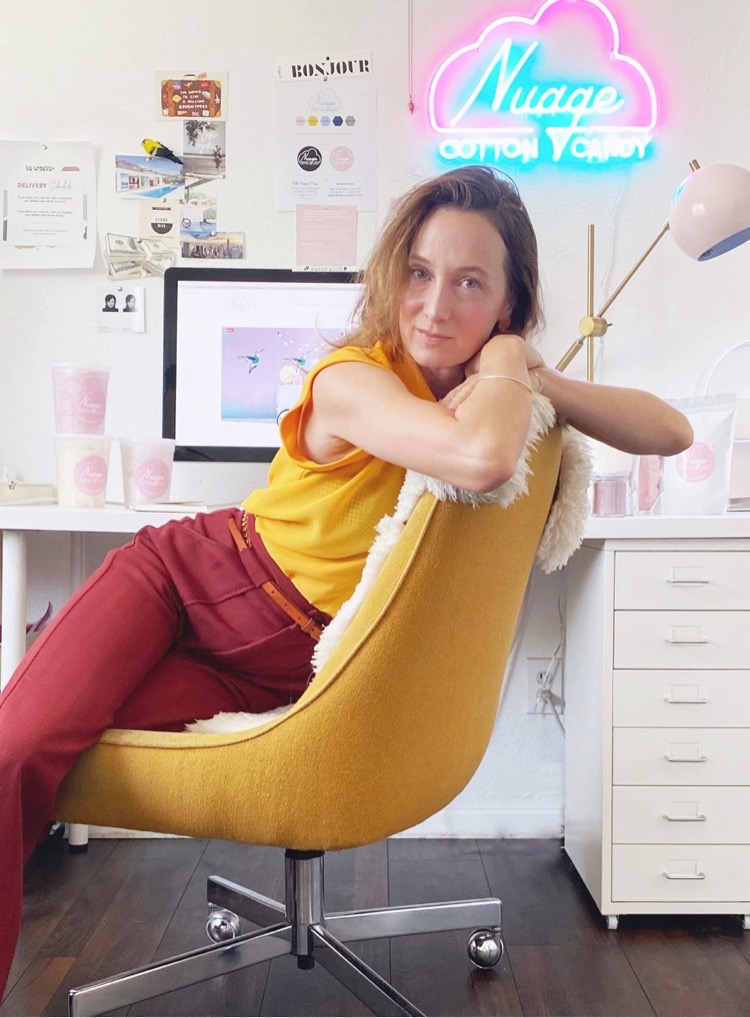 In the uncertain days of Covid-19, any frivolities and human connections are a seldom had luxurious joy. So it was my treat to strike up a conversation with Laure Thibeault on day while visiting a shop I often frequent in Las Vegas's Arts District. She and her sons were positioned in front of the most pristine pushcart you can imagine announcing "Nuage Cotton Candy." "Nuage"- French for "Cloud," appropriately, stands on its own, its feathered colors the shades of a field of Southern rosemary. I was so charmed that I immediately struck up a conversation. Taken by the display at hand. The pastel colored packages, the baby-blue logo, the pleasant atmosphere that surrounded "Nuage Cotton Candy." I sought to know the persona behind such a venture. A French owned cotton candy shop in Las Vegas? Surely there was a story to tell! As fate would have it, Laure was more than happy to indulge me.
Owner Laure Thibeault is Paris born but grew up in the South, in Montpelier. As a child, she showed a great aptitude for dancing, beginning ballet classes at the age of five. Soon her passion would lead her dance with the much celebrated "Crazy Horse Paris," under the stage name of "Cza Cza." In the years to come, while dancing with the company, Thibeault would meet untold numbers of famous faces, dance on the stages of Paris and the world and be given the treatment of a star. Meanwhile, on the other side of an ocean, far in the desert, in the city of Las Vegas, "La Femme," the sister show to "Crazy Horse Paris," was gathering momentum at the MGM Grand hotel and Laure came along.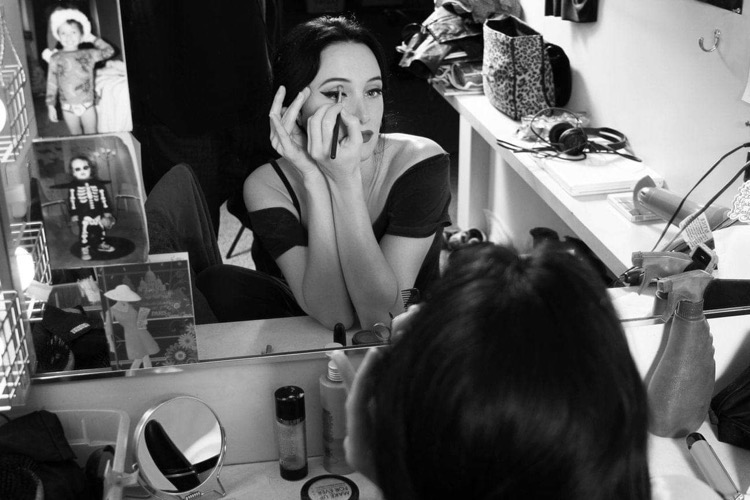 For 11 years, Laure Thibeault and company danced in the Paris tradition in Sin City, with a small stage made especially for the experience. Her first time in the United States, it was truly divine timing, since everything fell into place. Meeting and marrying, giving birth to two sons, Charlie and Hugo. Laure danced her way into a new life in the least likely of places. In October 2012," La Femme" ended its run in Las Vegas, though still continues on in Paris as the "Crazy Horse" and has been since 1951.
After a two year stint with Cirque du Soleil, Laure Thibeault hit a crossroads many find themselves in… "what now?"
Coming from France, creative aesthetic was natural to Laure. A desire to hone her creative skills would lead her to go back to school where she would acquire a degree in graphic design. However, like when this adventure began, fate would bring Laure right back to the City of Lights-Paris. Walking through the countless rues one Summer, admiring the number of kiosks always present, she was struck by a charming cotton candy stand. The second the sweet, alluring smells rose to greet her, Laure Thibeault was transported to childhood. Happy memories, family, recollections of days gone by. The sweet hand of fate had indeed come knocking. "Nuage Cotton Candy" was the result!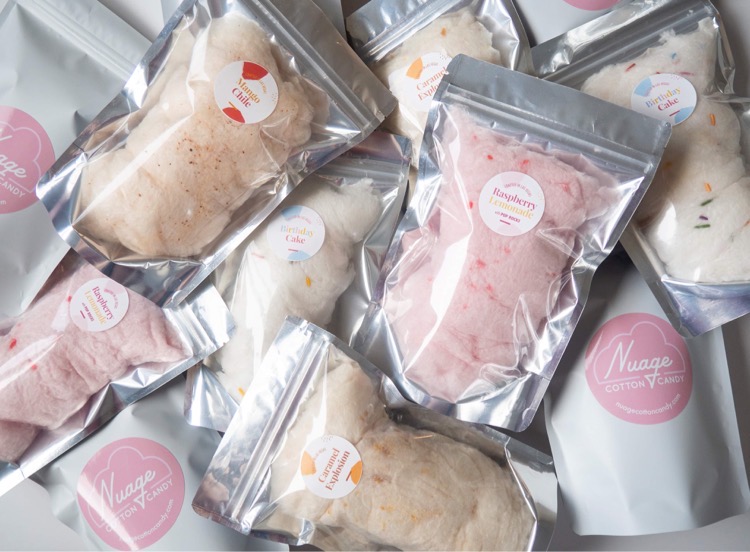 In one years time, Laure and her husband Jean-Francois are still going strong with this passion project. Creating their own exquisite brand of candy, all organic, sweetened with cane sugar, naturally flavored with real ingredients, with a variety ranging from caramel to raspberry, cake to lemon-drop to the exotic chili flavored, "Nuage Cotton Candy" accommodates any variety of tastes and pallets and Laure and Jean-François will no doubt be ready to offer up something unique and divine with a smile and a gracious nod. Available for almost any occasion, from weddings to private parties, birthdays and any number of celebrations, Laure Thibeault and her charming pastel kiosk will be there, exquisitely crafted cotton candy creations in tow, made with expertise and love, smiling as warmly as the sun above the fields of Montpelier in the heart of the Desert.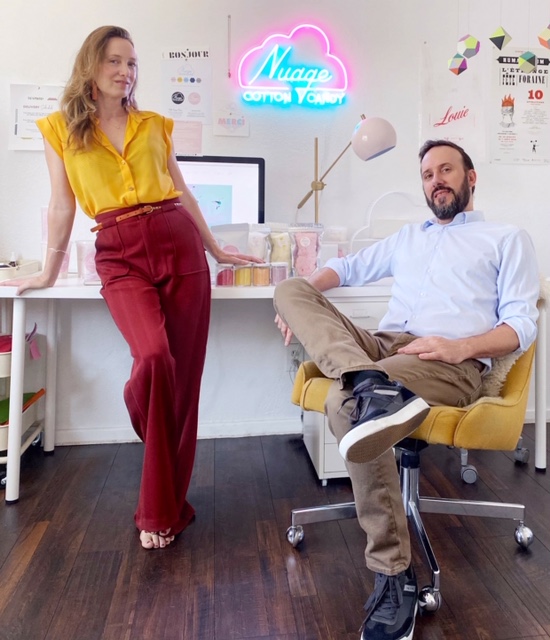 A taste of their enchanting creation will, if only for a minute, bring you to a nostalgic place, where the colors are bright, the wind rolls and life is still so very sweet.
https://www.nuagecottoncandy.com/new-page
https://www.instagram.com/nuagecottoncandy/
https://www.facebook.com/nuagecottoncandy
Header Photo Credit: Charlie Thibeault