Art & Culture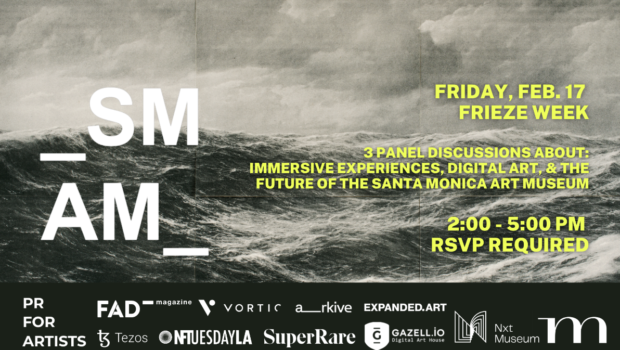 Published on February 6th, 2023 | by Laurence de Valmy
0
The newly opened Santa Monica Art Museum participates to Frieze Week Los Angeles
Los Angeles is usually associated with the movie industry, palm trees and surfers. You can now add to the list, a booming art scene. During WWII, New York took the center stage and became the capital of the art world, and Los Angeles was seen as a cultural desert.
Things have evolved and the city is now a world-class art capital, home to prestigious institutions – the Los Angeles County Museum of Art, the Museum of Contemporary Art, The Broad and The Getty, to name a few and all the major galleries have opened spaces over the last decade. Some artists have followed suit and established their studios there such as French artist Claire Tabouret.
In 2019, the major art fair Frieze created an LA edition and several satellite art fairs such as the LA Art Show or Spring Break Art Show are open to the public to what is referred as the "Frieze Week". This year the Frieze week will take place February 16-19, 2023.
A newcomer to the city art ecosystem, the newly opened Santa Monica Art Museum (SMAM) participates in the Frieze week program by hosting a series of events, exhibitions and panels with experts in art, curation, and museum innovation, as well as showcasing curated VR (virtual reality) exhibitions by leaders in the genre, Vortic and Gazell.io.
The 7,000 square foot museum located along Santa Monica's Third Street Promenade has intentionally blank walls, allocating space and rooms to regional artists. Under the direction of Christoph Rahofer, the SMAM has the mission to help define what the museum should be in order to shape the future of art in California.
Art events during Frieze Week at SMAM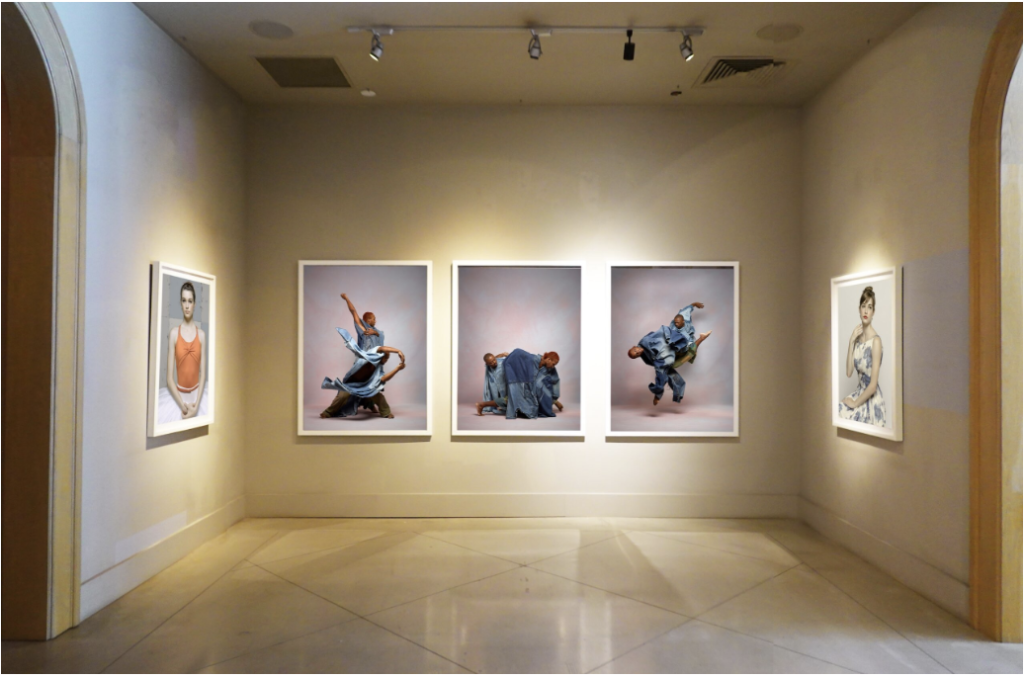 Exhibition Looking West
The exhibition Looking West, titled by co-curator Tom Venditti, features several regional artists and will be on view to the public until March 1st.
Throughout the museum, visitors are invited to see the regional exhibition Looking West, featuring a diverse array of work from both emerging and established artists. These artists include: renowned British-American artist Russell Young, presenting selections of silk screen paintings from his iconic series WEST; Gretchen Andrew's mixed media Vision Boards; Joachim Castañeda's assemblage made from unconventional materials; Casey Baden's mixed-media tapestries and weavings; Daniel Sackheim's film noir-inspired street photography; and Lindsey Price's surreal collage paintings. Other artists include: Dhiren Dasu, Feldsott, Brett Foraker, Jessica Goehring, Bob Landström, Tom Pazderka, Max Rippon, Nathan See, Philip Vaughan, Tatiana Wills, and Jody Zellen.
Panel conversations
Free and open to the public with RSVP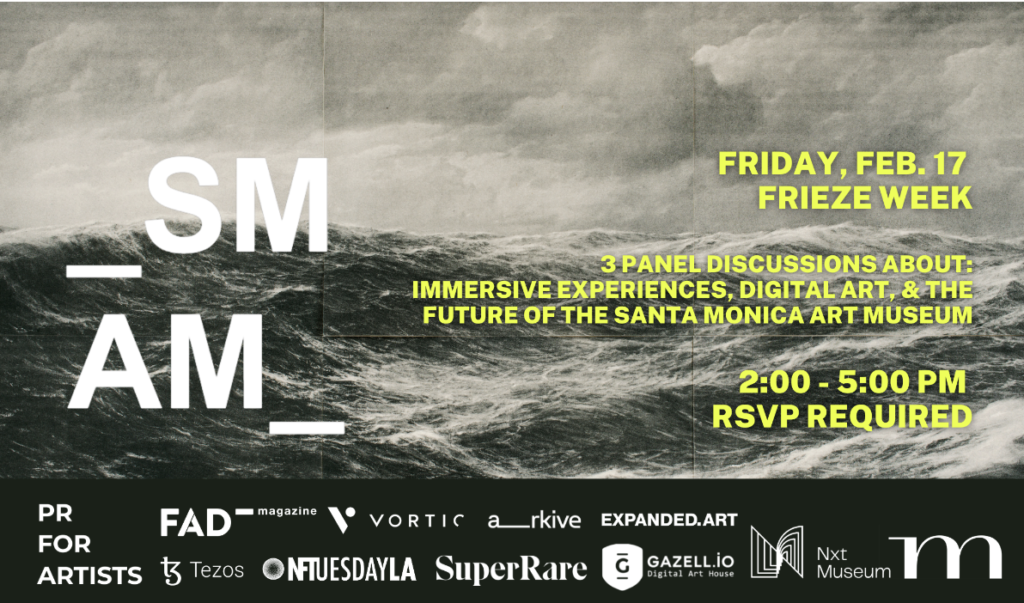 Friday February 17 – 2:00 PM – 5:00 PM: What is an Art Museum? RSVP
Three panel discussions about immersive experiences, digital art, and the future of the Santa Monica Art Museum.
2:00 – 2:45 pm– Immersive Art
The Santa Monica Museum of Art was created to stand at a crossroads of traditional presentations of art and immersive experience. This panel brings together artists, companies, and programs pushing boundaries in immersive space using VR and AR technologies. Imogen Hare, Gazell.io & Gazelli Art House will discuss the state and the future of immersive art with Vortic VR and artists.
3:00 – 3:45 pm– NFTs with Physical Practices
Aubrie Wienholt, founder of PR For Artists, artist Russell Young, and Casey Coyle, art advisor at SuperRare, discuss how artists with physical practices navigate the digital art market and what NFTs can offer to empower their careers.
4:00 – 4:45 pm –The Future of Art Museums
Discussion about the future of the museum with Christoph Rahofer, Corey Madden, Merel van Helsdingen, and Jesse Damiani.
Saturday, Feb 18th, 11:00 AM – 2:00 PM: Tezos Crypto Mermaids & Mimosas RSVP
Panel discussions about empowerment and feminism in Web3 with complimentary mimosas.
11am-12am : Mermaids & Mimosa Welcome
The Crypto Mermaids powered by Tezos with support for the NFT Tuesday community, support crypto education for those who feel isolated from Web3. They are an open community demystifying male-dominated knowledge topics in a fun, female, and approachable way.
12-12:45 pm: Waambat and Laurence de Valmy in conversation
Artists Waambat and Laurence de Valmy get together to discuss feminism in their NFT art practice.
1-1:45 pm Community Formation as a Form of Art and Activism.
Daniel Kantor, Community Arctivist, Cody Edison, NFTuesday Founder, Michael McClure, Blokhaus, Moderated by Mia Stern from Crypto Mermaids.
2 – 2:45 pm Expanded.art NFT Feminism
Margaret Murphy, Expanded Art, Anika Meier, writer and curator, and artists Ann Hirsch, Connie Bakshi, and Gretchen Andrew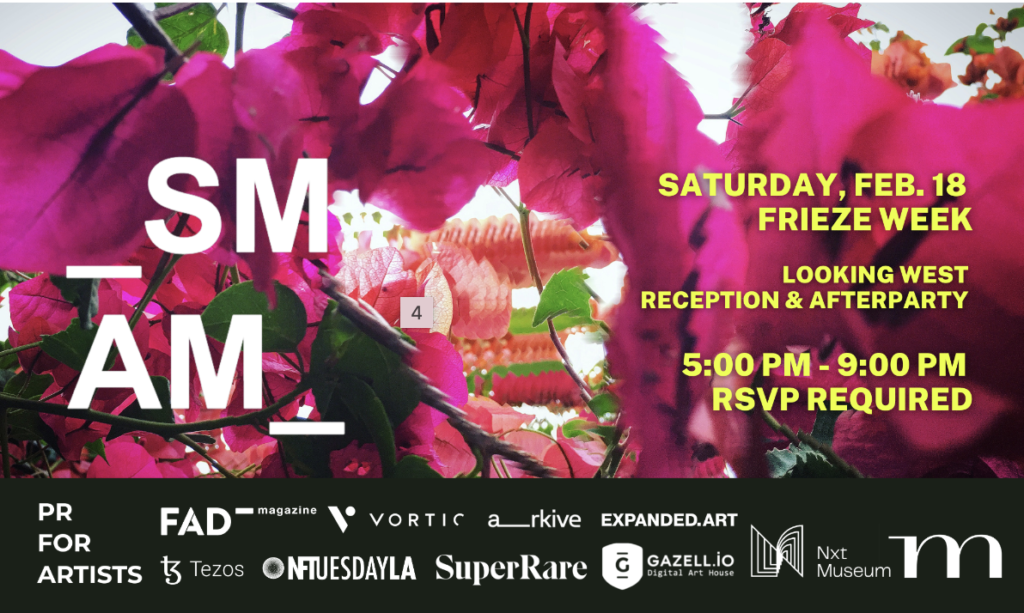 Saturday, Feb. 18th, 5:00 – 9:00 PM: Reception and afterparty celebrating the museum's first regional exhibition Looking West, its artists, creative partners, and programming. RSVP
Santa Monica Art Museum 1219 Third Street Promenade Santa Monica, CA 90401
Thursday – Friday 12pm- 8pm
Saturday- Sunday 11am-9pm