Art & Culture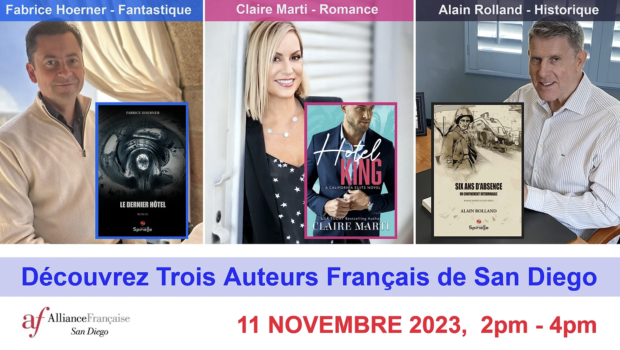 Published on October 18th, 2023 | by Laurence de Valmy
0
Three French authors from San Diego present their new books 
What is the common point between a romance novel, a book about WWII and a fantastic novel? Their respective authors Claire Marti, Alain Rolland, and Fabrice Hoerner, are French and live in San Diego! They will present their novels: "Hotel King," "Six Ans d'Absence," and "Le Dernier Hôtel." during a book signing event on Saturday, November 11th, organized by the Alliance Francaise San Diego.
Despite their diverse backgrounds and genres, these three authors share a common love for writing, French heritage, and the vibrant San Diego lifestyle. This gathering offers a unique opportunity to delve into the literary influences and life experiences that have fueled their novels, immersing attendees in the realms of romance, historical fiction, and speculative fiction.
Claire Marti makes us dream of Californian romance
Claire Marti is an award winning and USA Today Bestselling author of swoon worthy contemporary romance novels set in Southern California. For her, characters come first. To motivate her characters properly, she delves into their past and ensures their backstory resonates with their present actions. Once she is satisfied, she plants them in the richest soil imaginable to help them grow on their individual paths. The story blossoms from there.
The novel "Hotel King" marks the inception of Claire's contemporary romance series, titled "California Suits." This series chronicles the escapades of five best friends who embark on the venture of opening a chain of upscale boutique hotels spanning from La Jolla to Monterey to Beverly Hills, all while unexpectedly discovering true love in the process. Each book in the series stands alone.
Alain Rolland pays tribute to the soldiers
Alain Rolland came to writing after a career in the pharmaceutical and biotechnology industry as a Doctor of Pharmacy. During the pandemic, he discovered black and white photographs and a few yellowed pages that his father, Alexandre, had written more than half a century ago, briefly recounting his odyssey during the Second World War. This journey inspired him to write his first historical novel, "Six Ans d'Absence", published by Éditions Spinelle (Paris) based on real events and characters.
"Six Ans d'Absence" is not only a tribute to Alexandre but to all the soldiers who sacrificed so much for freedom and serve as an example to future generations. Alexandre's story stands as a poignant testimony to the brutality of the events of that era, a drama full of twists and turns that features complex and nuanced characters. The English adaptation of the book is currently seeking a literary agent or a publishing house.
Fabrice Hoerner confronts us with the mysteries of the afterlife
Fabrice Hoerner has been exploring speculative fiction since he was a child. With a French engineering degree and an MBA from the University of Chicago Booth School of Business, he has pursued a career in strategy and finance. His novel, "Le Dernier Hôtel", by Éditions Spinelle, is a passion project that reconnects him with his roots: France and literature. He finds within it a wonderful space to explore human nature. Through his writing, he delves into dreams and madness, myths and realities. He takes his readers into the depths of the human psyche, by entangling his characters in unsettling situations from which they emerge transformed.
"Le Dernier Hôtel", Fabrice's first fantastic novel, offers a thought-provoking exploration of memory and identity, wrapped in a gripping mystery. When Frédéric awakens in the afterlife with no recollection of his past, he sets out to investigate the mysterious circumstances of his death. From Paris to the Last Hotel, a haunting tomb for the soul, he must piece together the fragments of his life to uncover the truth – a truth laid before him like a trap.
To register for the event, visit the AFSD website.
To follow the authors
Instagram @clairemartiwrites
facebook.com/claire.petretti.marti
Instagram: @ledernierhotel