Travel & Sports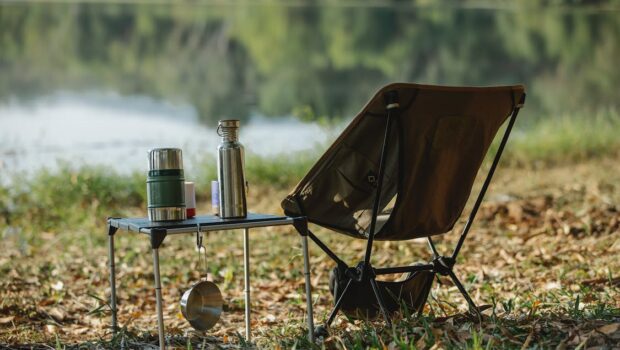 Published on August 21st, 2023 | by Rebecca D. Walker
0
5 Main Reasons Why You Should Have A Camping Table 
The number of campers is rising daily. According to a 2022 camping report, a whopping 8.3 million ventured into camping for the first time. The boom in camping has also brought about the consciousness of dependable camping gear, and at the center of it is the camping table.
Despite the existence of modern camping sites that have a variety of amenities like picnic tables, depending on them can lead to disappointment. Imagine going for a hike only to return and find your table taken, or you might be in the company of a large group, and the tiny table cant accommodate everyone.
Carrying your own camping table can guarantee an amazing outdoor experience. It can do a lot, from providing a surface to preparing food to playing card games. So, whether you are a first-timer or a seasoned camper, there are many reasons to bring a reliable camping table. Let's explore.
1. Boosts Comfort Levels
Spending time in nature is fun, from hiking during the day to retiring to rest under the stars. However, you need some comfort to make the experience even more thrilling. Even the most staunch survivalist appreciates the luxury of a warm blanket rather than bearing the discomfort of sleeping on rough terrain in the cold.
High-quality camp tables are handy for reading, playing games, preparing, or serving food. As you know, stable surfaces can be hard to come across on campsites. Fortunately, you don't have to deal with the unsustaining when you can easily pack a foldable camping table and take comfort to the next level.
Without a camping table, you are glaring at messy dining time. You might also strain a lot by bending or kneeling on the ground when performing tasks. So, research before heading out and carry an ultra-convenient table- it doesn't hurt.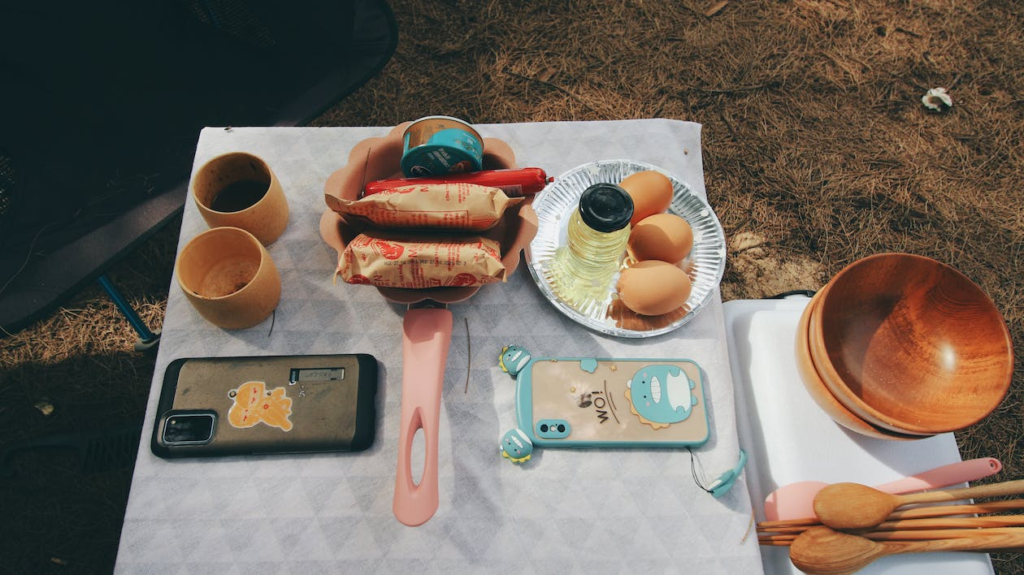 Photo by Bich Tran: https://www.pexels.com/photo/food-on-white-table-7990286/
2. Improved Safety and Hygiene
Only a few campsites have enough outdoor furniture to suit every camper. And not just for convenience and comfort; having a camping table means better hygiene. How does it help with cleanliness? Here are some of the ways:
Less spillage with a stable surface: With a camping table, you don't need to hold plates on your lap, risking spilling or soiling your clothes.
Reduces chances of contamination: Placing your food on the ground when cooking or eating increases the risks of contamination that often leads to food poisoning.
Safe cooking: A flat surface provides ample space to set up your cooking gear and keep them safe.
Keep food from pets: Pests can easily access food on the ground, and an elevated surface makes it harder for them.
Also, camping tables with durable materials like aluminum are easy to clean. Simply wipe down, fold, and store after using it. That means less maintenance time and effort it takes.
3. Compact and Versatile
If going on an adventure alone or in a small group, carrying a large bulky table only takes up unnecessary space. Instead, switch to a compact camping table that meets all your needs, whether dining, keeping your gear organized, working, or any other activity.
A camping table is helpful in many ways when camping. One of them is keeping your stuff organized, ensuring everything is within easy reach. You don't have to deal with a disorganized tent with items scattered everywhere. Instead, keep them neatly organized for an enjoyable time.
Besides, modern camping tables are designed with drawers and shelves, all while maintaining their compactness. With such a table, you get extra storage space to keep your utensils or other items safe from dirty.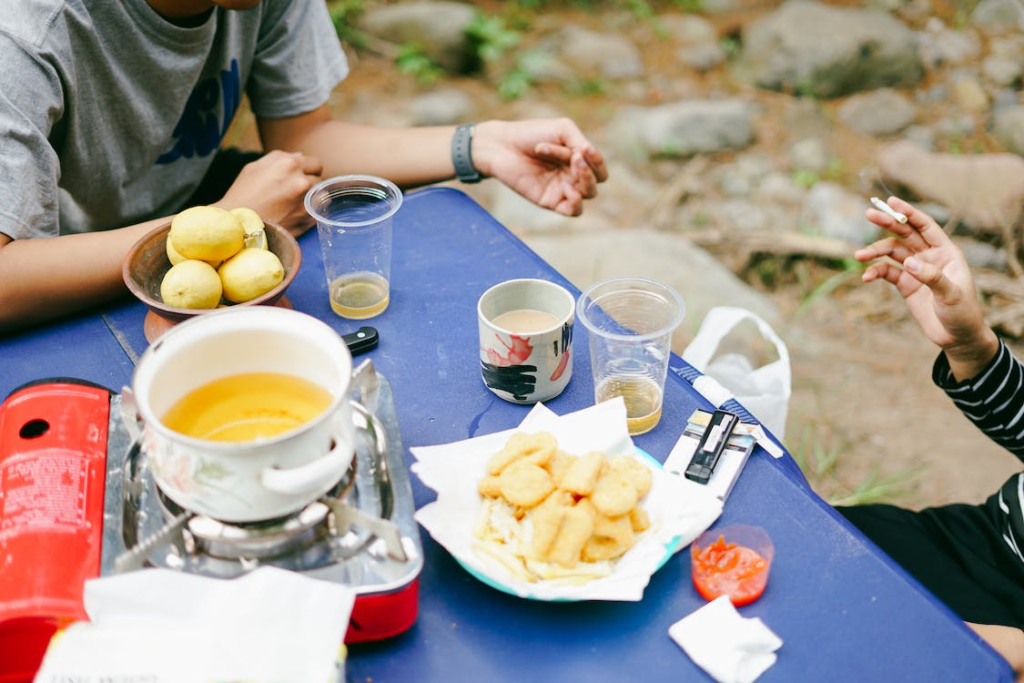 Photo by Rizky Sabriansyah: https://www.pexels.com/photo/two-people-sitting-by-the-table-with-food-and-drinks-9455225/
4. Portable and Easily Adjustable
Built to be highly portable, camping tables have a lightweight and foldable design. Their easy adjustability makes them perfect for traveling. They can easily fit in your car and won't take up much space in your tent.
The flexibility allows you to move them around the campsite. If you want to enjoy meals or read outside while enjoying the sun, easily fold and move it. This flexibility ensures that you don't feel limited to the small space inside the tent.
On stopovers along the journey, you can set it up within seconds. They are designed to work on various terrains, providing more comfort as you enjoy your meals. In essence, having a quality camping table offers unmatched convenience and versatility without being a burden with its portable nature.
5. A Point to Socialize
A camping table has much to offer besides its purpose as furniture, as it provides a great socializing platform. During meals or playing card games, the table provides a meeting point for campers to enjoy a good time together.
While outdoors is fun, boredom can kick in in the evenings, especially at campsites that don't allow campfires. If you are with friends, simply set up your camp table and have your friends sit around the table and engage in fun activities.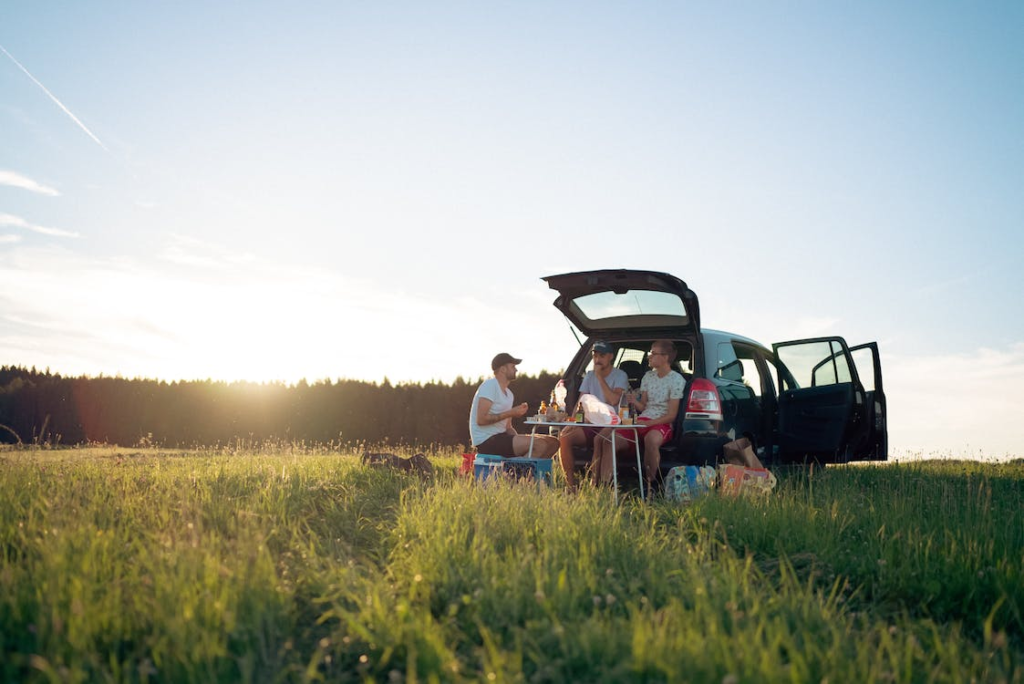 Photo by Tembela Bohle: https://www.pexels.com/photo/camping-picnic-from-the-car-boot-with-a-sunset-and-snacks-12909978/
Conclusion
Camping is an excellent way to escape from busy day-to-day activities and unwind in nature. However, having essential gear like a camping table makes your life easier and the experience more amazing.
A camping table can foster social interactions and enhance safety, comfort, and convenience. From preparing and serving meals, storing essential items, and playing games to organizing your belongings, there are many benefits to enjoy.
For the best experience, pick the right camping table using these top tips. Whether traveling alone, with family, friends, or colleagues, a functional camping table can make a difference.
Header photo credit: https://www.pexels.com/photo/camping-chair-near-table-on-river-shore-6271625/