History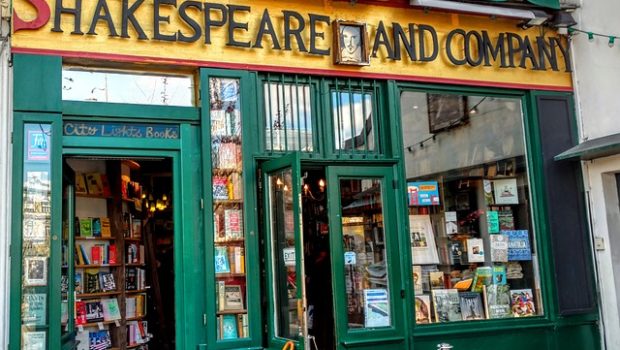 Published on March 3rd, 2021 | by Christopher Cipollini
1
English-Language bookstore on Paris' Left Bank: The Literary Legacy of Shakespeare and Company
When last I visited Paris in December of 2019, it was a very different world. People walked the "rues and boulevards," free and easy, no masks to speak other than in some of the century-old costume shops. I only had a few days so my itinerary was well accounted for every day: museums, Café De Flore, enjoying drinking Darjeeling with a friend in the 7th arrondissement and no lack of baguettes while watching the French News in the hotel lobby. In the evening, I had repeated tastings of a particular wine, ate salted butter with more baguette, all on an ample romanticism ambiance.
Despite the protest taking place in the city, I still managed to enjoy myself, all the while staying well off the beaten path and avoiding the mania of rampaging protesters, honking horns, and generally busy parisian streets. One afternoon, while recuperating in my hotel, the quaint "Hotel Alain," I realized I didn't bring a book. I then realized how fortuitous this was. I now had a good reason to make the pilgrimage to "Shakespeare and Company."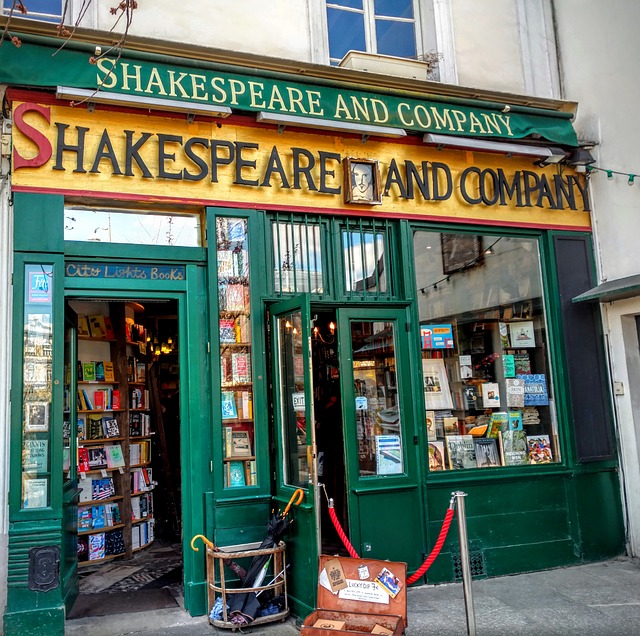 I walked in the rain all the way to "Rue de la Bûcherie," where I found myself of the venerated and much dreamt of Left Bank.
My mind began to shift to all sorts of New Wave scenarios. I imagined Ana Kerina, Alain Delon, Serge Gainsbourg cavorting along the Seine in woolen turtlenecks and smokey delirium.
Despite the bleakness of the winter day, an emerald green storefront shone in bright and cheerful colors. Outside, sat at the terrace, fashionable people in wool peacoats huddled with newsprint to read and bags from Parisians Department Stores. I opened the door of the boutique and was immediately taken by my surroundings. There were a series of shelves lined top to bottom from the authors of the past and present who had sent their books into the world: Chaucer, Voltaire, Rimbaud, Victor Hugo, Genet, Keats, Capote, to name a few. Everything about this store announced brilliance. It was any number of things.
The age-old wooden shelves and the countless framed images of the great literary minds of the past from Dickinson to Angelou were lining the walls. Small antiquated vignettes offset worn yet cushy chairs in which we get lost in. The young and energetic staff vacillating from shelf to shelf, flitting about like eager moths. There was also a dim alcove containing a Remington from the 1920s lit almost like a sacred holy shrine – all to the understated soundtrack of the lightly pattering Parisian rainfall outside.
This was Shakespeare and Company.
My heart was home.
The great irony of this is that this great staple of Paris literary life was conceived by an expatriate from America. In 1919, Sylvia Beach, an intrepid and New Jersey native, had a great ambition to establish the shop at its original location at 8 rue Dupuytren, then in 1922 moved to a more sizable location at 12 rue de l'Odéon. Serving as both a shop and a lending library, Beach quickly cultivated a clientele not just among expatriates and literature lovers, but also great writers themselves. Gaining a name for herself just at the cusp of one of the city's great cultural artistic periods, and with a loyal following including Man Ray, F. Scott Fitzgerald, Gertrude Stein, Salvador Dali, Ezra Pound and Ernest Hemingway, among others. Many of whom would conduct public readings and lectures of their works. This version of the original store, however, would sadly become a causality of the German Occupation of France during World War II.
However, in 1951 another American with a passion for literature, George Whitman, acquired the store and christened it "Le Mistral." Rebuilding itself in a postwar Paris, the shop became a major landing point for the city's bohemians writers, performers, and artists. Therefore setting the stage for the cultural shift of the fifties and beatnik era. William Burroughs was a frequent visitor, as were Terry Southern, Bertolch Brecht, Allen Ginsberg and Gregory Corso. Each held court with their peers and cultivated their own followings. Whitman, a bit of a bohemian himself, has traveled extensively around the world prior to ownership of the store. His "hobo adventures" during the Great Depression and travels, as well as eclectic tastes, would inform the myriad trajectory of his colorful and devoted clientele. Whitman was also known for hosting those he called "tumbleweeds." These were artists, poets and writers, whom he would allow to stay in the shop, sequestered in cozy beds nestled in the alcoves of the bookshelves, provided they would read a book a day and assist in the running of the shop until their travels took them elsewhere. In his time working at Shakespeare and Company, it is estimated over 30,000 "tumbleweeds" would come to call the shop their temporary home a practice that continues to this day.
In 1964, upon the death of the shop's original owner, Sylvia Beach, and the 400th birthday of William Shakespeare, Whitman rechristened the shop "Shakespeare and Company," a name that has remained since.
Under Whitman's ownership, the shop thrived not only as a popular and well-curated book shop, but a bohemian wonderland as essential to the wanderlust of a wordsmith visiting Paris as the Café De Flore or Place des Vosges – home of Victor Hugo – a must see to anyone who was moved by Blake, Karoeac, Baudelaire, Plath and the Beats. Whitman proudly called his venture "A Socialist Utopia Masquerading a Bookstore" – a statement that wasn't far from the truth. Poets, rabble-rousers, archivists, part-time historians and actors, as well as esteemed literary figures from Tennessee Williams to Susan Sontag, were certain to add it to their itinerary on their trips to Paris.
In 2006, Whitman was awarded the Officier de l'Ordre des Arts et des Lettres, Frances's highest and most prestigious cultural honor. In 2014, he passed away in his small flat above the bookstore at 98 years of age and had passed his torch to his young daughter Sylvia, named after the store's original founder.
In modern times Shakespeare and Co has woven itself inextricably into the fabric of Paris culture as seamlessly and effortlessly as cafés, brasseries or outdoor music. At any given time of year, bookworms of the world tread down the feted Left Bank and enter the emerald green edifice wherein lay the likes of Keatas, Melville, Hemingway, Steinbeck, Baudelaire, as well as Stephan King, Herman Hesse or Voltaire. The shop has been featured in numerous films from Nora Ephron's "Julie and Julia" to Woody Allens' "Midnight in Paris."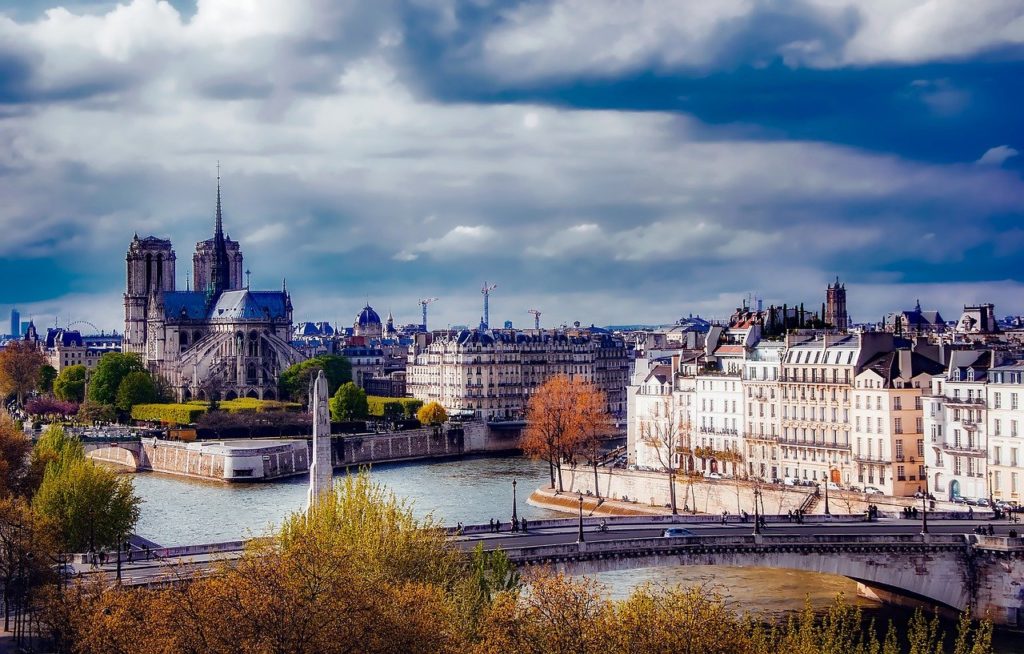 These days, like many aspects of life, the store is attempting to acclimate to a post-pandemic Paris. With sales fluctuating and hindered overseas travel, Shakespeare and Co is seeking help in these times from its loyal patronage: everyone from the humble regular local to the extravagant collector of manuscripts. On the bookshop's website, viewers are encouraged to "order a book or two." The outpouring, according to Sylvia, has been incredible. It counts authors ranging from Neil Gaiman to politicians like former French President Francois Hollande, as well as aspiring writers and fledgling students. This alone proves that brighter times and well ahead for the famed bookstore on the Seine.
The story of Shakespeare and Co is the story of the love of the book. How a passion for a page can transcend language, and how stories, be they old or new, extravagant or seemingly simple, fanciful or mundane – all matter. I will never forget the impression this marvellous institution made of my heart as I walked through its sacred space. A place that even despite changing times, pandemics, wars, and a shifting world, continues to greet those who seek to disappear, if only for a few hours – in the sanctity of the written word.
To donate to Shakespeare and Co, please visit their website for further information on how you can help.
More info is also available on social media:
Instagram
https://www.instagram.com/shakespeareandcoparis/
Twitter
@Shakespeare_co
Facebook
https://www.facebook.com/shakespeareandcoparis/
Works Consulted
Store website
https://shakespeareandcompany.com/
https://theculturetrip.com/europe/france/paris/articles/a-brief-history-of-shakespeare-and-company-paris-legendary-bookstore/e
NY Times George Whitman Biography

https://www.nytimes.com/2011/12/15/books/george-whitman-paris-bookseller-and-cultural-beacon-is-dead-at-98.html
Header Photo Credit: Sierra Maciorowski from Pixabay