Fashion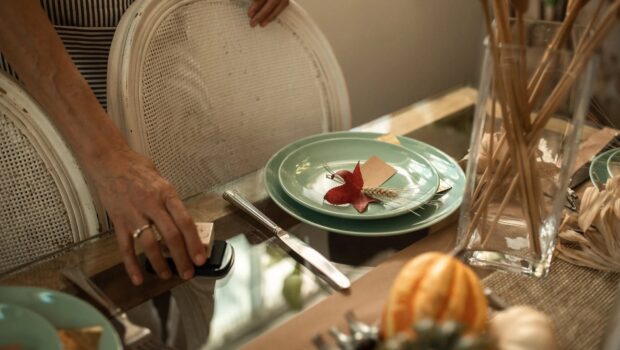 Published on November 21st, 2023 | by Isabelle Karamooz, Founder of FQM
0
Thanksgiving Table Setting: A Feast for the Senses
As you gather with family and friends to celebrate the season of gratitude, create a warm and inviting atmosphere with a thoughtfully curated Thanksgiving table setting. Infuse the essence of autumn into every detail, from the centerpiece to the place settings, and let the table become a canvas for the richness of the harvest season.
Harvest-Inspired Centerpiece
Begin with a stunning centerpiece that captures the spirit of the fall harvest. A rustic cornucopia overflowing with seasonal fruits and vegetables—gourds, pumpkins, apples, and vibrant autumn leaves—sets the stage for a bountiful feast. Arrange candles in warm hues amidst the harvest, casting a soft glow over the table.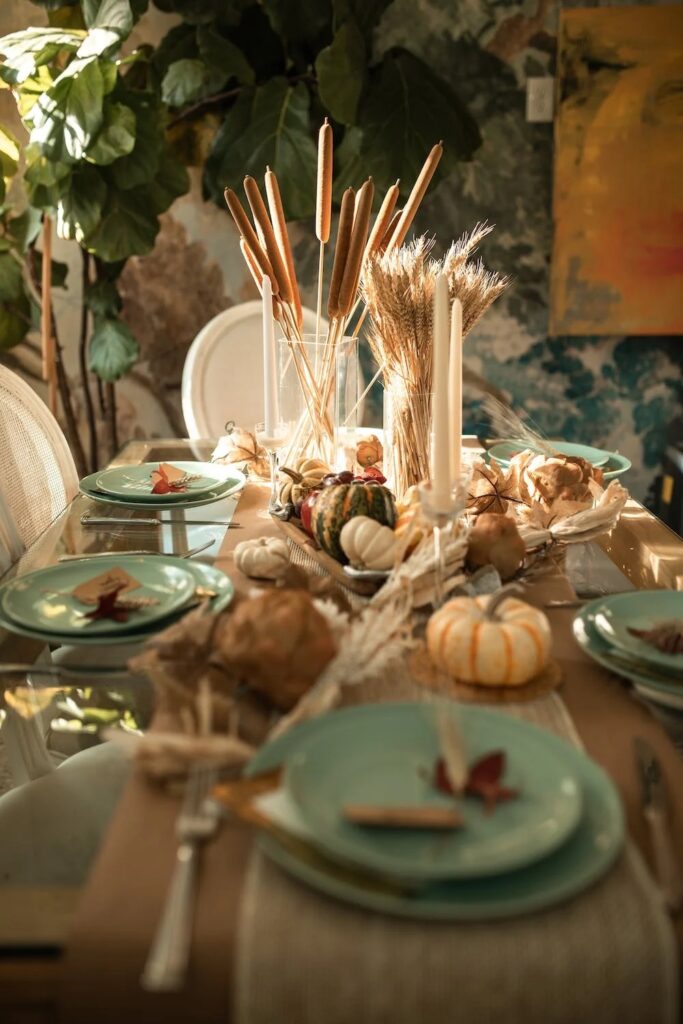 Elegant Table Linens
Choose table linens in warm, earthy tones to complement the autumnal theme. A rich burgundy or deep mustard tablecloth serves as the perfect backdrop for the feast. Consider adding a table runner adorned with embroidered fall motifs or a plaid pattern for an extra touch of coziness.
Chic Dinnerware
Opt for elegant dinnerware that enhances the festive atmosphere. Classic white or cream plates provide a clean canvas for the culinary delights, while gold-rimmed or copper-accented chargers add a touch of sophistication. Complete each setting with polished silverware and crystal-clear stemware for a refined touch.
Seasonal Place Cards
Personalize each place setting with charming seasonal place cards. Attach name cards to miniature pumpkins or pinecones for a whimsical touch. Alternatively, consider incorporating small decorative elements like cinnamon sticks or sprigs of rosemary into the place card design, infusing the air with delightful aromas.
Napkin Finesse
Elevate the presentation with creatively folded cloth napkins. Try a simple yet elegant fan fold or experiment with a pocket fold that can hold small seasonal accents. Tie each napkin with twine or a ribbon in warm autumn shades for an added layer of texture.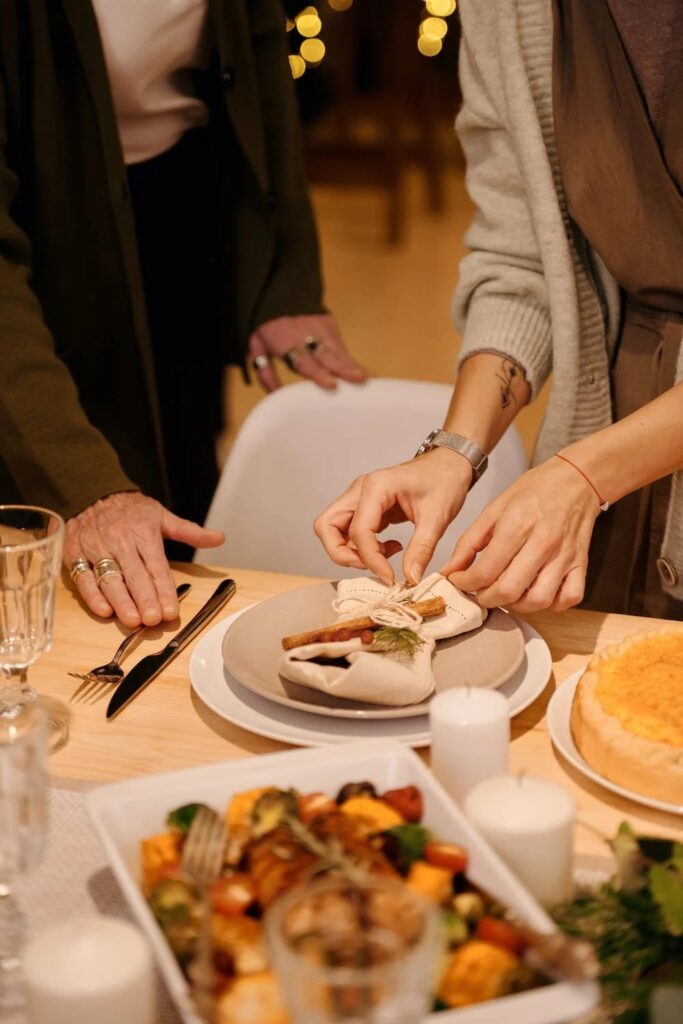 Glistening Glassware
Choose glassware that sparkles alongside the festive ambiance. Crystal-clear wine glasses and water goblets enhance the overall aesthetic. For an extra touch, consider stemless wine glasses with a subtle fall motif or etching.
Ambient Lighting
Create a warm and inviting atmosphere with carefully selected lighting. Incorporate tea lights or small candles within hurricane vases for a soft, flickering glow. If space allows, consider a chandelier or pendant lights above the table to add a touch of elegance.
Seasonal Accents
Enhance the overall theme with carefully chosen seasonal accents. Scatter small decorative pumpkins, acorns, or pinecones along the table for a touch of nature. Intersperse the arrangement with sprigs of eucalyptus or small bunches of dried flowers for added visual interest.
Grateful Details
Encourage an atmosphere of gratitude by incorporating small cards at each place setting where guests can write down what they're thankful for. Collecting these notes in a decorative bowl creates a heartfelt memento of the celebration.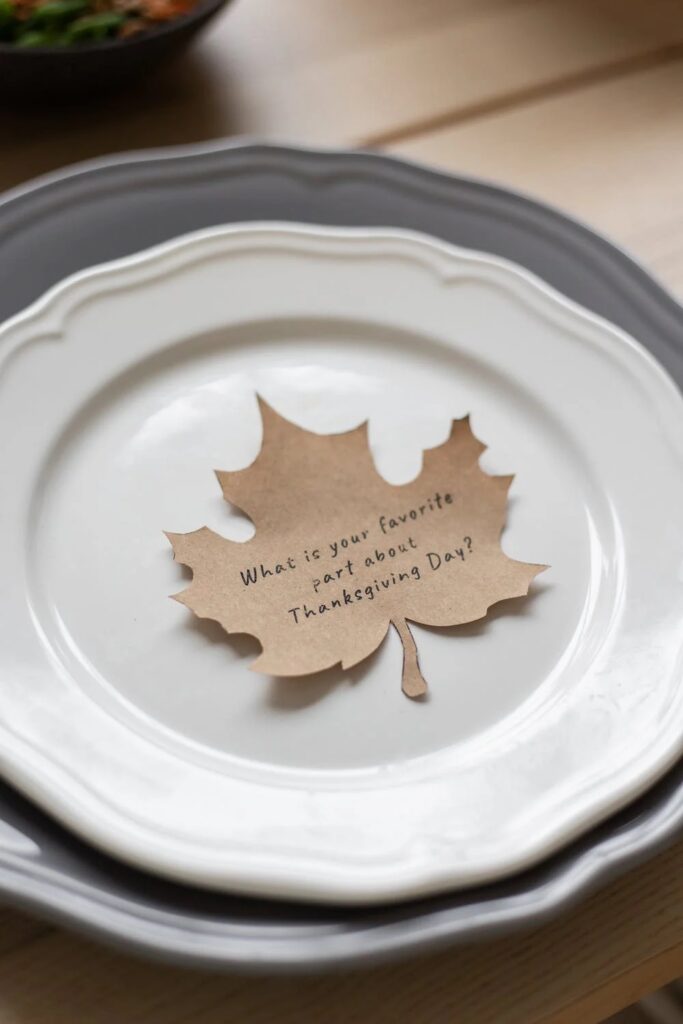 Comfortable Seating
Finally, ensure your guests' comfort with well-cushioned and beautifully adorned chairs. Consider adding chair sashes or cushions in complementary autumn colors to tie the entire look together.
With these carefully chosen elements, your Thanksgiving table setting will not only be a feast for the senses but also a visual expression of gratitude and togetherness. Enjoy the warmth and camaraderie around this beautifully set table as you create lasting memories with your loved ones.
If you're looking for high-quality tableware and decor similar to William Sonoma, here are some popular stores in the U.S. that offer a variety of options for creating a beautiful Thanksgiving table setting:
Crate & Barrel:
Known for modern and stylish home goods, Crate & Barrel offers a range of dinnerware, linens, and decor suitable for both contemporary and traditional settings.
Pottery Barn:
Pottery Barn is a go-to destination for classic and timeless home furnishings. Explore their Thanksgiving collection for elegant tableware, linens, and seasonal decor.
Sur La Table:
For those who appreciate culinary excellence and quality kitchenware, Sur La Table is a fantastic option. Find unique serving dishes, utensils, and more.
Bed Bath & Beyond:
A one-stop-shop for home essentials, Bed Bath & Beyond has a diverse selection of dinnerware, table linens, and decorative items for every style and budget.
Pier 1:
If you're looking for eclectic and globally inspired decor, Pier 1 is a great choice. Find distinctive table settings and accessories to add flair to your Thanksgiving celebration.
HomeGoods:
HomeGoods is a treasure trove of unique finds at great prices. Visit their store for a mix of high-quality, budget-friendly tableware, and seasonal decorations.
Williams Sonoma Home:
If you appreciate the quality of Williams Sonoma, explore their home division for premium furniture, bedding, and decor that complements their renowned kitchenware.
Macy's:
Macy's is a department store that carries an extensive selection of home goods. Check out their Thanksgiving collections for a range of styles and options.
Header Photo Credit: Photo by RDNE Stock project: https://www.pexels.com/photo/plates-set-on-table-with-person-standing-behind-5847648/