Gastronomy
Published on July 19th, 2021 | by Isabelle Karamooz, Founder of FQM
0
Virtual Pastry Classes – Meeting with Pastry Chef Molly Wilkinson, A Fabulous Taste of France
A pastry chef, originally from Texas, Molly Wilkinson studied in 2013 and was trained at Le Cordon Bleu in Paris. Molly teaches pastry and in-person and virtual cooking classes out of her apartment in Versailles, France. Over the years, she has attracted clientele from across the United States, from Brazil to Italy and France. Her new book "French Pastry Made Simple" is cake heaven – utterly scrumptious and is available on Amazon, online wookshops and can be ordered in book stores everywhere! Find her at in the social medias:
https://www.instagram.com/mollyjwilk/
I am honored to introduce her to you today in our interview directly from her home in Versailles.
Header Photo Credit: Krystal Kenney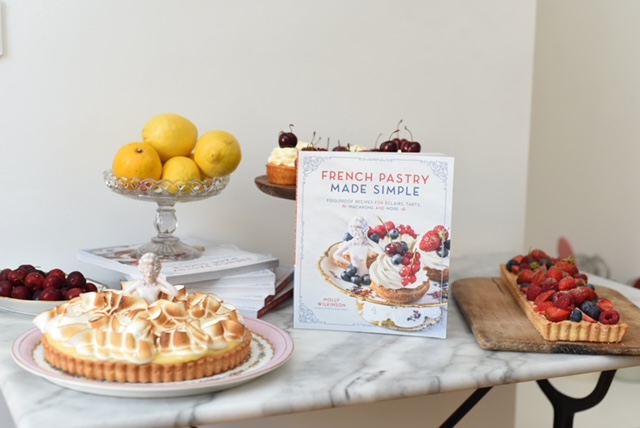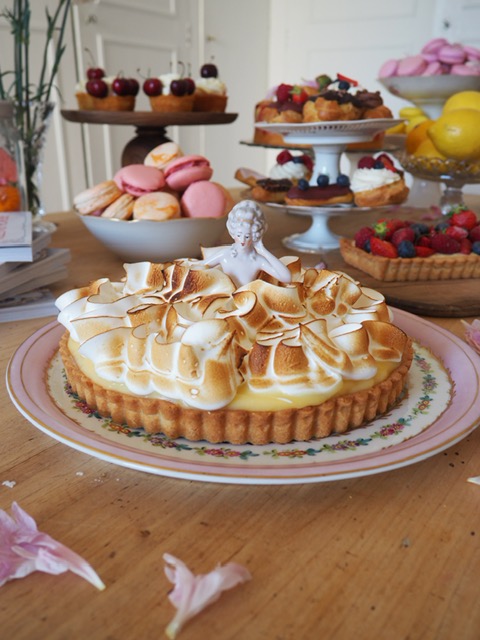 Molly, how would you describe yourself in three words?
Full of life (and sugar)
How and why did you decide to become a pastry chef? You are from Texas originally – why did you decide to move to France?
Sweets have always been a part of my life. I love eating them and I love baking them. It took me years to make the move to study pastry and make it my career. Before going to the Cordon Bleu, I actually studied marketing at TCU in Fort Worth and worked a 9 to 5 job for seven years. I was constantly bringing sweet treats into the office though. My coworkers would ask, "When are you opening up a bakery?" I never had an intention to open one but I loved baking and have always been very passionate about it. I wanted to see where following the sugar would lead. So (after lots of planning) I decided to leave my steady job, pack my bags, and move to Paris. I figured I'd go all in and learn more and then see where it led me!
Tell us how your career as a pastry chef has unfolded and a little about your studies at Le Cordon Bleu in Paris and your internship at La Fabrique à Gateaux. How did it help you prepare for a path in the culinary field?
I was at the Cordon Bleu for one year at the Vaugirard location. I absolutely loved it! The chef coats weren't built for my short and round figure so I did look a bit like a marshmallow during my studies but that didn't bother me. Paris was at my fingertips! I did a lot of walking and exploring when I wasn't in school. One of my apartments was conveniently located near the Eiffel tower, so I'd head out in a direction and look for the Iron lady to return.
My studies were difficult and rigorous but I loved every moment – even when we worked with piping hot sugar in an unconditioned kitchen in August. Tests involved memorizing recipes, which helped you understand the ratios for different cakes. Certain parts were repetitive so you really learned the technique, like tempering chocolate or making a Genoise cake, integral to so many entremets. I learned all the basics which provided an excellent platform to continue to learn and progress after I graduated.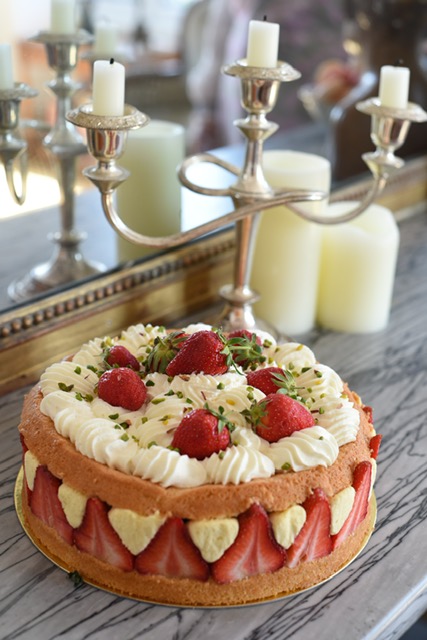 My first job after graduating was doing an internship at La Fabrique a Gateaux in the 10ème. I soaked up as much as I could while in the kitchen. It was all about practicality about running a bakery and how to juggle many things at once. If you've ever wondered how pastry shops have so many different options at the start of each day (that are fresh), well this is what I learned. It was just me and the two chefs in the kitchen so I was able to learn how to make all of the pastries.
What makes Versailles a great place to start virtual cooking classes?
It's a town that's well known to people and is often sentimental. Most people visit Paris on holiday and then for a day trip, come to Versailles. So I often have people in my virtual classes that have been here and find themselves remembering their time here.
It's also great for people that don't plan on traveling to France but love the country. They have a general idea of where it is on the map, enjoy the quintessential architecture out the window, and feel like they're transported there during our fun classes together.
I teach private in-person classes too and the location is perfect! They are taught out of our 18th century apartment just around the corner from the Chateau de Versailles.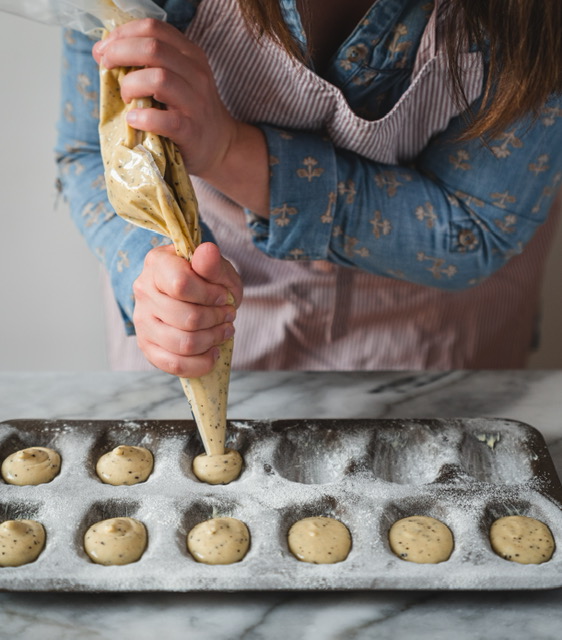 What do you feel that students should focus on to get the most out of your online cooking classes? All the classes are for all baking levels, taught in English, live from France, correct? Your website shows all of the city time zone?
The virtual classes are great for all levels and the baker interested in learning a new skill in the kitchen or doing a bit of fine tuning. I focus on breaking down French classics to make them accessible instead of intimidating. They're also fabulous as my bakers are cooking in their own kitchens! This means that you use your own oven and equipment, meaning that you can easily recreate the recipes.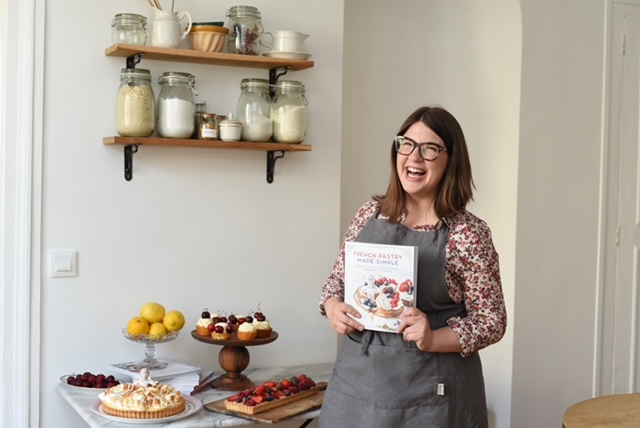 The classes are in English, live from France at 1pm EST (all timezone equivalents are listed on my site – MollyJWilk.com). They are usually about 1.5 hours long. We listen to French music, bake together, and peek out the window over the Versailles rooftops.
Do you find it a challenge to constantly innovate?
There certainly is a pressure there to constantly create new recipes. What helps me is to take a step back, go for a long walk with our dog Eliott, and create a stress-free environment. When I'm working on a new recipe, I try to make sure that I don't have any time constraints that day and then just turn on some good music, open up my notebook, and get to baking!
What do you enjoy most about your work? Do you often find yourself taking a plunge into the memories of your childhood in the kitchen, sneaking little tastes, sampling dishes or finding other ways to get involved?
Oh for sure! You always have to try to learn and be inspired. I think what I love the most though is teaching. I introduce people all over the world to unfamiliar techniques and help them create extraordinary pastries!
Other than creating great food, what are the most important qualities that make a successful chef?
I think you have to be a bit organized. It doesn't have to be all the time (I'm certainly not), but it's so important when coming up with new recipes, planning an event that requires making lots of different dishes at once, but also making sure that you always have the ingredients you need on hand.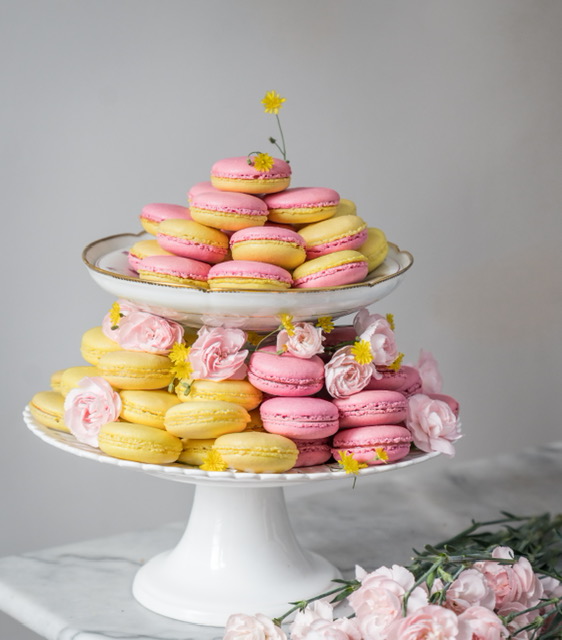 How does changing culture affect the food we eat?
I think it makes us more open but also inspires us to change up how we're currently eating. We can experience this by traveling or just picking up a cookbook and making something from another culture.
Tell us about your recent cookbook called « French Pastry Made Simple » released last June 8th, 2021.
My cookbook is a big reflection of my classes. The instructions read like I'm right there with you in the kitchen helping you along with lots of tips. Each chapter starts with a foundational pastry recipe like pastry cream or pâte sucrée (tart crust). Then the subsequent recipes show you everything you can make with it. By learning just 10 base recipes, you'll be able to make so many pastries. The recipes use easy to find ingredients and equipment you probably already have in your kitchen. It helps bakers to achieve incredible results without the fuss!