Travel & Sports
Published on January 31st, 2023 | by Megan Isola
0
What to Pack for Your First Trip
If you're going on your first trip, you're probably very excited. However, what's not exciting is packing for your trip. Packing your luggage can be stressful and may require more strategy and thought than you may think. If you're wondering what to include in your suitcase for your first trip, read on for everything you'll need.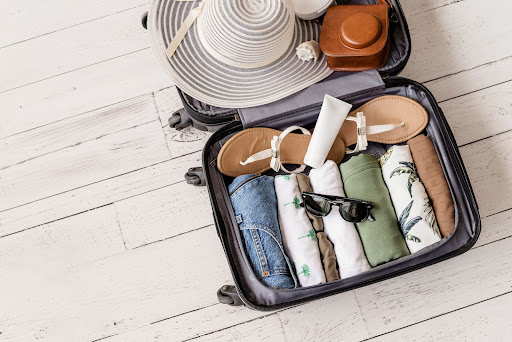 Don't underestimate the power of good luggage
Luggage is expensive, and it can be tempting to opt for the cheapest option. However, cheap in this context doesn't necessarily mean better. While traveling, your luggage will be bounced around from airport to airport by staff that doesn't always have the time or desire to handle each item delicately. In addition to the wear and tear from the airport, your luggage follows you from destination to destination, meaning you'll be walking this thing with you as you travel through taxis, across town, into transportation, and more.
You want your luggage to be able to handle and sustain the abuse it will endure during your travels, which is why you want to invest in quality luggage. Depending on your needs, you may opt for a duffle bag, hard shell, soft shell, or wheelable luggage. Think of what you'll need from your luggage items, and look for brands that offer the support you want. In addition, look into high-quality materials, wheels, and organization space to ensure your luggage has all the compartments and travel ability you want. Investing in good luggage can last you a lifetime through your travels and can end up saving you money because it doesn't need replacing as frequently as poorly-made, cheap luggage.
Clothes
The clothes you bring on your trip will depend on your needs and destination. Pay careful attention to any weather changes until the day of your trip to help you think about what sort of clothing items to bring. Clothing takes up a lot of space, so being over-prepared for any weather isn't always an option.
Instead, try to bring a small collection of a wide range of items so your clothing can easily fit into your luggage and doesn't make you go over your airline's weight maximum. If your travel destination is cold, don't pack your swimsuit. Instead, focus on bringing lots of layers and warm clothes to enjoy your trip without freezing. If your travel destination is somewhere warm, then you don't need to bring lots of extra jackets. Instead, pack up shorts, tank tops, and swimsuits with one jacket as a backup in case it gets cold.
Wherever you plan on going, do your research to see what kind of clothes you should bring on your trip without overpacking.
Toiletries
Toiletries are another essential you'll want to bring on your trip. While most hotels will provide you with some basics like shampoo, conditioner, and soap, they aren't always the best quality, and you may be missing the products you use at home.
Instead, come prepared with the products you use regularly. Pack up your toothbrush, toothpaste, hair products, perfumes, face wash, NAD+ cream, sunscreen, and any other essentials you might need while on your trip. If you want to be extra prepared and have space in your luggage, consider bringing a travel first aid kit, so you have medication in case you get a headache or a bandaid if you have a little accident.
When packing liquid toiletries, ensure you follow the travel guidelines for liquids. If you're traveling by plane, there are strict regulations on how much you can bring. Generally, a good rule of thumb is everything must be less than 100 milliliters of liquid, and all of them must fit into a quart-size bag if you plan on packing them in your carry-on. If you plan on stowing your liquids in a checked bag, you can freely put full-sized products into your luggage without worry.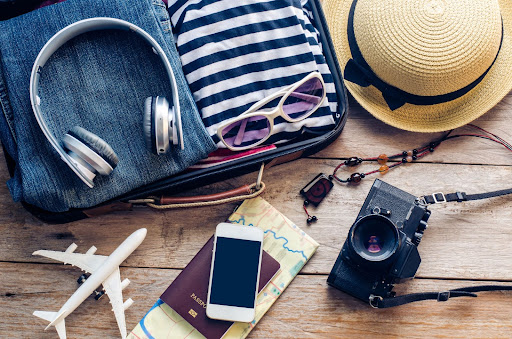 Carry-on
If you're traveling by plane, you may wonder what to pack in a carry-on. Ideally, all your travel essentials will fit into your suitcase, so your carry-on is open real estate for items you might want to bring with you on the plane. If you plan on packing a carry-on, some things to include inside can be some form of entertainment, such as a book, magazine, or gaming system like the Nintendo Switch to keep you busy on your long flight.
Aside from entertainment, another good thing to pack in your carry-on is some snacks or meals. Flights are long and trust us, the food isn't great. So to avoid feeling sick on the plane or hearing your stomach growl from hunger, pack some of your favorite snacks. Avoid packing anything messy or difficult to eat on your flight to avoid dirtying your carry-on or yourself.
Lastly, pack your chargers for any devices you plan on bringing with you on the plane, as well as some power sources. Most people use their phones to watch their favorite movies and shows on the plane, so you want something to power your device as you drain the battery. Many planes offer a TV or power source to plug your charger into, so the power brick can act as your backup. And even if you don't think you'll need anything on the plane, you should still bring a carry-on bag to have space for any souvenirs you get on your trip.
Miscellaneous
Aside from the main items we've listed above, there are likely other things you'll want to bring with you on your trip. Ensure that you pack up your medications to avoid some kind of medical emergency. Aside from prescriptions, you'll also want to bring your laptop if you think you'll need it, a copy of your passport in case your original gets lost, your camera, and anything else to help you feel comfortable while away from home. If you can't imagine falling asleep without your weighted blanket, bring it with you! If there's something that you know you'll be missing on your trip, take it along! There's no right or wrong to what you should pack, it's all about planning and packing what you know you'll want and need.
In conclusion
Packing for a trip can be stressful, but it doesn't have to be! With careful thought and planning, you can ensure you have everything you need with room to spare for souvenirs. From keeping you entertained while traveling to ensuring you have the clothes fit for your destination, what you pack can help keep you prepared while on your trip.
Header Photo Credit: Rosivan Morais from Pexels